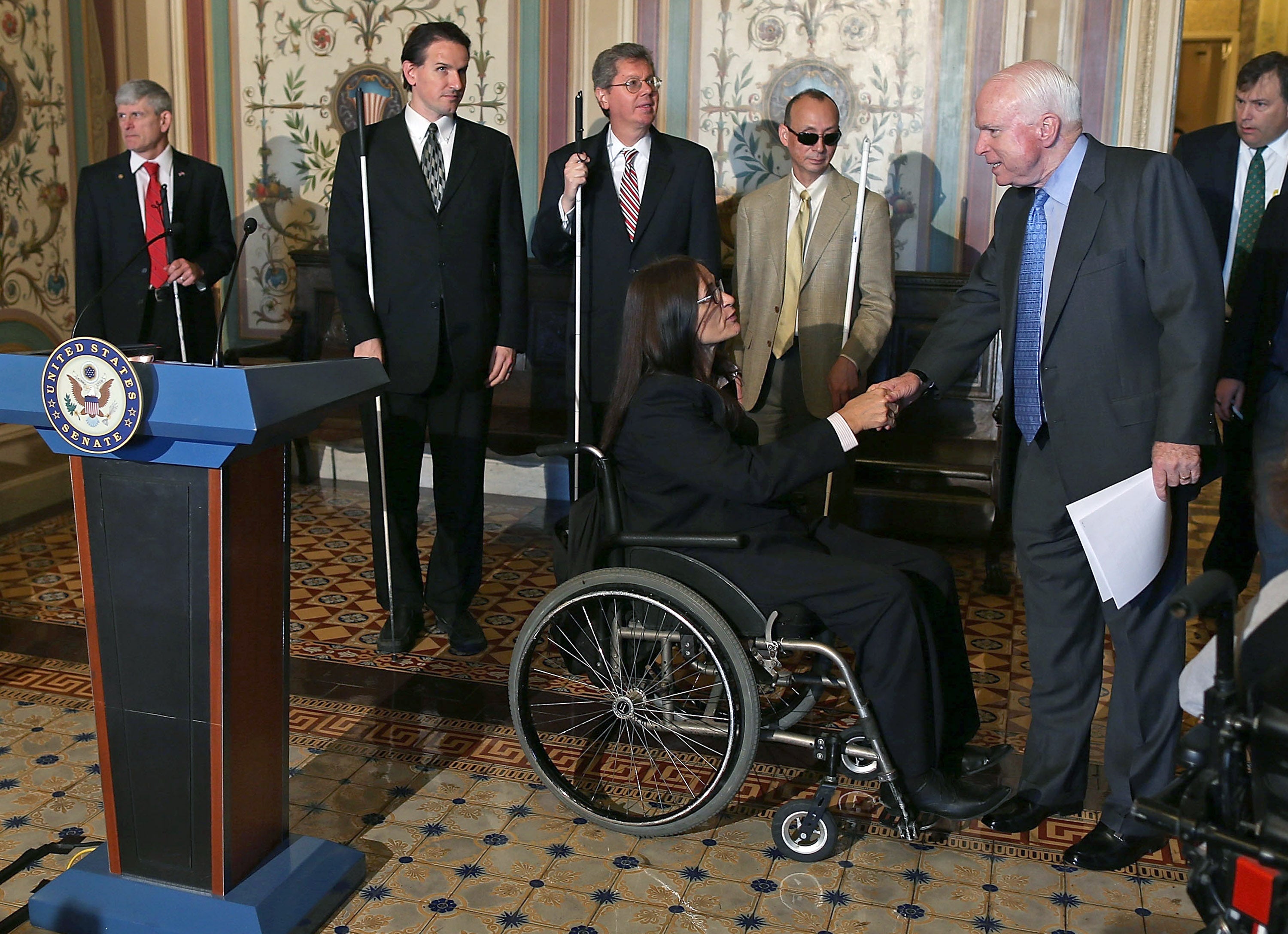 U.N. treaty on disabilities falls short in Senate
A vote to ratify the U.N. Convention on the Rights of Persons With Disabilities fell short in the Senate Tuesday, with the measure receiving 61 votes, six less than the 67 needed for ratification. Thirty-eight Republicans voted no.
The treaty promotes equal rights for disabled people around the world, including those with physical disabilities such as blindness. If the Senate had voted for ratification, the United States would have joined 126 other countries that are party to the treaty, which was modeled on the Americans with Disabilities Act. Ratifying the treaty would have given the United States greater standing to push other nations to pass measures similar to that 1990 law.
The U.N. Convention on the Rights of Persons With Disabilities established a committee to recommend actions to governments - such as building wheelchair ramps or taking steps to make it easier for disabled children to attend school - though it cannot require specific actions. President Obama signed the convention, which was negotiated during George W. Bush's administration, in 2009. More than one billion people - roughly 15 percent of the world's population - live with a disability, according to the World Health Organization.
Among the opponents of the treaty were former GOP presidential candidate Rick Santorum and Sen. Mike Lee, R-Utah. Lee led opposition among conservative senators to the treaty, which he suggested posed a threat to American sovereignty. Santorum argued that the treaty could change U.S. law or be used as a standard in court cases, despite the fact that only U.S. law can be the basis for litigation in American courtrooms. Critics also complained that the vote was taking place during a lame-duck session of Congress.
Sen. Jim Inhofe, R-Okla., voted against the treaty because he said he opposes "cumbersome regulations and potentially overzealous international organizations with anti-American biases that infringe upon American society," the Associated Press reported. Critics suggested the treaty could prevent home-schooling parents from making their own decisions concerning disabled children and that it could increase abortions worldwide.
Supporters of the treaty included two former Republican presidential candidates, Sen. John McCain of Arizona and former Sen. Bob Dole of Kansas, both of whom suffered from disabilities as a result of their military service. Dole, who is 89 and has been battling health issues, lobbied senators from a wheelchair in the Senate chamber before the vote was taken.
A handful of Republicans and the U.S. Chamber of Commerce joined Democrats in supporting the measure, which McCain said was garnering opposition from some conservative lawmakers due to a longstanding distrust of the United Nations. Sen. Kelly Ayotte, R-N.H., voted for the treaty, saying it "takes a step toward making it easier for disabled Americans to live and work overseas, without impinging on U.S. sovereignty or Congress' authority to determine our disability laws."
Sen. John Kerry, D-Mass., a strong proponent of the measure, said the treaty "just says that you can't discriminate against the disabled. It says that other countries have to do what we did 22 years ago when we set the example for the world and passed the Americans with Disabilities Act." Supporters said that the treaty does not mandate changes in U.S. law and noted that the Senate had voted to ratify treaties during lame-duck sessions 19 times.
In a statement following the vote, Sen. Parry Murray, D-Wash., called it "a disappointing day for Americans with disabilities in Washington state and across the country."
"This treaty embodied the same goals the United States had in enacting the Americans with Disabilities Act - to empower individuals with disabilities to achieve economic self-sufficiency, independent living, and inclusion and full integration into society," she continued.
Rep. Jim Langevin, D-R.I., watched the vote from the back of the Senate chamber. Langevin has not been able to walk since his teens as a result of a shooting accident.
With reporting by CBS News' John Nolen.
Thanks for reading CBS NEWS.
Create your free account or log in
for more features.