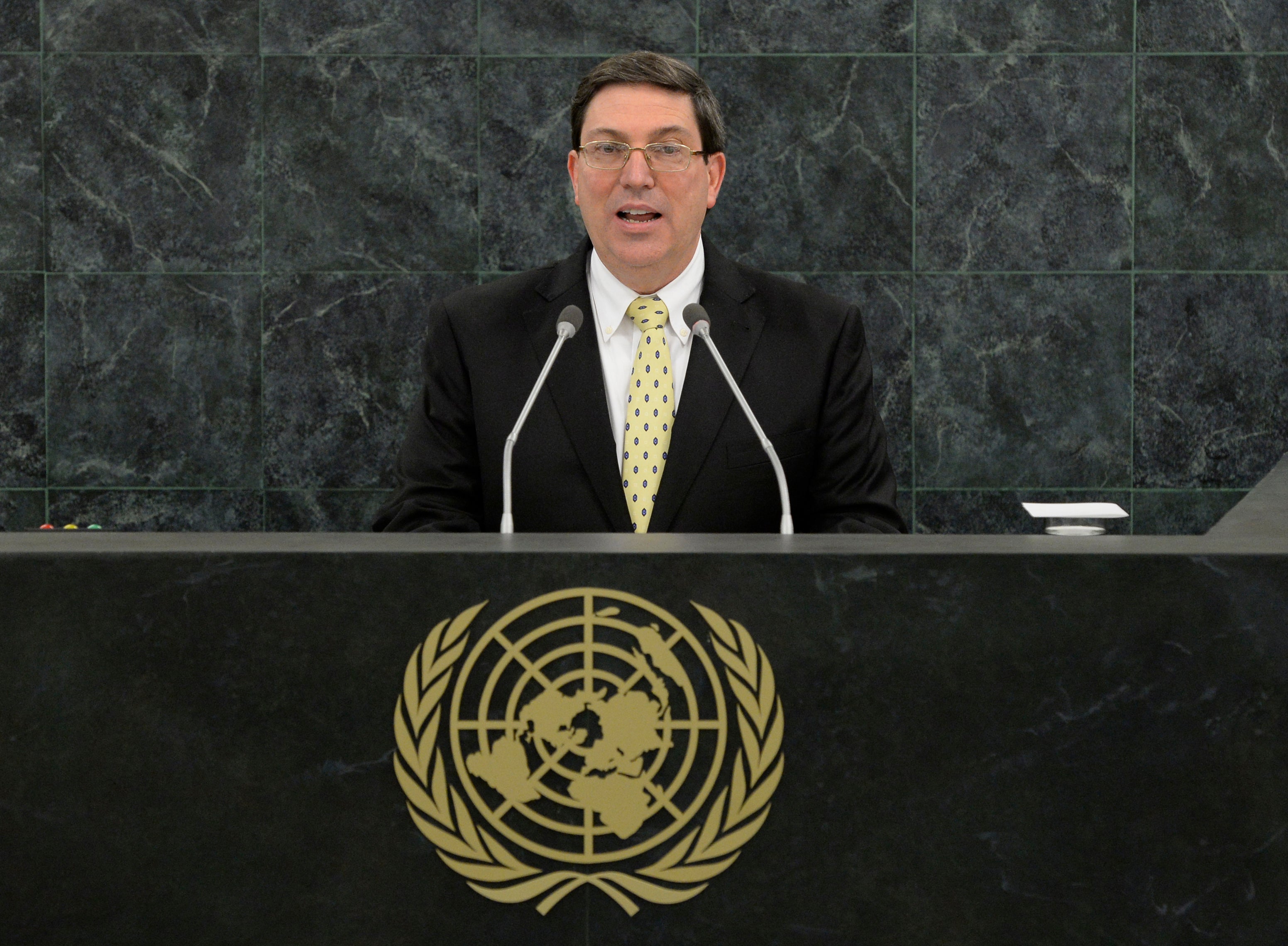 U.N. General Assembly votes against U.S. Cuba embargo for the 22nd year in a row
HAVANA Cuba enjoyed its 22nd annual slam dunk at the U.N. General Assembly Tuesday as member nations roundly condemned the U.S. economic and trade embargo of the Caribbean island.
By a vote of 188 to 2--the United States and Israel--the 193-member body once again approved a resolution presented by Havana that accuses the U.S. of causing over $1.126 trillion in damages as a result of over 50 years of trade sanctions.
Last year there were three no votes but the third vote, Palau, joined Micronesia and the Marshall Islands this year in their abstentions.
The embargo - or blockade as it's known in Cuba - is comprised of hundreds of laws and is the most visible symbol of decades of contentious relations.
Cuban Foreign Minister Bruno Rodriguez, in New York for the U.N. vote today, slammed the Obama Administration, which had been expected to take steps toward dismantling the embargo as part of a new policy toward the island.
Instead, under President Obama, Cuba charges, some sanctions have been tightened, particularly those related to banking. This, according to Havana and to business sources, is due to Cuba's inclusion on the U.S. State Department's list of State Sponsors of Terrorism. Havana has hotly contested its presence on this list, calling it unjustified.
Since Obama took office in 2009, the White House has relaxed some restrictions on American travel to the island and the sending of remittances to Cubans but at the same time fines against embargo violators both domestic and foreign have risen totaling $2.5 billion to date.
The embargo began in 1960 as the new revolution led by Fidel Castro nationalized property belonging to U.S. corporations that owned wide swaths of fertile sugar and pineapple plantations as well as rich nickel mines. It became a near total embargo two years later.
The U.S. defends the embargo as a tool to promote respect for civil and human rights on the island. But not even all dissidents and critics of Cuba support the embargo, noting that it harms ordinary people and has fallen far short of its goal of overthrowing the Castro regime.
Despite outstanding disputes such as the imprisonment of USAID sub-contractor Alan Gross in Havana and of four Cuban intelligence agents in the U.S., the two countries have resumed immigration, postal and search and rescue talks.
President Raul Castro has begun an overhaul of the economy that has opened a private sector and dramatically relaxed restrictions on Cubans traveling abroad leading to an increase of 35 percent overall with the United States among the top three destinations. Americans taking advantage of President Obama's removal of some travel restrictions are also visiting the island in record numbers--over 98,000 in 2012, double the number who traveled there five years earlier, according to Cuban sources. In addition more than 350,000 Cuban Americans visited the island last year.
Although the two countries maintain Interests Sections in each other's capitals, they do not have diplomatic relations nor is there any indication of greater improvements in the wings. The U.N. General Assembly vote is not enforceable.
Thanks for reading CBS NEWS.
Create your free account or log in
for more features.