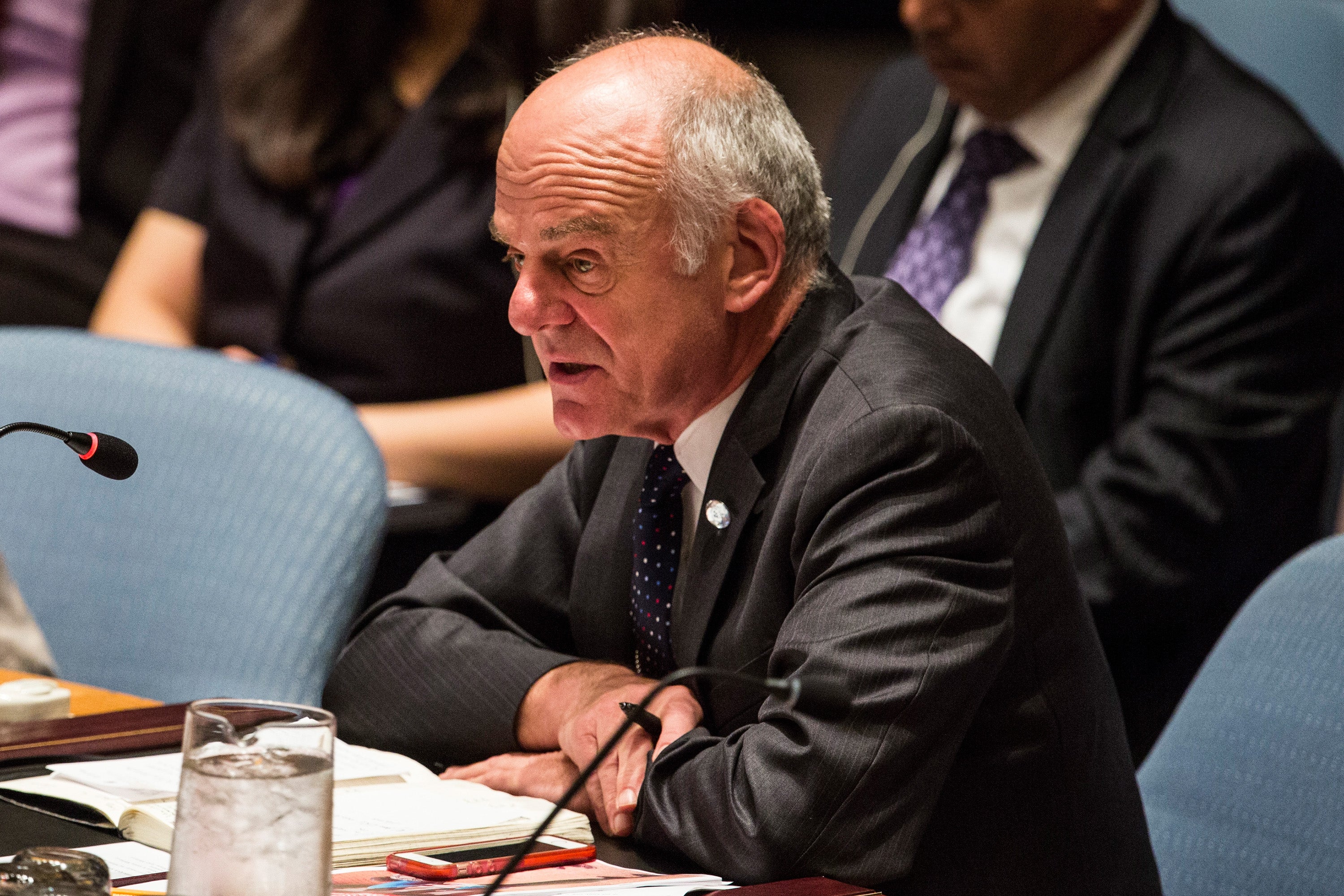 U.N. Ebola chief voices guarded optimism
UNITED NATIONS -- The U.N.'s Ebola chief said an extraordinary global response over the past month has made him hopeful the outbreak could end in 2015, though he cautioned that the fight to contain the disease is not even a quarter done.
"Until the last case of Ebola is under treatment, we have to stay on full alert," Dr. David Nabarro said Thursday in an interview with The Associated Press. "It's still bad."
Nabarro said a month ago that the number of Ebola cases was probably doubling every three-to-four weeks. He warned then that without a mass global mobilization, "the world will have to live with the Ebola virus forever" and that the response needed to be 20 times greater.
But in the past four weeks, the rate of Ebola infections seems to be slowing in some parts of West Africa, Nabarro said in the interview. In other hotspots, he said, it appears to be expanding the way it was a month ago.
The World Health Organization on Wednesday reported a total of 13,042 cases of Ebola in West Africa and 4,818 deaths. It said the rate of new infections appears to be declining in Liberia, stable in Guinea and still rising in Sierra Leone.
Nabarro said there are five times the number of beds for treatment in the three hardest-hit countries than there were two months ago, which is helping to reduce the number of cases, along with improving efforts to find people with infections and trace their contacts.
Nabarro pointed to two other positive signs: The extraordinary global response in the last month and the mobilization of local communities in the three countries as a result of massive media campaigns and house-to-house "sensitization efforts" involving traditional leaders.
He said these factors have "made me incredibly optimistic that in the coming months we could certainly see a diminution, and hopefully in the next year the outbreak will come to an end."
But Nabarro said it is too early to say the worst is over, noting that in Ebola and other diseases sometimes a reduction in cases can suddenly be followed by an upsurge, "like a fire reigniting."
"So I must stress to you that we are really not saying to the world that the job is even half done or a quarter done," he said.
"We're simply saying we had a strategy and the strategy predicted that as things got implemented, numbers of cases wouldn't increase at the rate they were increasing in August and September," Nabarro said. "Well, that's what's happening. We've in some places got a slowed rate of increase, but I'm afraid I cannot say to you that it looks as if we're over the worst."
Nabarro, who has been a public health doctor for 35 years, said more treatment facilities, community care centers and money are needed.
The United Nations appealed for about $1 billion on Sept. 16. Nabarro said nearly $800 million has been pledged, plus additional money to help the affected governments cope with economic challenges and to pay military forces providing assistance in region.
But Nabarro said the U.N. now estimates it will need $1.5 billion, so there is a $700 million gap. He predicted that will be met because "the citizens of the world" have responded and want to help.
The U.N. goal is to have 70 percent of cases isolated and 70 percent of burials safe by Dec. 1.
Nabarro said there has been "extraordinary progress" on burials in Liberia and the figure of safe burials is near 70 percent now. Touching and washing bodies are tradition at Liberian funerals, but authorities have launched campaigns warning such practices increase the risk of transmitting Ebola.
The other countries have farther to go but there are "promising signs," he said.
Nabarro said access to treatment which isolates patients is improving but is not up to 70 percent because of a lack of personnel, especially skilled international staff.
WHO said 22 percent of the planned 4,707 beds needed in the treatment centers are currently in operation, citing the lack of foreign medical teams as the key problem.
The organization said Guinea currently has two foreign medical teams operating treatment centers and needs at least five more, Liberia has three foreign medical teams and needs 13 more, and Sierra Leone has five teams with 10 more being deployed.
Nabarro said efforts are also under way to increase the number of community care centers where people can be treated from 10 now to about 300 in December.
Thanks for reading CBS NEWS.
Create your free account or log in
for more features.