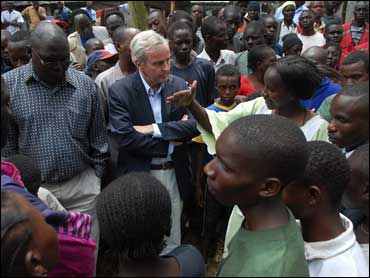 U.N.: 600,000 Displaced In Kenya Unrest
A Kenyan government negotiator said Monday the president's party was considering sharing power with the opposition, the first acknowledgment from the government side that such a proposal was on the table.
The international community has been pressing for a power-sharing agreement in hopes that it will end the presidential election-related violence that has killed more than 1,000 in the East African country. A top U.N. official said Monday that up to 600,000 people have been displaced in the turmoil.
"The talks from today on will be a hardball," said Mutula Kilonzo, one of the negotiators on behalf of President Mwai Kibaki, as discussions resumed between the government and the opposition.
"We are talking about the modalities of a political settlement, which can come in different forms. One of them is sharing government; another one is to reform the constitution to create a strong opposition and a capable government."
Much of the violence since Dec. 27 has pitted members of ethnic groups against one another. U.N. humanitarian chief John Holmes said Monday that up to 600,000 people have been displaced.
"There are something like 300,000 people displaced in camps ... (and) beyond those 300,000 there are probably just as many who are not in camps who have gone back to their homelands ... or are sheltering with friends and neighbors somewhere else," Holmes told reporters in Helsinki after arriving from a visit to Kenya.
The turmoil has gutted the economy of the country, once seen as a model for economic stability and democracy in Africa.
Former U.N. Secretary-General Kofi Annan, who is mediating the talks, said Friday before a weekend break that the two sides had made significant progress toward striking a deal to share power.
Also Friday, an opposition lawmaker on the negotiating team that the two sides had agreed to a power-sharing government. Annan called that "premature," but said significant progress had been made.
Opposition negotiators could not immediately be reached for comment Monday.
In a sign of the hopes the country is putting in the talks, rangers at the Masai Maara game park in northern Kenya named a newborn baby rhinoceros Kofi Annan.
Kibaki presided over the launch of a program to provide free nationwide secondary schooling on Monday in Nairobi without mentioning the turmoil, except to decry the looting and burning of homes that has marked recent violence.
On Saturday, opposition leader Raila Odinga told supporters that Kibaki "must step down or there must be a re-election - in this I will not be compromised." Two days earlier, he had indicated he would not insist on Kibaki's resignation.
Odinga has flipped between harsh rhetoric and conciliatory gestures as the talks have dragged on. On Sunday, he said he was prepared for "giving and taking."
Odinga's supporters have applied their own pressure. In his stronghold in western Kenya, they have threatened to burn down his farm and a large molasses factory owned by his family if he returns as anything less than president.

Thanks for reading CBS NEWS.
Create your free account or log in
for more features.