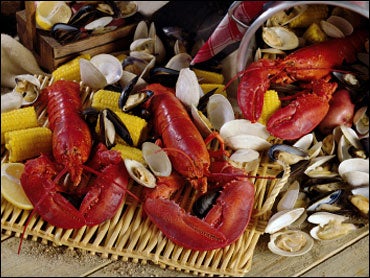 Ultimate July 4th Clambake, On A Budget!
What better way to celebrate the Fourth of July than with a good, old-fashioned summer classic - a sizzling clambake?!
Allen Susser is executive chef and owner of Chef Allen's in Aventura, in South Florida, and he came up North to show "Early Show Saturday Edition" viewers what the clam bake is all about!
Not only that - he agreed to take our "Chef on a Shoestring" challenge of doing it on a strict budget! But, in honor of the holiday, we threw out our usual $35 limit and gave Chef Allen $70 - and told him to pull out all the stops! He prepared a clambake for eight.
Chef Allen's opened in 1996. In addition to the restaurant, Chef Allen has written several cookbooks, and has his own line of sauces and spices.
MENU
Grilled Lobster
New England-Style Clam Bake
Apple Pie a la Mode
Cranberry Iced Tea
RECIPES
Grilled Lobster & Clam Bake
INGREDIENTS:
Four 1 - 1-1/2 pound lobsters
4 tablespoons olive oil
1 teaspoon salt
1/2 teaspoon freshly ground black pepper
4 ears sweet corn, in the husk
2 medium onions, diced
16 small red skinned potatoes
2 dozen steamer clams
2 dozen fresh mussels
2 links Chorizo sausage, cut into 1 inch slices
2 cups dry white wine
2 tablespoon butter, melted
2 medium lemons, cut into wedges
METHOD:
To prepare the lobster:
Using a large 16 quart stock pot filled with water to partially cook the lobsters. Drop 2 lobsters, head first, into large pot of boiling water. Cover; cook 3 minutes (lobster will not be fully cooked). Using tongs, transfer lobster to baking sheet. Return water to boil. Repeat with next 2 lobsters.
To grill the lobsters and corn:
Prepare barbecue to medium-high heat. Place the corn in the husk on the barbecue grill. Transfer lobsters, shell side down, to work surface. Place tip of large knife into center of lobster. Cut lobster lengthwise in half from center to end of head. Repeat with the remaining lobsters.
Keeping lobster halves meat side up, brush shells with olive oil. Place halves, meat side up, on barbecue. Cover barbecue; grill lobsters until just opaque in thickest portion of tail, 7 to 9 minutes.
Place the corn in the husk on the barbecue grill. Grill until husk begins to char. Turn the corn and brush with oil; sprinkle with salt and pepper. Grill for 8-10 minutes or until the corn is cooked through.
For the Clam bake:
While the Lobsters are grilling, use a 10-quart stock pot to cook the clambake. Warm the remaining olive oil over high heat. Stir in the garlic and onions. Add the potatoes, clams, mussels, chorizo and wine. Cover and bring to a simmer and cook for 10 minutes until potatoes are cooked through and the seafood shells have all opened.
Serve with warm melted butter and lemon wedges.
For more recipes, go to Page 2.
Apple Crumb Pie a la Mode
INGREDIENTS:
One 9-inch pie shell
6 cups granny smith apples, thinly sliced
3/4 cup sugar
2/3 cup all purpose flour
1/2 teaspoon ground cinnamon
1/8 teaspoon ground nutmeg
1/2 cup raisins
1/2 cup pecans, roughly chopped
1/2 cup brown sugar, packed
3 tablespoons butter
1 pint vanilla bean ice cream
METHOD:
To prepare the pie:
Preheat oven to 375°F.
Place sliced apples in a large bowl. In a small bowl, mix together sugar, 2 tablespoons flour, cinnamon, and nutmeg. Toss cinnamon mixture with the apples until they are evenly coated. Stir in raisins and pecans. Spoon mixture into pastry shell.
To prepare the topping:
In a small bowl mix together remaining flour and brown sugar. Cut in butter until mixture is crumbly. Sprinkle mixture over apple filling. Cover top loosely with aluminum foil.
To bake the pie:
Bake in preheated oven for 25 minutes. Remove foil and bake an additional 25 to 30 minutes, until top is golden brown. Cool on a wire rack.
To serve:
Allow the pie to cool at least 2 hours. Cut the pie in 8 pieces. Place on individual colorful plates and top with a scoop of ice cream.
Cranberry Iced Tea
INGREDIENTS:
3 cups brewed tea, chilled
1/2 cup sugar
1 cup cranberry juice, chilled
1 small lemon, thinly sliced
4 tall glasses filled with ice
METHOD:
In a large pitcher, stir the tea and sugar together until dissolved. Pour the tea over the ice cubes in the glasses about ¾ filled. Pour the cranberry juice slowly to top off the ice tea. Garnish with lemon.
So, how did Chef Allen fare with our $70 budget?
Clambake
Lobsters $27.96
corn $2.00
onions $1.78
potatoes $5.28
steamer clams $8.98
mussels $3.98
chorizo $1.99
white wine $3.00
lemons $1.00
total $55.97
Apple Pie
pie shell $1.49
granny smith apples $3.36
nutmeg $.99
raisins $1.79
pecans $.99
vanilla ice cream $1.99
total $10.61
Cranberry Iced Tea
tea $1.11
cranberry juice $1.19
lemon $0.50
total $2.80
Grand Total: $69.38
Thanks for reading CBS NEWS.
Create your free account or log in
for more features.