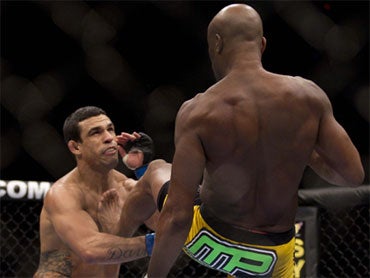 UFC 126: Silva Takes Belfort Out with 1 Kick
Even after a dozen straight wins during nearly a half-decade of unrivaled perfection in the UFC octagon, Anderson Silva still came up with another spectacular way to finish a fight.
Silva stopped Vitor Belfort with a single kick to the face in the first round, defending his middleweight belt for a record eighth time at UFC 126 on Saturday night.
After little action in the opening minutes of their bout, Silva (28-4) flattened his fellow Brazilian brawler with one magnificently placed kick that caught Belfort squarely on the jaw, bringing a dramatic end to Silva's 13th consecutive UFC victory at 3:25 of the opening round.
"Thanks to my coach for teaching me that kick," Silva said. "Everybody should respect Vitor. Before I even started fighting, he was a champion, so he deserves your respect."
The lightning-quick strike landed before anybody in the sold-out Mandalay Bay Events Center even realized Silva had done it. Belfort's eyes rolled while his knees buckled as he fell limply on his back, and Silva landed two punches to the prone Belfort's head before the fight was stopped.
"I've only seen that in a video game," UFC president Dana White said.
Belfort (19-9) blamed himself for failing to block the straight-ahead kick from Silva, whose athleticism and well-rounded style have kept him perfect since 2006.
"It's no excuse. He caught me with a kick," Belfort said. "I just got caught up. He faked the body, and he kicked to the head. Anderson is a great fighter."
Jon "Bones" Jones earned a light heavyweight title shot with a second-round submission victory over fellow prospect Ryan Bader on the undercard in the UFC's hometown. Forrest Griffin also won an unanimous decision over fellow veteran Rich Franklin in a meeting of former champions.
Silva is the longest-reigning champion in UFC history, largely dominating all contenders since winning his belt in October 2006 with a first-round stoppage of Franklin. The fighter known as "Spider" is considered the world's greatest mixed martial artist by White and most experts.
Yet Silva's aura had lost much of its luster in the past 10 months. He was ripped by White for embarrassing the UFC in Abu Dhabi by barely engaging Demian Maia during a title defense last April, then Silva was largely dominated on the ground for four rounds by Chael Sonnen in Oakland last August before escaping with a fifth-round submission victory.
Belfort was the youngest fighter to win a UFC bout 14 years ago, but the 33-year-old still known as "Phenom" had to fight his way back to the UFC after losing his light heavyweight title in 2004 to Randy Couture, who was part of Belfort's corner team Saturday night. After stops with four MMA promotions and his boxing debut, Belfort returned to the UFC in September 2009 with a knockout of Franklin, but hadn't fought since.
Earlier, Jones (12-1) won the bout between elite MMA prospects with a guillotine choke, stopping the previously unbeaten Bader (12-1) - and earning a stunning title shot just six weeks later.
Moments after the bout ended, the UFC announced Jones will get the next shot at light heavyweight champion Mauricio "Shogun" Rua's title at UFC 128 in Newark, N.J. on March 19. Rua was scheduled to fight Rashad Evans, Jones' training partner, but Evans was diagnosed with a knee injury earlier Saturday.
White said he made the deal for Jones to face Rua while Jones was still in the octagon. The 23-year-old Jones didn't flinch from a daunting task.
"I feel like it's my time," Jones said. "My confidence is really high. I'm already in shape, and I've got six weeks to make myself even better."
Jones' bout with Bader matched arguably the top two prospects in the loaded light heavyweight division. Jones is among the UFC's most tantalizing up-and-comers for his athletic, unorthodox approach and dramatic stoppage wins, while Bader forged an unbeaten record with remarkable strength and superb wrestling skills.
Jones dominated the first round on the ground, nearly submitting Bader with an unusual hold. The fighters spent most of the second round on their feet, but Jones took down Bader and landed a difficult guillotine choke, forcing Bader to tap out for the first time in his career.
Griffin capitalized on a strong first round, hanging on for a victory over Franklin in a meeting of former UFC champions who rank among the sport's most popular fighters. After Griffin (18-6) controlled nearly the entire opening round, he traded punches and avoided takedowns to grind out a win over Franklin (28-6), the former middleweight champion who has lost three of his last five fights.
"Rusty, rusty," said Griffin, who hadn't fought since late 2009 while recovering from a shoulder injury. "It's great to be back. I was so nervous. Camp didn't go right, but I feel good now. It's hard to come back after a year when you haven't gone full speed. Fortunately I got him down in that first round and was able to grind on him a bit."
Thanks for reading CBS NEWS.
Create your free account or log in
for more features.