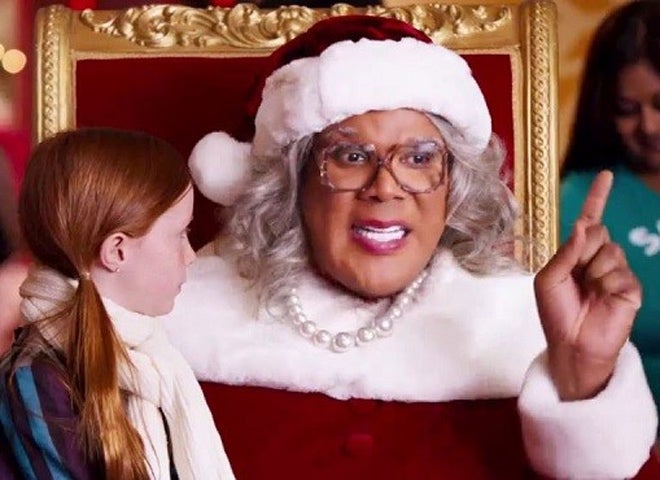 Tyler Perry says he's retiring Madea character after nearly 20 years
Tyler Perry has announced Madea's retirement. The film mogul, who has been playing Mabel Earlene "Madea" Simmons for nearly 20 years, announced that he is bidding the character farewell and putting away his gray wig, glasses and long floral dresses.
Perry has played Madea in 10 movies, including the upcoming "Tyler Perry's a Madea Family Funeral," in addition to plays and TV shows. He said on the SiriusXM show "Bevelations" that he's over playing the tough elderly woman.
"I'm happy to kill that old b***h, I'm tired, man," Perry said on Monday. "I just don't want to be her age, playing her." Perry is 49 and Madea is in her 60s.
But fans will have plenty of time to say goodbye. Perry said he is taking Madea on a farewell stage tour, and he says he'll use 2019's "Family Funeral" to end her storyline. It's not clear if the funeral is for Madea herself.
Madea's film debut was in "Diary of a Mad Black Woman," a 2005 rom-com Perry created. It was based on Perry's play of the same name, in which he also played Madea. Since then, Madea has appeared in numerous sequels, including "Madea's Family Reunion" and "Madea Goes to Jail."
Perry has said before that Madea is partly based on his own mother. In 2009, he told "60 Minutes" correspondent Byron Pitts, "Madea is a cross between my mother and my aunt. She's the type of grandmother that was on every corner when I was growing up. She smoked. She walked out of the house with her curlers and her muumuu and she watched everybody's kids. She didn't take no crap. She's a strong figure where I come from. In my part of the African-American community. And I say that because I'm sure that there are some other parts of the African-American community that may be looking at me now going, 'Who does he think he's speaking of?' But, for me, this woman was very, very visible."
Last year, he told "CBS This Morning" that his mother's faith has always guided him.
"She believed in God, she believed in Jesus, she would take me to church and I'm grateful for it because what I know this day is that if you don't give your children something to turn to, they're going to turn to something in hard times. So for me, the gift she gave me was the gift of God," he said.
Thanks for reading CBS NEWS.
Create your free account or log in
for more features.