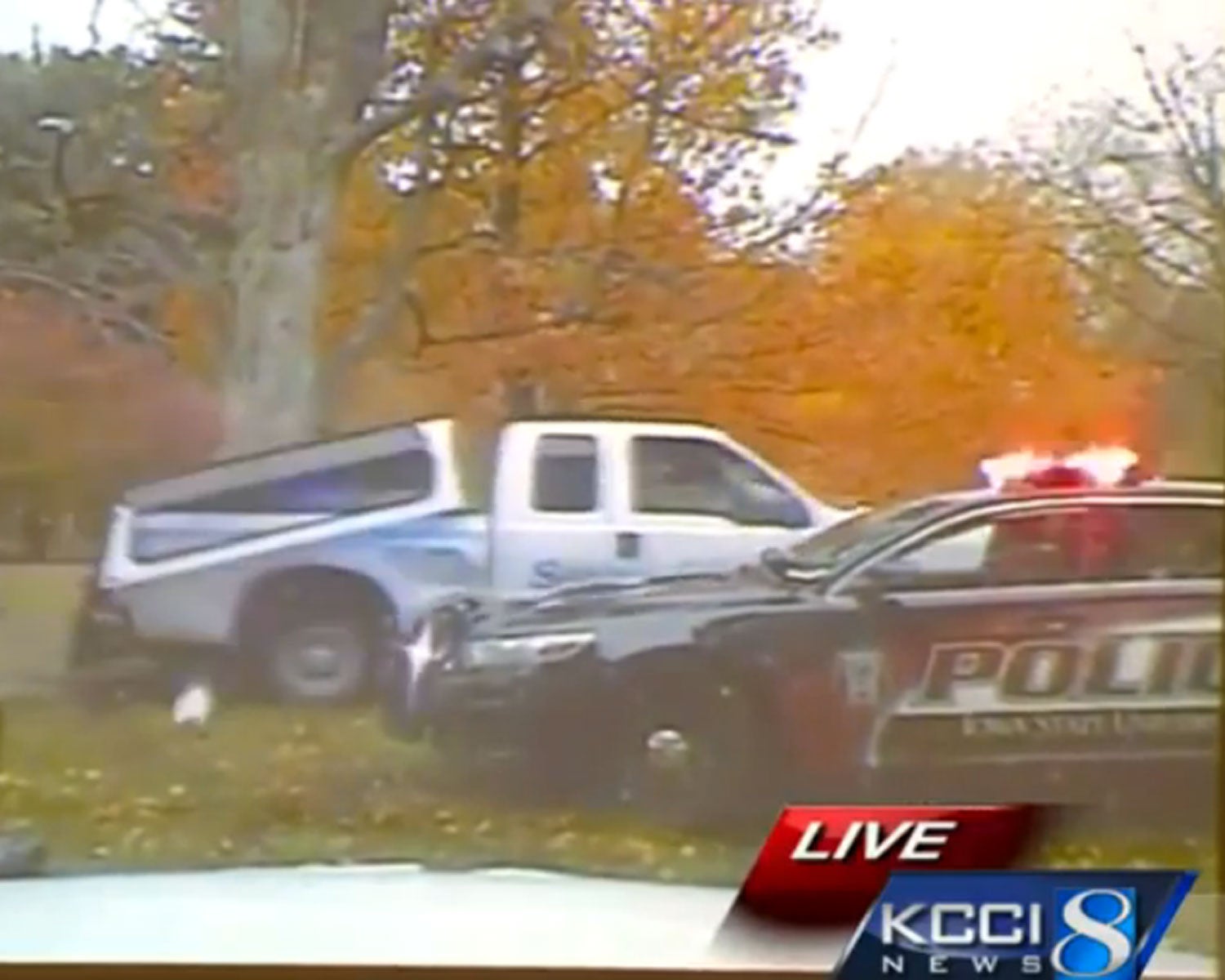 Tyler Comstock Killing: Iowa police shoot unarmed 19-year-old after father calls authorities to report the teen stole his truck
(CBS/AP) AMES, Iowa - A 19-year-old man was fatally shot by police on the campus of Iowa State University after his father called authorities to report that the teen had stolen his truck, reports CBS affiliate KCCI.
Tyler Comstock, 19, of Boone, was shot dead by Officer Adam McPherson, an 8-year-veteran of the department, at the end of an at-times high-speed pursuit through the city's streets that ended on the college campus, reports the station.

The officer who shot the teen in Ames, Iowa Monday was cleared Thursday of wrongdoing, and the investigation was closed, reports the DeMoines Register.
A state's attorney says the police officer who fatally shot the apparently unarmed man "acted reasonably under very difficult circumstances and....use of deadly force was justified," reported KCCI.

Tyler Comstock's father, James Comstock, told the Des Moines Register he refused to buy his son a package of cigarettes, which angered him and started the incident. James Comstock had called police to report the stolen vehicle.
Comstock told the newspaper he's outraged police shot his son. Other family members told the newspaper police should have backed off the pursuit because they knew who they were chasing.
Story County Attorney Stephen Holmes, who said the officer's actions were justified, in his report states, "In watching the videos I can't help but express my concern that it was only by sheer luck that no one else was seriously injured or killed by Mr. Comstock."
Holmes said "Comstock's actions did not allow any amount of time for the officers to devise or employ other 'means' to mitigate or defuse the situation ahead of the shooting..."
Authorities said video from police car cameras clearly shows Comstock's disregard for citizens as the chase continued.
Videos from inside McPherson's car and another officer's car, played during a Thursday news conference, show Comstock backing up and hitting a police officer's car, a trailer flying off the truck, and the truck speeding down Ames streets, racing past motorists and pedestrians, and eventually the conclusion of the chase on the ISU campus. Gunshots can be heard in both videos.
Authorities said there was no directive from dispatch to call off the pursuit. Officers did reduce speed when they reached campus but continued to follow Comstock.
McPherson remains on paid administrative leave. Authorities said there is no timeline yet on when he will return to duty.
State investigators said Wednesday that autopsy results show Comstock died from a gunshot wound to the head and chest.
Police said he was pronounced dead at a hospital a short time after the shooting.
Family members told KCCI on Wednesday that Comstock shouldn't have died. They said Comstock had anger problems and would have returned the truck if officers had stopped pursuing him.
They said the officer will have to live with his decision to shoot.
"He has to live with that for the rest of his life of guilt of killing another person's family member, which we truly loved," Blake Jensen, Comstock's cousin, told the station.

"He had no right to kill him or shoot him. If he would have just listened to the dispatcher we would still have him (alive). I know he was just going his job, but if he would have just listened this wouldn't even have happened," said LaShawn Jensen, another one of Comstock's cousins.
Gary Shepley, Tyler Comstock's step-grandfather, questioned why police didn't back away from the truck as suggested by an officer during the chase. Comstock's family says the teenager was not armed.
Police said the truck Comstock was driving was reported stolen from Spring-Green Lawn Care in Boone, where his dad worked. Spring-Green workers said the father and son argued over money for a pack of cigarettes before Comstock took off in the truck.
Comstock has been living at a homeless shelter. People at the shelter told KCCI that Comstock was working with his dad on the day of the chase and shooting.
"I seen him the night before. The night before he was calm," said Gerald Elliott, manager of the All for Jesus Homeless Shelter. "We'd all seen him, you know, just before he left we had all seen him and knowing he was just going to work with his dad. You know you don't expect something like that."
The case remains under investigation by Ames police, ISU police and the Iowa Division of Criminal Investigation.
Thanks for reading CBS NEWS.
Create your free account or log in
for more features.