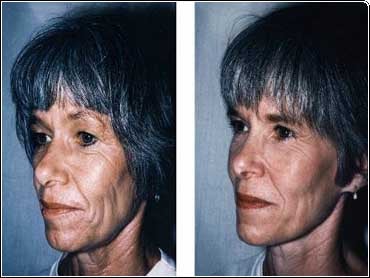 Twins May Age Differently
Gwen Sirota and Gay Block are identical twins. When they hit age 60, they thought they still looked alike. After all, identical twins are supposed to age alike, aren't they?
Then a plastic surgeon stunned them with side-by-side photographs: Despite having the same genes, Block actually looked like an older version of Sirota instead of a twin.
"At first I thought he'd touched up the photos," Block recalls. Then "I went, 'Oh my gosh, I really do look older."'
Block, it turns out, loved to tan, baking on California beaches. She says she smoked marijuana and drank fairly heavily during a stressful period of the 1970s.
Her twin never did any of that. And while genes gave them the same eye crinkles and smile line, Block's wrinkles were significantly deeper, with those telltale vertical lip lines from puckering up to smoke, and her skin was coarsened by the sun.
So much for assuming that good genes are enough to fight the ravages of time.
Your doctor, if you didn't hear it from mom or dad first, always have said smoking and too much sun are bad for you. They sow the seeds for cancer and other problems, but it's hard for some people to believe that today's lifestyle choices carry serious consequences down the road.
But Dr. Darrick Antell's new study of twins illustrates that in the nature vs. nurture debate, nurture plays a huge role in how we age and he argues that if faced with powerful photographic evidence, more people would kick some bad health habits.
"You can talk until you're blue in the face about all the health hazards" of habits like smoking and tanning, said Antell, who practices plastic surgery at St. Luke's-Roosevelt Hospital in New York. "But tell them they'll age quicker and not look as attractive, and people will probably listen."
Identical twins are sought by medical researchers struggling to understand the relationship between genetics and the environment on a host of topics, including what makes some people age better than others.
Antell was interested in aging's skin-deep effects. So he traveled to the annual Twins Days Festival in Twinsburg, Ohio, to recruit twins for a two-step study: First, did some twins' skin age differently and why? Then he gave participating twins facelifts using slightly different surgical techniques, to help settle a debate over which facelifts hold up best over time.
Facelift results aren't in yet. But a report comparing photographs of his first seven sets of twins, in the Annals of Plastic Surgery, concluded smoking and tanning led a list of environmental factors that over-aged some twins who otherwise led similar lives.
It's the photographs that are unique. "In many ways, a visual message is often a much stronger draw" than same-old health warnings, said aging expert Dr. Robert Kane of the University of Minnesota, which is conducting more in-depth twin studies on aging.
Foexample, another set of twins in the study led almost identical lives, except one had smoked cigarettes for 30 years and her twin never did, Antell said. The smoker had deeper wrinkles, including vertical lip lines and sagging skin.
Then there are Block and Sirota.
"We never saw a difference," insists Sirota, of Cockeysville, Md. "I thought he took the worst picture of Gay and the best picture of me."
Happy with a facelift that she says makes both twins look 50-ish again, Block, of Novato, Calif., now says her skin did reflect a tougher life. Always a more avid tanner, she says the death of a child turned her to marijuana and alcohol in the '70s and that stress plus bad health habits obviously played a role.
Still, the twins show "you can practice defensive aging" with healthier lifestyle choices, Antell advises.

Thanks for reading CBS NEWS.
Create your free account or log in
for more features.