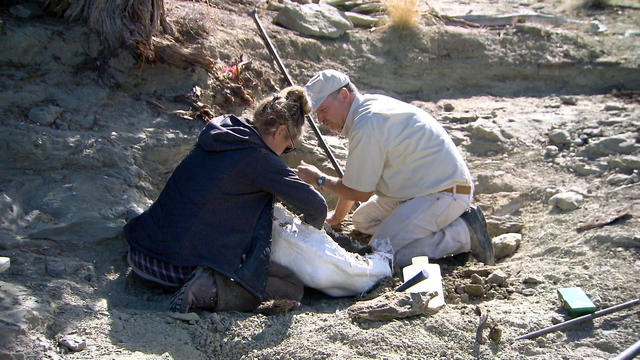 How Trump's national monuments decision could affect massive deposit of fossils
The future of 21 national monuments is under federal review Tuesday morning with President Trump expected to soon significantly downgrade some of them in size and scope. Many scientists are worried the move could damage one of the richest deposits of dinosaur bones in the world.
CBS News correspondent Mireya Villarreal went on a dig to see the concerns about the potential changes first-hand.
One of the most nerve-wracking moments for a paleontologist is called "flipping the jacket." But for Dr. Alan Titus, it's also the reward for all his hard work.
Titus is the paleontologist for the Grand Staircase-Escalante National Monument in southern Utah, which could soon be shrunk by 40 to 60 percent.
He's unearthing part of a site he thinks contains four or five ancestors of the mighty tyrannosaurus rex.
"I get very emotional about it. But I get excited about this kinda stuff," Titus said.

And there's a lot for him to get excited about. In the two decades since the 1.9 million-acre patch of desert was designated a national monument, 25 new species of dinosaurs have been discovered in its sands.

"When Grand Staircase was created in 1996, it was originally envisioned that it would be an outdoor laboratory," Titus said.
But that designation by President Bill Clinton also enraged many residents of southern Utah, who were suddenly limited in their ability to graze cattle, extract minerals like coal or even build roads.

"Grand Staircase National Monument is probably one of the most volatile issues in Utah," said rancher Michael Noel.
Noel has led the fight against the monument ever since it was created. He was thrilled earlier this year when President Trump ordered his Interior Secretary Ryan Zinke to review and likely shrink the size of the monument, opening the land up to more commercial development.
"It means more people can utilize these lands in the future and it does not mean selling them off and it doesn't mean destroying 'em. All the laws, regulations, Archaeological Resources Protection Act, will all be in place," Noel said.
Paleontologist Andy Farke has been recovering specimens from the monument for years. If Trump changes its status, he fears there could be more recreational traffic like off-road vehicles and more chances for science to suffer.

"There's a possibility that fossils may be lost or destroyed. Things like fossil theft and vandalism. Once that record of our planet's history is gone, you know, we've lost something from the American story," Farke said.
Back in his lab, Titus stays out of the political fight. After all, when it comes to exploring Grand Staircase land, he's hardly scratched the surface.
"We're about a fifth of the way through in essentially more than half of my career, so there's many careers-worth of work left here to do just to document what lies here in the ground," Titus said.

Thanks for reading CBS NEWS.
Create your free account or log in
for more features.