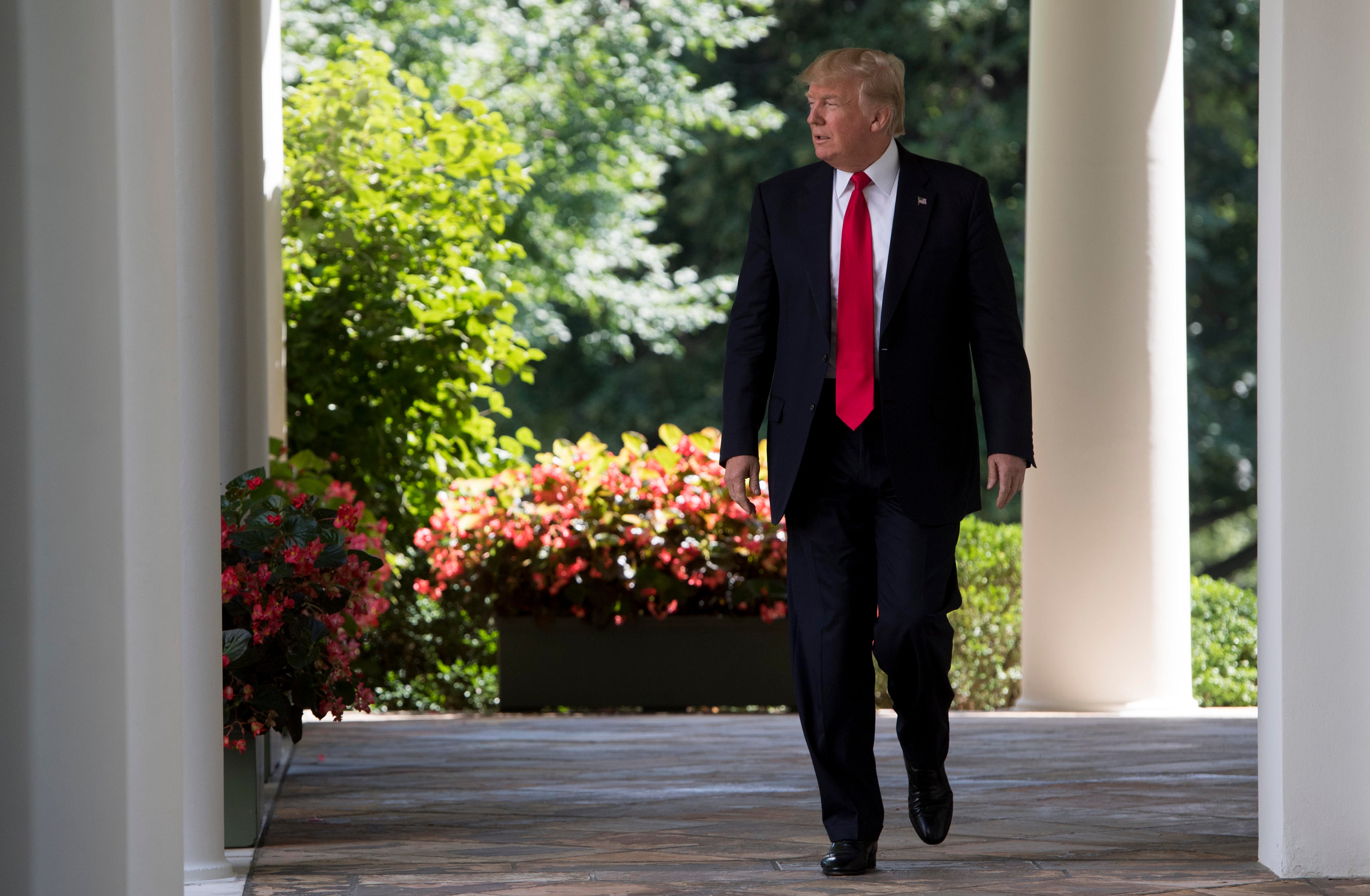 Trump travels to Long Island to talk about MS-13, immigration
WASHINGTON -- Trumpeting his administration's crackdown on illegal immigration and violent crime, President Donald Trump is traveling to Long Island to urge Congress to dedicate more funding to the fight.
Mr. Trump is set to speak Friday afternoon at Suffolk County Community College in Brentwood, New York, close to where the ultra-violent street gang MS-13 has committed a string of gruesome murders, including the massacre of four young men in April in a Central Islip park.
President Trump is expected to continue his tough talk on immigration and urge Congress to dedicate more funding to border enforcement and faster deportations in a speech in front of law enforcement officers and the family members of crime victims.
He has made cracking down on MS-13, also called Mara Salvatrucha, a top priority of his administration. The gang, which is believed to have originated in immigrant communities in Los Angeles in the 1980s and then entrenched itself in Central America when its leaders were deported, is infamous for its violent tactics, including torturing victims and hacking them with machetes.
Its recruits are middle- and high-school students, predominantly in immigrant communities, who are said to risk violent retribution if they leave. Authorities estimate the group has tens of thousands of members across several Central American countries and many U.S. states.
Mr. Trump's Justice and Homeland Security departments have made targeting the gang a top priority. Attorney General Jeff Sessions has directed his department's law enforcement agencies and federal prosecutors across the country to prioritize their prosecution, as directed by an executive order Trump signed in February, among other measures.
"We're liberating our towns and we're liberating our cities. Can you believe we have to do that?" Mr. Trump said at an Ohio rally earlier this week, adding that law enforcement agents were rooting out gang members - and "not doing it in a politically correct fashion. We're doing it rough."
"Our guys are rougher than their guys," he bragged.
Since the beginning of January the Department of Homeland Security's investigative unit has arrested 3,311 gang members across the country in a number of targeted operations, said Tom Homan, the acting director of U.S. Immigration and Customs Enforcement. The agency could not provide numbers for a similar timeframe in 2016.
The president's trip comes as Sessions is visiting El Salvador as part of a mission to increase international cooperation against the gang. Sessions met Thursday with his Salvadoran counterpart and members of an international anti-gang task force.
Congressman Peter King, who represents Brentwood and will travel with the president from Washington, said that Trump's appearance would send a signal to communities that have been shaken by the violent killings.
"It's absolutely devastating. And almost all of these killings have occurred in my district, within 20 minutes of my home," he said.
King said the gang is responsible for 17 murders between January 2016 and April 2017 in his district - but that the impact on largely immigrant communities has been larger because of the way the gang kills. In addition to torturing victims, King said, members have also sent video of gruesome crime scenes to their victims' loved ones
"This gang's chilling motto is 'mata, viola, controla,'which means 'kill, rape and control,'" said Robert Hur, a top official at the Justice Department. "They seek to live up to this motto through truly shocking acts of violence designed to instill fear: vicious machete attacks, execution-style gunshots, gang rape and human trafficking."
The Trump administration blames the gang's recent resurgence in certain areas on illegal immigration and believes policies like building a wall along the southern border and cracking down on so-called "sanctuary cities" will eradicate the problem.
Critics see the focus misplaced and argue resources could be better spent on other enforcement efforts.
Thanks for reading CBS NEWS.
Create your free account or log in
for more features.