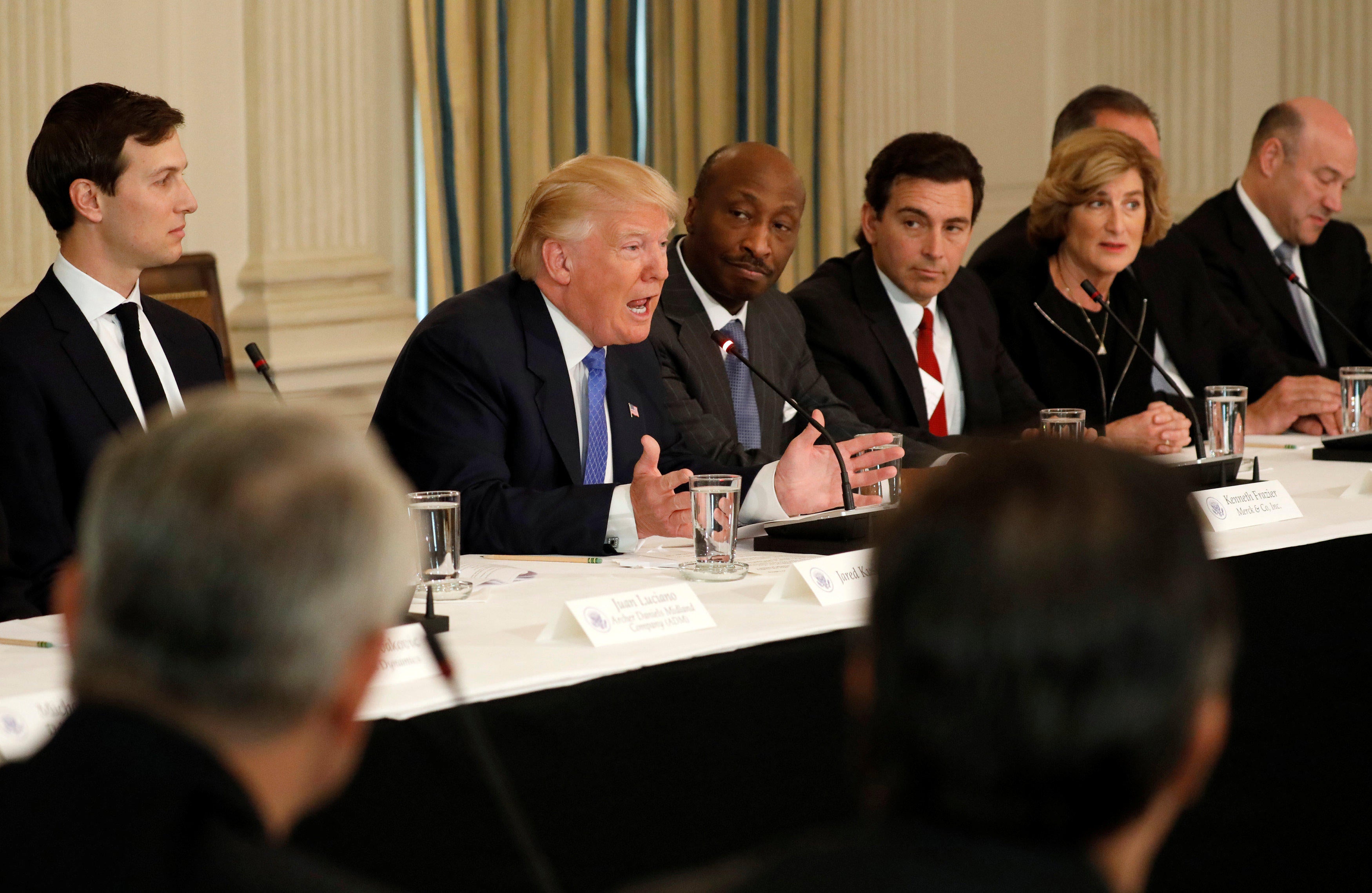 Trump says the new crackdown on undocumented immigrants is a "military operation"
President Trump said Thursday that his administration's new crackdown on detaining and deporting undocumented people in the U.S. is a "military operation."
During a roundtable meeting with manufacturing CEOs at the White House, Mr. Trump began talking about Mexico and the U.S. southern border.
"We're getting gang members out, we're getting drug lords out. We're getting really bad dudes out of this country and at a rate that nobody's ever seen before. And they're the bad ones. It's a military operation because what has been allowed to come into our country...when you've seen gang violence that you've read about like never before and all of the things, much of that is people that are here illegally," Mr. Trump said the meeting, which involved executives from companies like Campbell Soup Company, Dell Technologies and Johnson & Johnson.
"They're rough and they're tough, but not tough like our people," Mr. Trump added. "So we're getting them out."
It was a surprising statement to make about the military, given that the administration has made clear that despite a report from the Associated Press about a draft DHS document last week, it has no plans to activate National Guard troops to round up immigrants in 11 states. The people who typically deal with undocumented immigrants are law enforcement officers or officers from DHS.
The president's remarks come two days after the Department of Homeland Security issued two memos that could expand the number of immigrants detained or deported from the U.S. The memos are intended to implement President Trump's immigration actions from last month and enforce existing immigration law.
One of the provisions suggested that individuals apprehended in the U.S. and deemed inadmissible would need to prove that they have been in the U.S. continuously for two years. Otherwise, they could be subject to expedited removal with no court proceeding. The previous policy authorized expedited removal for undocumented immigrants found within 100 air miles of the border and within 14 days after entering the country.
A DHS official said Tuesday that the administration does not have a certain numerical threshold for how many people they intend to deport and that they want to quash the idea of mass deportation, in order to calm communities. The officials said they are executing the laws passed by Congress, and that there are practical limitations to what DHS can do because it does not have the personnel, time and resources to go into communities and round up people.
The official said that the memos are not intended to spur mass roundups or mass deportations and that as Mr. Trump has said, the administration will focus on criminals and people who have been convicted. Despite those priorities, the official said that it doesn't mean that everyone else is exempt from potential enforcement.
Thanks for reading CBS NEWS.
Create your free account or log in
for more features.