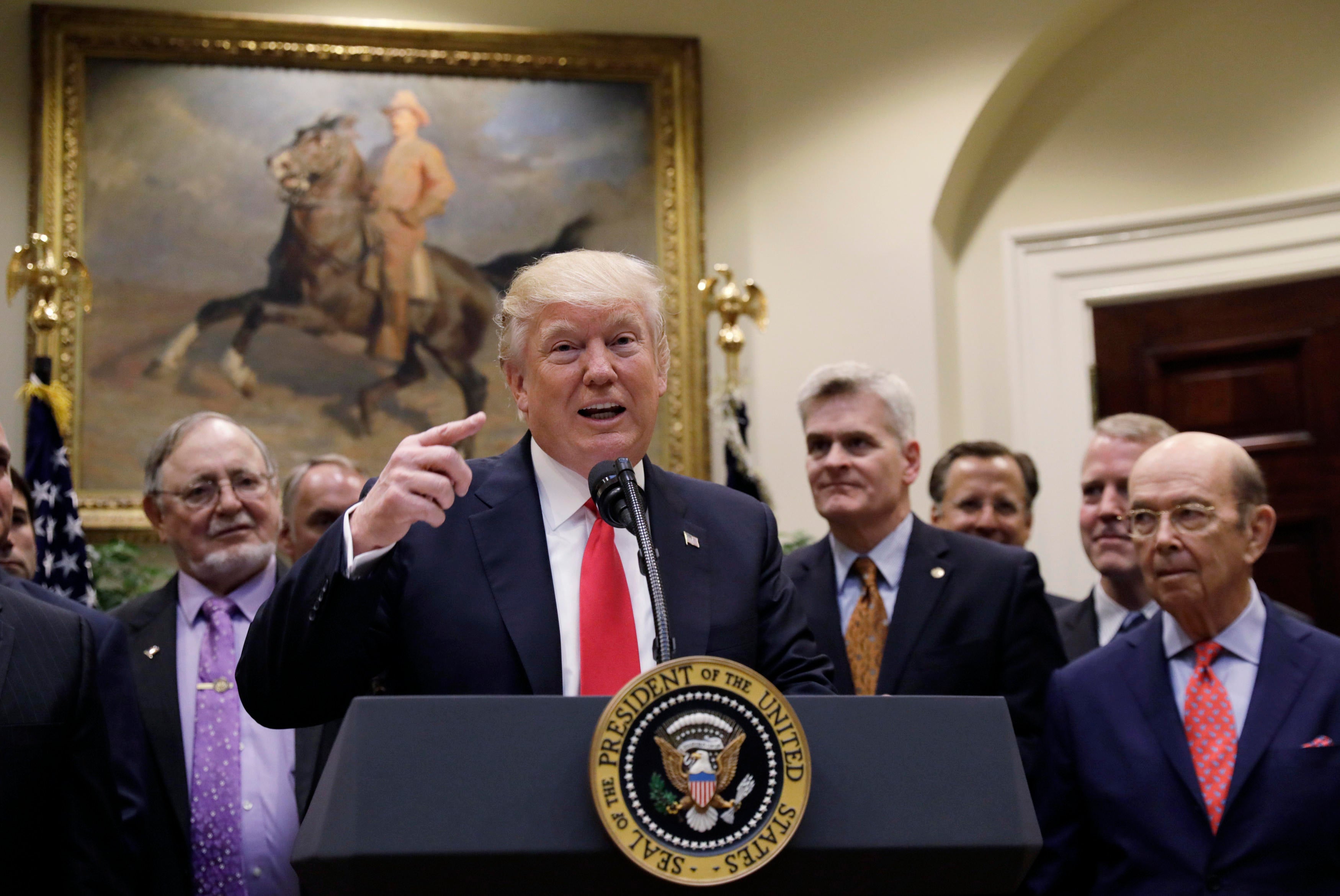 Trump orders multi-year review for offshore oil and gas drilling
President Trump signed an executive order on Friday which issues a multi-year review of oil and gas drilling in federally prohibited waters as well as an evaluation of the status of marine sanctuaries.
The American-First Offshore Energy Strategy allows Secretary of Interior Ryan Zinke to "revise or initiate" a new plan to replace a five-year moratorium on oil and gas extraction in parts of the Arctic, Atlantic, Pacific, and Gulf of Mexico, issued by President Obama after the largest marine oil spill ever, the Deepwater Horizon disaster of 2010, which killed 11 people and leaked almost 5 million barrels of oil into the Gulf of Mexico.
Mr. Trump's order also immediately nullifies Mr. Obama's 2016 withdrawal of a Outer Continental Shelf (OCS) lease in Alaska, which paused production in an offshore territory that the Department of Interior said contains nearly 23 billion barrels of oil and 104 trillion cubic feet of natural gas.
President Trump on Thursday in the Roosevelt Room said that the order would "create countless new jobs and make America more secure and far more energy independent."
Environmental groups excoriated the president in response -- many, like Oceana, fear a repeat of the BP oil spill.
Expanding offshore drilling, said Oceana Senior Vice President Jacqueline Savitz, "would be a huge, bad, stupid mistake. I doubt President Trump would want to see Mar-a-Lago, or any of his other coastal resorts, covered in oil." Savitz went on to point out that other resort and restaurant owners and coastal businesses have opposed offshore drilling.
The Wilderness Society called Mr. Trump's contention that the order would increase energy security "a myth," given that the oil and gas industry "has given up nearly all of its Chukchi Sea leases and most of its Beaufort Sea leases." The Wilderness Society went on to point out that major oil companies are unlikely to invest in the near term in Arctic drilling, given that "relatively low oil prices [are] expected for many years."
Interior Secretary Ryan Zinke, during a briefing Thursday, claimed that the lack of drilling in federal waters during the Obama administration resulted in government losses of approximately $15.5 billion in revenue through royalties, rents and leasing.
Included in the order also is a directive for the Secretary of Commerce, Wilbur Ross, to review "all designations and expansions of National Marine Sanctuaries, and of all designations and expansions of Marine National Monuments under the Antiquities Act of 1906 designated or expanded within the 10-year period prior to the date of this order."
In Mr. Obama's last year in office, he expanded the size of the Papahānaumokuākea Marine National Monument in Hawaii -- designating it as one of the largest ecologically protected areas in the world -- 582,578 square miles of land and sea.
On Thursday, Mr. Trump signed an order directing the review of federally designated lands to determine if the federal government should relinquish ownership to states.
The order also marks Mr. Trump's 29th executive order in his first 100 days, which outpaces any president in the past two decades.
Thanks for reading CBS NEWS.
Create your free account or log in
for more features.