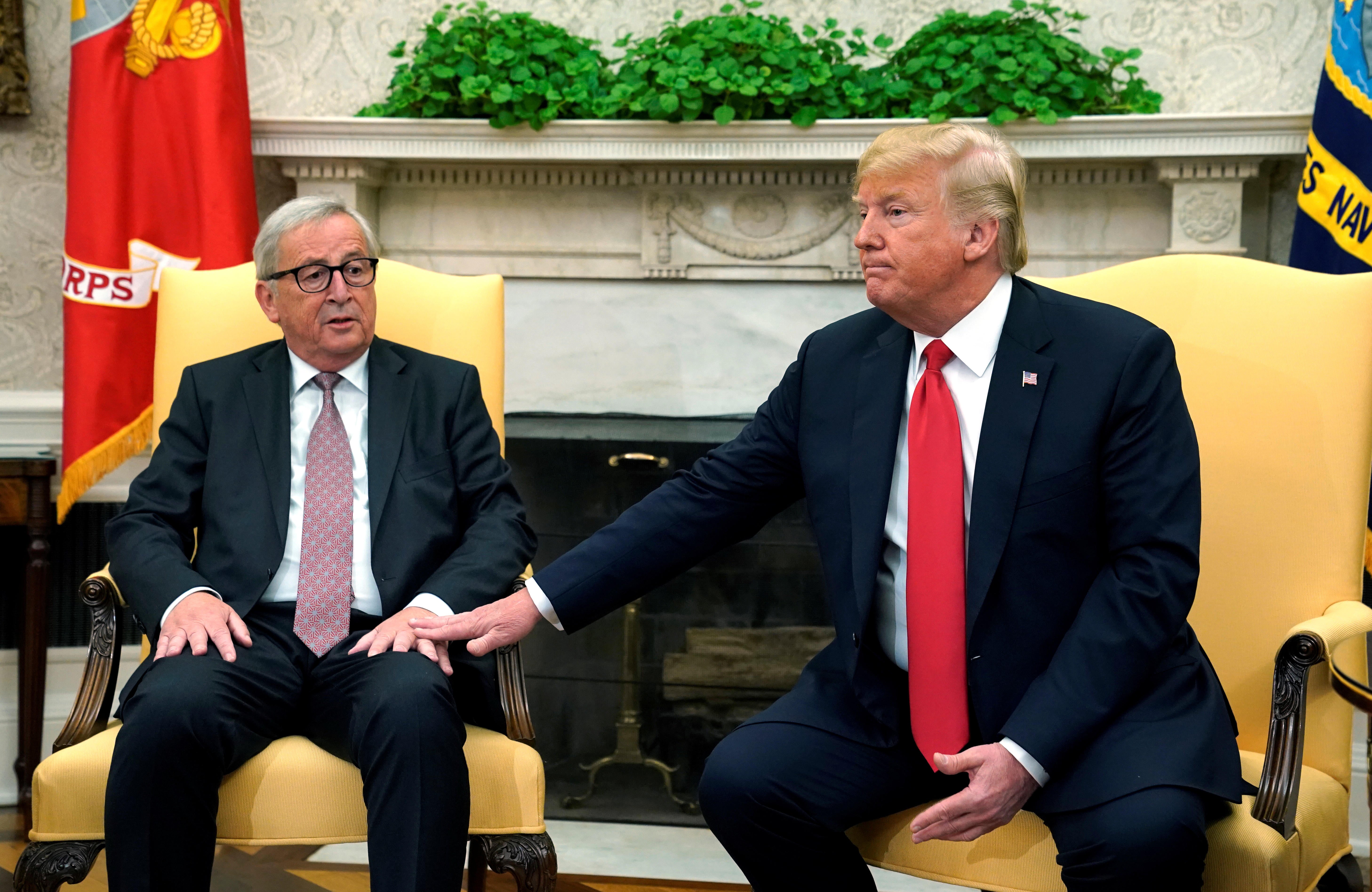 Trump says he expects "something very positive" on trade to take place with EU's Juncker
President Trump met with European Commission President Jean-Claude Juncker at the White House Wednesday, as tensions remain high over tariffs. During their Oval Office meeting, Mr. Trump said he expects something "very positive to take place" during their discussions, but was adamant that a "level playing field" is needed for U.S. farmers and manufacturers.
We want to have a fair deal and we're looking to have a fair trade deal and hopefully we can work something out," the president told reporters. He said that the U.S. also wants a "big beneficiary frankly to be the EU so we think it can be good for everybody."
Mr. Trump imposed a 25-percent tariff on steel and a 10-percent tariff on aluminum imported from the European Union in June, and the EU retaliated with "rebalancing" tariffs on U.S. steel, agriculture and other products soon after.
Juncker, meanwhile, urged the president to work together on the issue of trade, saying the two leaders "have to talk to one another not at one another."
"We should focus on reducing tariffs, not increasing them and that's what we have to do. That's our job," Juncker added. Mr. Trump agreed with the commissioner, saying "if we could have no tariffs and no barriers and no subsidies, the U.S. would be extremely pleased."
And contrary to Mr. Trump's claim to CBS Evening News anchor Jeff Glor that the EU is one of America's "foes," Juncker urged the president that the U.S. and EU are "allies, not enemies."
In late June, Mr. Trump threatened to impose a 20-percent tariff on cars imported from Europe. The Commerce Department held public hearings last week on proposed tariffs on autos and auto parts. On Wednesday, before Juncker's meeting with the president, the EU prepared a list of $20 billion in U.S. goods that would be subject to duties if Mr. Trump imposes the auto tariffs.
On Tuesday, Mr. Trump suggested that both the U.S. and EU drop their existing tariffs and trade barriers on each other. "Hope they do it, we are ready -- but they won't!" he tweeted.
As recent as Wednesday morning, Mr. Trump slammed leadership in his own country, calling out "weak politicians" who are pleading with the administration to end existing tariffs on U.S. allies out of concern for their constituents.
"When you have people snipping at your heels during a negotiation, it will only take longer to make a deal, and the deal will never be as good as it could have been with unity. Negotiations are going really well, be cool. The end result will be worth it!," he claimed.
Thanks for reading CBS NEWS.
Create your free account or log in
for more features.