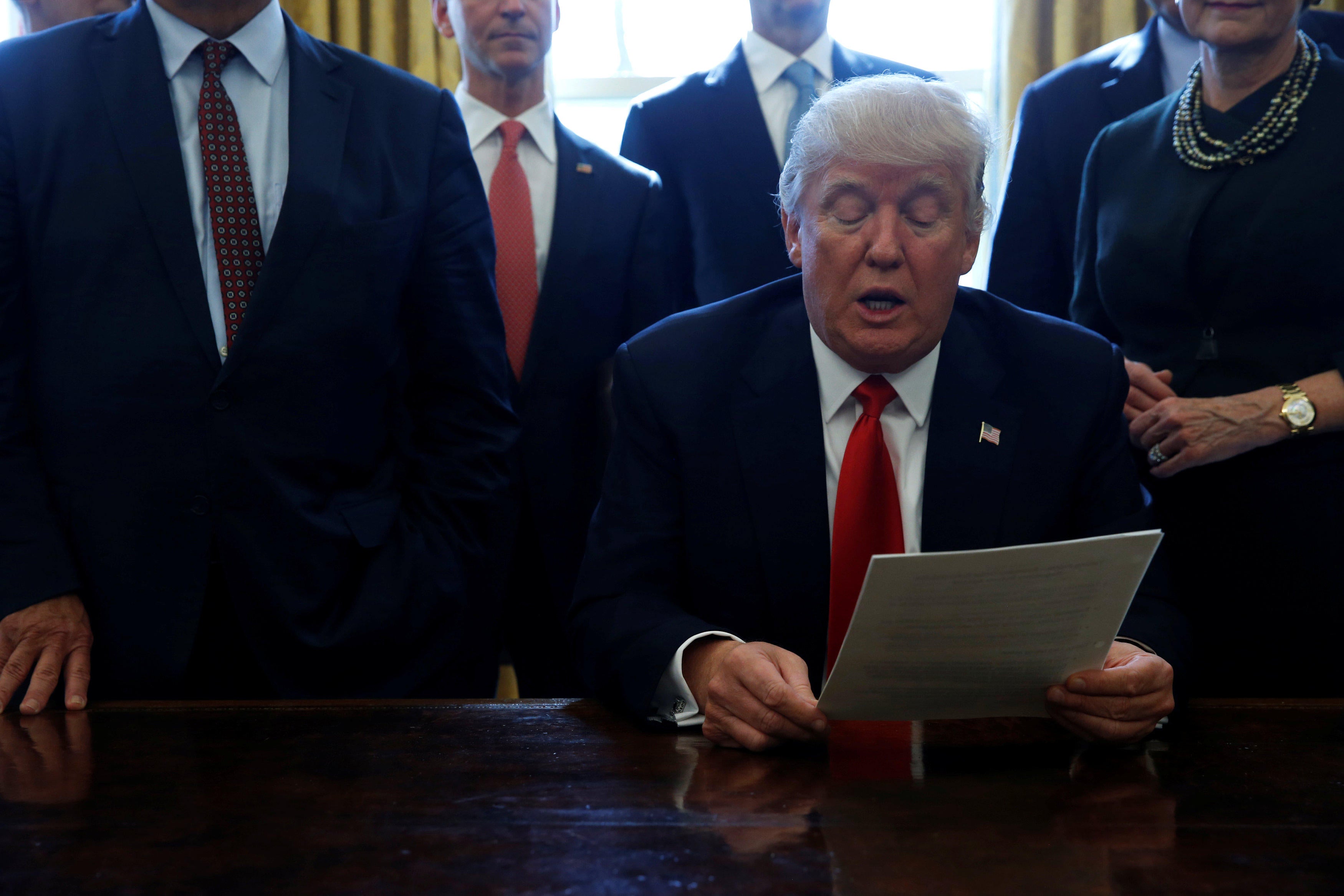 Trump issues executive orders on HBCUs, environmental regulations
President Trump will sign an executive order to bolster historically black colleges and universities (HBCUs) on Tuesday. The order will do this by moving the moving the White House Initiative on Historically Black Colleges and Universities, which was previously part of the Department of Education, back to the White House.
The administration says this action will encourage strategic partnerships with other agencies and outside groups by giving it greater visibility. The United Negro College Fund had requested that Mr. Trump move the Initiative to the White House and be led by a person "who reports to a senior advisor to the president," according to The Washington Post.
Dozens of HBCU leaders gathered at the White House on Monday where they briefly met Mr. Trump in the Oval Office before meeting with Vice President Mike Pence. The order is a signal that the Trump administration plans to make HBCUs a priority, boosting Trump's "urban agenda," a senior White House office told reporters in a briefing.
The White House Initiative on Historically Black Colleges and Universities was started by President Jimmy Carter, but the Trump administration says the office has "lost track because they didn't have the full force of the White House behind it."
Mr. Trump, who is expected to list campaign promises he has fulfilled and executive orders he has signed during his first Presidential address, will also sign an executive order that will instruct a review of the Waters of the U.S. Rule (WOTUS) by the Environmental Protection Agency (EPA) and U.S. Army Corps of Engineers.
The order is aimed to dismantle the Obama administration's Clean Water Rule that expanded federal protection of wetlands, streams, and waterways throughout the country.
Scott Pruitt, the new head of the EPA, filed an anti-WOTUS lawsuit against the EPA in 2015 when he was the Oklahoma Attorney General. Mr. Trump also vowed to kill various environmental regulations on the campaign trail.
The pen-happy President will also sign two bills: the Inspiring the Next Space Pioneers and Innovators and Explorers Act (INSPIRE) act and Promoting Women in Entrepreneurship Act. INSPIRE, first introduced by Virginia Congresswomen Barbara Comstock, authorizes NASA to encourage women to pursue careers in engineering, science, and mathematics.
The Promoting Women in Entrepreneurship Act authorizes the National Science Foundation to provide support for women's entrepreneurial programs.
Thanks for reading CBS NEWS.
Create your free account or log in
for more features.