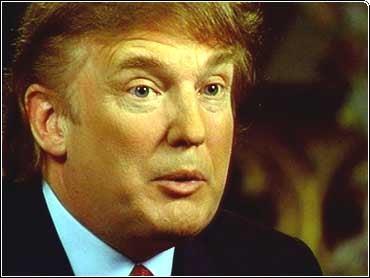 With his over-the-top celebration of celebrity and prosperity, millionaire New York City developer Donald Trump could be a poster boy for turn-of-the-millennium entrepreneurialism.
His name is on buildings, he is in magazines and newspapers, and he has written three popular books. Now he wants to be president.
Correspondent Dan Rather interviewed this nouveau politician.
---
"I am absolutely serious about conceivably running for the office of president," Trump says. "And if I run and if I won, I think I'd be a really good president."

If he does run, he says, he would be willing to spend $100 million on the campaign. He certainly has the money.

Just a few years ago, Trump was $900 million in personal debt. "Now my company is much bigger, much stronger, much more powerful than ever," he says. "At certain times where there seemed to be no hope, those are the times that turned out to be the best for me. I never give up."

In December, Trump went California for two days, for what he called a presidential "exploratory trip."

Was he serious, or just showing off?



CBS

Donald Trump and his ex-girlfriend, Melania Knauss, met with Dan Rather for an interview.

On the first day, he had a press conference, with very little press. What got the most attention wasn't so much what Trump said, but whom he brought along: his girlfriend at the time: Melania Knauss, a model.

He was due to appear on Jay Leno's show. At the pretaping, Trump joked that he needed a bigger ego to be president.

Last on Trump's calendar was a meeting with the group he must woo to even run: California Reform Party loyalists. If Trump runs, it will be as a Reform Party candidate.

"The Reform Party was really created back in 1992 when Ross Perot saw a niche, and he saw that the people were disgusted with the direction of the country," says political consultant Scott Reed.

Trump received mild applause. This may be a tougher crowd than Leno's. People picking up campaign literature found promotional brochures for Trump's new book. They felt no better when Trump seemed unaware of the party platform.

He then ignored the Reform Party rules and attacked fellow candidates, such as Pat Buchanan and his ally Lenora Fulani.

Trump has strong views on the other candidates. Of George W. Bush, he says: "So far, I've been very, very saddened by the fact that he certainly doesn't seem like Albert Einstein."

He gives Bill Bradley the back of his hand: "A man who I just don't have tremendously high regard for. And I hink he'd be a terrible president."

He suggests that the fact that John McCain was captured during the Vietnam War doesn't make him a hero.

About Vice President Al Gore, Trump has this to say: "I watched him in a couple of debates, and I was very impressed a number of years ago. Other than that, I just - you know, I haven't seen much."

Some say that because he has no political experience, Trump isn't qualified for the job. He disagrees.

"I know the politicians and I know how...Look, I know politicians," he told Rather. "I know politicians perhaps better than you know politicians. And you interview them all the time."

"I've given them a lot of money, and they come to my office. And they ask for a lot of money. And within the system, I give it. And I know who they are. I know the smart ones; I know the not-so-smart ones. And I know that I can do a very good job," Trump says.

According to marketing expert Jack Trout, Trump is simply using the media to get free publicity. "It's one of the great media scams of all time," he says. It is an ego trip, as well as a boon to Trump's business, which depends on his name, Trout says.

Trump disagrees and says that he is looking at running "very seriously."

Every presidential candidate gets asked about values. What are Trump's?

"I'm a great father," he says. "I have fantastic children, four great children. And I believe in family. I believe in marriage. I believe in religion."

His biggest disappointment is that he hasn't had the kind of marriage that he had hoped he would, he says.

He has been married twice - to Ivana Trump and Marla Maples. Both relationships were covered in detail by the tabloids, and both ended in divorce.

His second day in California was also unusual. He began with a private tour at the Simon Wiesenthal Center Museum of Tolerance. Maybe his purpose was political - to gain Jewish support - or maybe he just wanted to be photographed.

And then perhaps most revealing was the big event. He spoke to a crowd of 21,000 people.

But Trump was the paid entertainment. He got $100,000 to speak to a crowd gathered to hear motivational speaker Tony Robbins. His message was less high minded than it was mean spirited. "Get even," he said to loud applause. "When somebody screws you, screw them back, but a lot harder."

Afterward Trump seemed less a political candidate than a politically incorrect comedian. He joked about one woman's revealing dress and quipped that another should finance her business by marrying a wealthy man.

Trump's greatest popularity is with the kind of people building his newest skyscraper: blue-collar men. They enjoy "The Donald" acting like "The Don."

But a recent CBS News poll found he had the highest unfavorable vote it had ever recorded - lower even than Linda Tripp's. "I would say he doesn't have a prayer, Trout says.

Trump will announce a decision in February, he says.

Broadcast story by Steve Glauber; Web story by David Kohn;
Thanks for reading CBS NEWS.
Create your free account or log in
for more features.