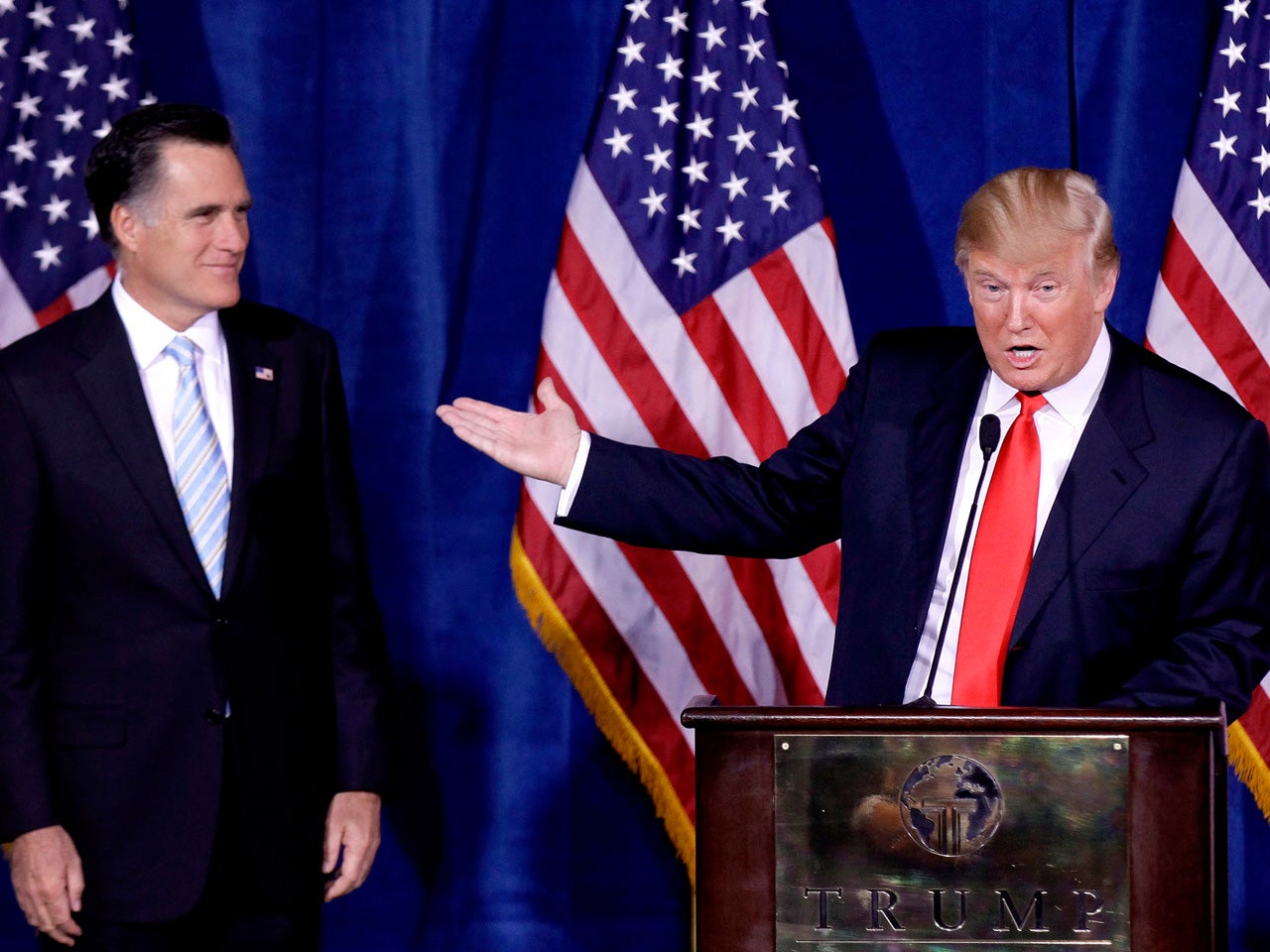 Trump endorses Mitt Romney for president
UPDATED 5:16 p.m. ET
Reality television show host Donald Trump injected himself into the race for the Republican nomination for president, endorsing Mitt Romney just days before Nevada voters head to the polls to decide who they want to take on President Obama in November.
"It is my honor, real honor, and privilege to endorse Mitt Romney," Trump said with Romney and Romney's wife Ann at his side for the brief announcement at a Las Vegas hotel bearing Trump's name.
"Mitt is tough. He is smart. He is sharp. He is not going to allow bad things to continue to happen to this country that we all love. So Gov. Romney, go out and get em. You can do it," Trump added.
Perhaps not coincidentally, Trump's announcement comes ten days before the beginning of the new season of Trump's reality show, "The Apprentice," which airs February 12.
While some questioned whether Romney would want the endorsement of Trump, Romney said he was glad to have it.
"It means a great deal to have the endorsement of Mr. Trump," Romney said, referring to the publicity maven the same way contestants on his reality show refer to him. In the press, the real estate mogul is often known as "The Donald."
"There are some things that you just can't imagine happening in your life. This is one of them," Romney said, noting that he he is "looking for the endorsement of the people of Nevada."
The endorsement marks a turnaround in relations between the two men. Romney skipped a debate that Trump had planned to moderate in December. The debate was later canceled. And Trump in April dismissed Romney's record at Bain Capital and called him a "small business guy" who destroyed jobs to CNN.
Romney is widely expected to win the Saturday caucus in Nevada, where four years ago he garnered more than triple the support of his next closest competitor, Texas Rep. Ron Paul.
Trump told reporters in Las Vegas ahead of the official announcement that he would hit the campaign trail on behalf of the Republican front-runner.
"Well they'd like me to and I'll do as much as I can," Trump said when asked if he would make appearances with Romney.
Asked if he would give money to the super PAC supporting Romney, Trump said he might.
"It could happen ... I want to see what happens. I've made a number of donations but yeah that's a possibility," Trump said.
Several media outlets, including CBS News, The Associated Press and The New York Times, erroneously reported late Wednesday and early Thursday that Trump would endorse rival Newt Gingrich.
Trump blamed the Gingrich campaign for spreading that word.
Referring to the Gingrich campaign when asked about those reports, he replied: "They put that out. You know that, right?"
CNN first reported Thursday morning that Trump would endorse Romney.
Trump has toyed with jumping in the presidential race himself as a third party candidate after his reality program ends its season in May.
But he said he would only jump in the race as an independent that if the Republican candidate he likes gets fired by the voters.
"If that candidate would get the nomination, I absolutely would not run," Trump said Sunday on CBS' "Face the Nation." He decided against a bid last year after attacking Mr. Obama relentlessly about releasing the so-called "long-form" of his birth certificate from the state of Hawaii.
Additional reporting by Sarah B. Boxer, Laura Strickler and Lindsey Boerma.
Thanks for reading CBS NEWS.
Create your free account or log in
for more features.