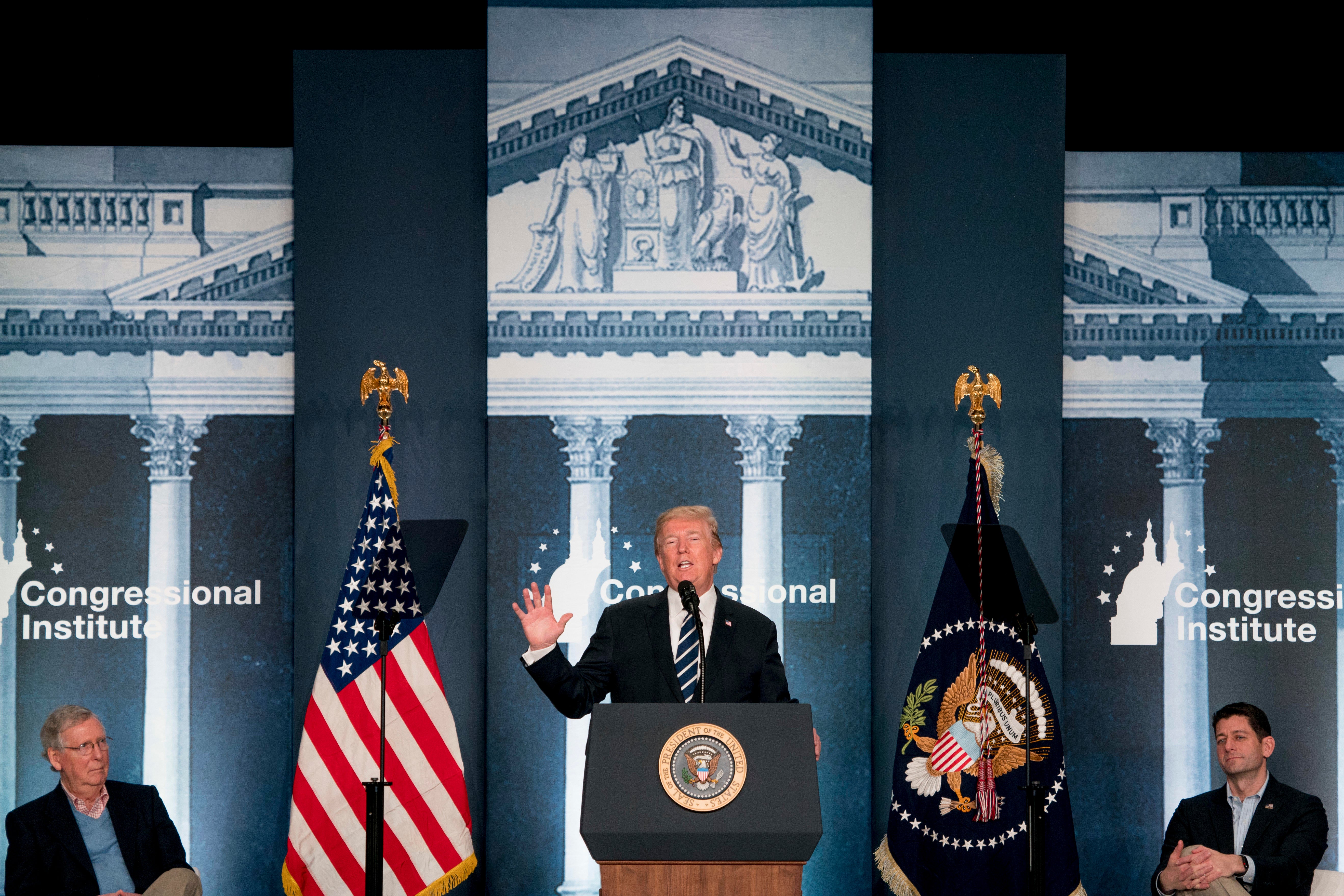 Trump tells GOP to compromise with Dems on immigration or elect more Republicans
President Trump told congressional Republicans Thursday that they will have to compromise with Democrats in order to strike a legislative deal on immigration or they will have to elect more Republicans in November.
"We're going to have to compromise unless we elect more Republicans," Mr. Trump said in remarks at the annual retreat for GOP lawmakers in White Sulphur Springs, West Virginia.
"We have to be willing to give a little in order for our country to gain a whole lot," he added.
Mr. Trump spoke vaguely about Democrats and their demands for so-called "Dreamers," people who were brought to the U.S. illegally as children. They want to make permanent the 2012 Deferred Action for Childhood Arrivals (DACA) program that was created under President Obama and halted by the Trump administration. The president said that Democrats talk a "good game" with DACA.
"Nearly 7 in 10 Americans support an immigration reform package that includes a permanent solution on DACA," Mr. Trump read from his script, and then added, "It's not Dreamers -- don't fall into that trap. It's just much different from dreamers."
The president reiterated that his administration wants to end "chain migration" and cancel the visa lottery program.
"If the Democrats choose to filibuster a framework that includes a general path to citizenship," Mr. Trump said about his proposed immigration plan, "We're just not going to approve it."
Mr. Trump said that Congress needs to pass a measure that is "fair" and "equitable," but warned, "or we'll have nothing at all."
The president said he gave credit and "kudos" to GOP lawmakers for their legislative accomplishments last year, especially the GOP tax law that Mr. Trump signed in December. He added that Speaker Paul Ryan, R-Wisconsin, had called him recently.
"He said to me he has never ever seen the Republican Party so united, so much in like with each other," Mr. Trump said. "I see it, too."
Thanks for reading CBS NEWS.
Create your free account or log in
for more features.