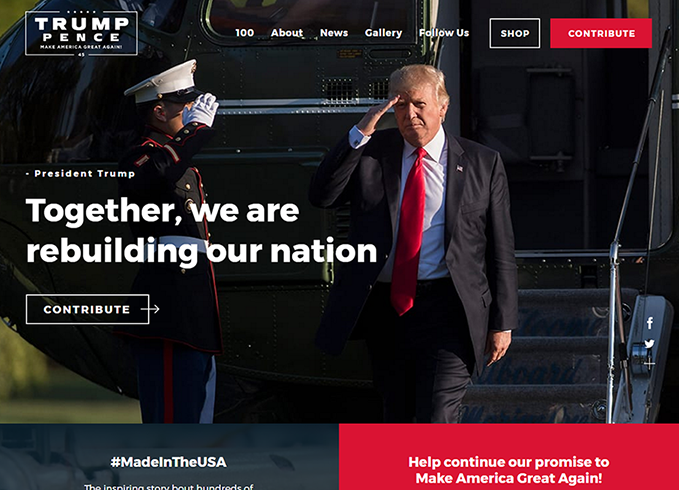 Trump campaign changes web privacy policy after questions from CBS News
For roughly half a day Tuesday, anyone who visited President Donald Trump's newly-redesigned campaign website was tacitly agreeing to allow the campaign, its site and associated apps to collect their location information based on their proximity to "beacons," according to a privacy policy that was quickly altered after CBS News made inquiries.
On Tuesday morning, the Trump campaign sent out a press release, proclaiming "Donald J. Trump for President, Inc., launches dynamic new website to provide, unique, behind the scenes view."
But behind the scenes of the campaign website was a new privacy policy detailing the range of user data it would collect.
"We may also collect other information based on your location and your Device's proximity to 'beacons' and other similar proximity systems, including, for example, the strength of the signal between the beacon and your Device and the duration that your Device is near the beacon," read the site's privacy policy at the time.
The term "beacons" refers to Bluetooth-enabled devices that act as one-way transmitters, sending signals to other Bluetooth-enabled devices such as phones and tablets that pass within a few meters of the beacon. The technology is most commonly used by retailers to send targeted advertisements or alerts to people walking near stores, or browsing within them.
It is not clear how or if the nascent 2020 Trump presidential campaign planned to use proximity beacon data gathered from users, but no other major campaign sites include language referring to the devices.
Hours after CBS News emailed the Trump campaign's digital director, Brad Parscale, about its intended use of beacons, language referring to the devices was removed from the site.
But nearly identical privacy policies noting the use of proximity beacons are still in place on the websites of the Trump Organization, Trump International Realty and Mar-a-Lago -- Trump's Palm Beach, Florida country club.
The sites were all built by the web design firm founded by Parscale, who did not reply to questions about the use of proximity beacons.
The Trump websites note that "Trump Apps...may rely on this location information in order to provide certain location-based services, such as promotional offers, merchandise offers, event information and other related content that may be of interest to you."
The sites note that users can "opt out" by turning off Bluetooth on their devices.
The fact that a political campaign website or app might collect and use location information isn't unusual, said privacy expert Frank Ahearn, who wrote The New York Times bestselling book "How to Disappear." Still, he said the use of proximity beacons by a campaign would be unusual.
"The beacon doesn't exactly show where you are, it just shows your general proximity," Ahearn said.
The permissions requested by apps associated with the Trump campaign and Trump Organization properties -- such as the America First and Trump Golf apps -- include access to phone location, camera, microphone and storage.
Although the use of such permissions is commonplace among apps, Ahearn said many regular users don't realize that politicians are collecting that kind of information.
"Most people don't really know the technical aspect of it. A lot of people download apps and don't recognize what they're giving away," Ahearn said. "But the bottom line is if you don't accept (terms of service), you can't use the apps."
---
Got news tips about digital privacy, social media or online marketing? Email this reporter at KatesG@cbsnews.com, or for encrypting messaging, grahamkates@protonmail.com (PGP fingerprint: 4b97 34aa d2c0 a35d a498 3cea 6279 22f8 eee8 4e24).
Thanks for reading CBS NEWS.
Create your free account or log in
for more features.