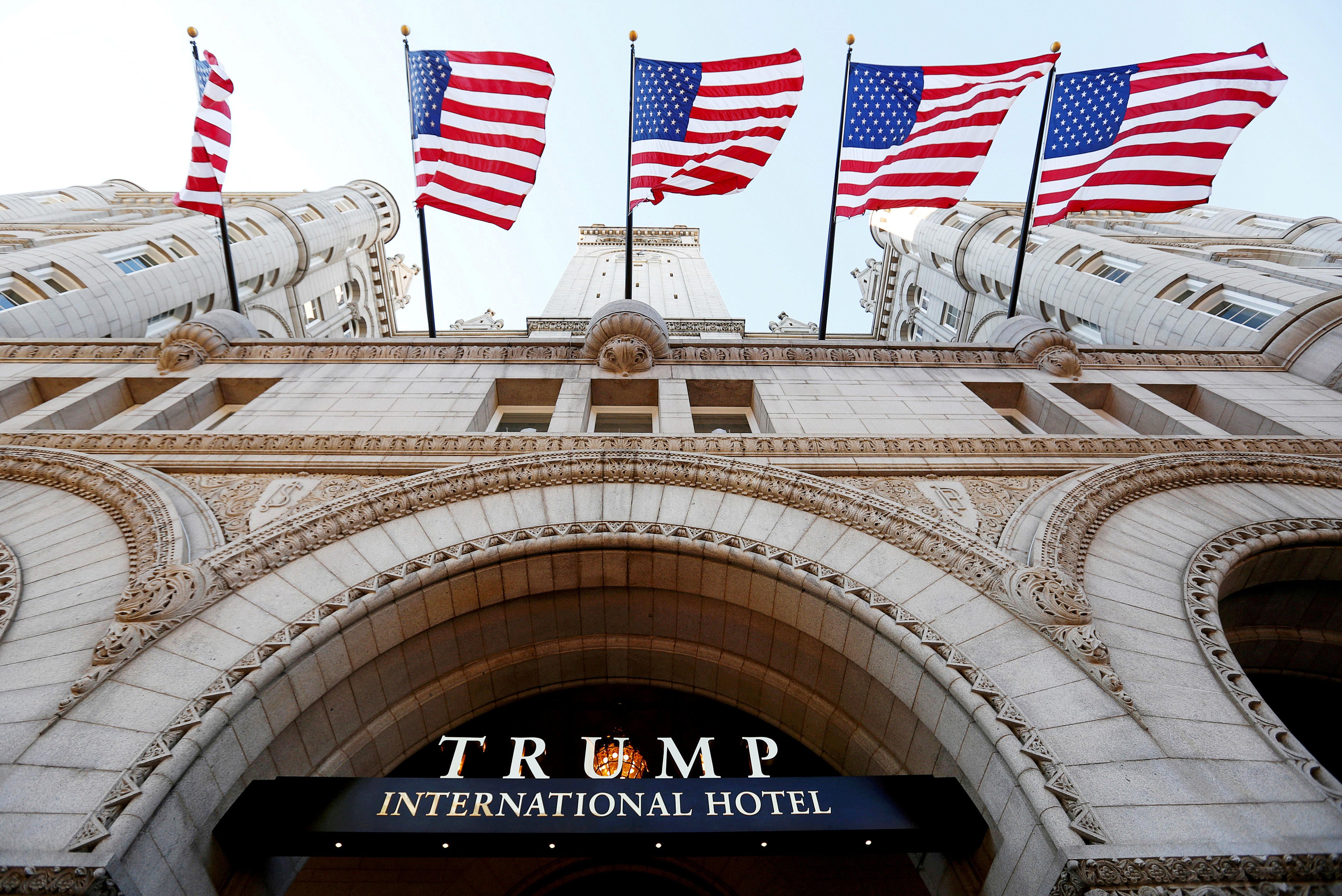 Trump business ethics pledges left room for profiting off his presidency
NEW YORK — Among the many promises Donald Trump made a year ago to assure people he wouldn't profit off his presidency, one stood out for its boldness: a pledge to donate the profits from any foreign governments staying in his namesake hotels to the U.S. Treasury.
Today, after a year in which groups associated with Saudi Arabia, Malaysia and Kuwait have booked rooms, hosted events and spent thousands of dollars at the president's hotel in Washington, no such payments to the Treasury have been made. Trump officials, who have openly questioned how closely they should scrutinize their guests, initially pledged to make a payment at the end of 2017 and now say they would have "information to share" near the end of next month.
An Associated Press analysis of the promises Trump made to draw a "red line" between his businesses and his administration found that, while he has kept to the letter of many pledges, he has exploited the vague language of others, creating at least the appearance that he's profiting off his presidency.
Since his inauguration a year ago, the Trump Organization has secured dozens of trademarks from foreign governments, pursued possible projects in Scotland and the Dominican Republic, enjoyed free publicity from Trump's frequent visits to his resorts, raked in big profits from lobbyists and power brokers at his Washington hotel, and launched two hotel chains.
"My overall ethics grade for the Trump administration is an F," said ethics lawyer Kathleen Clark of Washington University School of Law in St. Louis.
To be sure, ethics experts didn't like Trump's pledges from the start. As promised, Trump resigned from positions at hundreds of companies, set up a trust to hold his assets, handed day-to-day management responsibilities to two sons and hired an ethics lawyer to vet business deals.
But what drew their ire is what he didn't do: sell off his assets completely. They argued that as long as he continues to profit off his sprawling business empire, with branded hotels, golf courses, licensing deals and other interests in more than 20 countries, Trump remains vulnerable to those seeking to influence his policies.
"Meaningless," is how Walter Shaub, then the chief federal ethics official, described the promises soon after Trump's lawyer announced them at a news conference last year.
Alan Garten, the general counsel of the Trump Organization, told AP that the company takes its ethics pledges seriously and has thrown considerable resources into fulfilling them.
"I feel very confident that we are meeting our obligations," he said.
AP looks at how Trump has lived up to those promises, one by one:
NO NEW FOREIGN DEALS
A promise to make no new deals has been kept only in the strictest sense of "new" and "deals." The Trump Organization contends it has only carried on with existing deals, not new business.
In the Dominican Republic, for example, the Trump Organization has been talking again to a wealthy family to revive a long-dead licensing agreement struck a decade ago to develop an oceanside resort. In Scotland, the Trump Organization was moving ahead with plans to open a second golf course at its resort in Aberdeen. And in Indonesia, a local developer is building two resorts bearing the Trump name.
Another problem area is trademarks.
Since the inauguration, the Trump Organization has been granted dozens of trademark protections in several countries. In China it was granted preliminary approval for 38 trademarks for hotels and golf clubs and other businesses early this year. Trump's daughter, Ivanka, got preliminary approval for three trademarks on the same day that she and her husband, Jared Kushner, hosted Chinese President Xi Jinping and his wife at a dinner at Trump's Mar-a-Lago resort.
The Trump Organization told AP it applied for the trademarks before Trump became president.
But ethics experts say the expansion of old projects carries the same potential conflict as new deals: A sitting president could be financially beholden to a foreign government.
"These are meaningless lines being drawn," said Larry Noble, general counsel with the Campaign Legal Center, a Washington-based public interest group. "The point is, they're interacting with foreign businesses and foreign governments by doing that. So virtually all the potential conflicts you get with a new business you get with an expanding business."
AVOID 'EVEN THE APPEARANCE OF CONFLICT'
A six-page white paper by Trump's lawyers outlining his ethics promises a year ago pledged that Trump would uphold the high standards of his office by always acting "beyond reproach" and never giving "even the appearance of a conflict."
A few numbers suggest he's failed on that promise.
Since the election, Trump has doubled membership fees at his Mar-a-Lago club in Palm Beach, Florida, to $200,000, an increase that could be seen as a way to cash in on those seeking to rub shoulders with the president.
The president has also spent one of every three days of his presidency visiting his properties, and he and his staff have mentioned them at least 35 times in tweets and public comments, according to watchdog group Citizens for Responsibility and Ethics in Washington (CREW). Ethics experts have long argued that the frequent references and photos of Trump strolling his golf courses and dining in his restaurants amount to an ongoing advertisement for Trump's brand.
Then there's the taxpayer money spent at Trump resorts for the Secret Service and administration staff members who travel with the president — money for lodging, food and other expenses that eventually goes into Trump's pocket. To date, the administration has not released an accounting of such costs.
Also, according to a report last week by the watchdog group Public Citizen, the Trump Organization has taken in more than $600,000 from dozens of political organizations, companies, foreign governments and officials using its hotels and resorts.
Among those were Saudi government officials, the Malaysian prime minister, two pro-Turkish groups and the Kuwaiti ambassador. Special interest groups reported to have held events at the properties included those representing miners, oil drillers, bankers, payday lenders, hedge fund operators, insurers, funeral home directors and commercial real estate investors.
Several lawsuits have accused the president of violating an emoluments clause in the U.S. Constitution forbidding presidents from taking gifts or money from "any King, Prince, or foreign State." A judge last month threw out one such lawsuit filed by CREW, saying it is an issue that Congress should address first.
"Because of his steady stream of conflicts," said CREW Executive Director Noah Bookbinder, "we have to question whether each decision he makes was made in the best interest of the American people or the best interest of his bottom line."
CAREFUL VETTING OF U.S. DEALS
The way the Trump Organization portrays it, the vetting of U.S. deals for conflicts, as outlined in the president's white paper, has been going well — perhaps too well.
Exhibit A: the slow rollout of its two new hotel brands — a mid-priced chain, called Scion, and the budget-conscious American Idea.
Both are departures from Trump's existing luxury hotels, and ethics experts have howled in protest that the president appeared to be exploiting his White House fame to profit with these new chains. The official plans were ambitious: as many as 100 new Scions, for instance, in just three years.
But aside from a deal with a single developer in Mississippi, there have been no announcements.
Trump critics say developers are reluctant to join up with a Trump brand that has become so controversial. But the Trump Organization says the lack of deals shows it is following through on ethics promises made a year ago.
"Making sure every 'I' is dotted and every 'T' is crossed and everything is perfect — does that kill deals? One hundred percent," Trump's son Eric told The New York Times last month. "Is it the right thing to do when your father is commander in chief? 100 percent it is."
Bobby Burchfield, an outside lawyer hired to oversee U.S. deals for conflicts, told AP the Trump Organization has been careful to meet its white paper obligations, adding that he's gotten no pushback when he's told to change transactions or kill them.
Burchfield, who was general counsel to George H.W. Bush's re-election campaign in 1992, said he has spent about one-fifth of his time on Trump business in the past year and has submitted about two dozen written approvals for deals and transactions, a requirement for any to go through.
Burchfield rejected any suggestion that the launch of American Idea even appears as if the president is trying to profit off the presidency.
"Appearance to whom?" he asked. "It's a very vague standard."
SEPARATION FROM BUSINESS
Trump appears to have resigned from positions he holds with the roughly 550 Trump Organization entities in more than 20 countries. But the changes appear to be more cosmetic than substantive.
Trump still owns those businesses through the Donald J. Trump Revocable Trust set up to hold his assets during the presidency. What's more, a provision added to the trust allowed Trump to withdraw profits and underlying assets at any time.
That has stirred suspicions that Trump is putting his private interests ahead of the nation.
For example, critics blasted last month's tax overhaul, noting that it set lower rates for real estate "pass through" businesses that figure prominently in the president's holdings.
"If the president does not divest from ownership, then suspicions galore arise that the president can be bought," said Craig Holman, a government affairs lobbyist for Public Citizen.
DONATE PROFITS AT HIS HOTELS
Trump's pledge to donate profits from foreign governments using his hotels to the U.S. Treasury was initially slammed by ethics experts because it didn't include all his properties, such as his resorts, and left it up to Trump to define "profit."
Then the Trump Organization pulled back from even this widely panned pledge.
An eight-page pamphlet provided by the company to the House Oversight Committee in May said that the company planned to send the Treasury only profits obviously tied to foreign governments, and not ask guests questions about the source of their money because that would "impede upon personal privacy and diminish the guest experience of our brand." The Trump Organization pledged to make contributions to the Treasury at the end of the calendar year; now Trump Hotels says it is completing annual financial reporting and expects to have information in late February. The Treasury Department did not respond to multiple requests for comment.
Thanks for reading CBS NEWS.
Create your free account or log in
for more features.