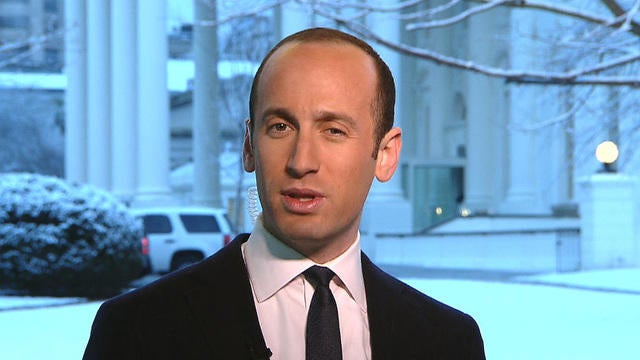 Trump adviser calls travel ban "enormously successful" despite uproar
President Trump's domestic policy adviser, Stephen Miller, said Monday that the administration's travel ban has been "efficient, orderly enormously successful" despite the overwhelming uproar over the new policy.
In an interview on "CBS This Morning," Miller dismissed the idea that the executive order Mr. Trump signed Friday that implemented the policy has created turmoil.
"The idea of huge turmoil...we processed 325,000 travelers after the new restrictions were put into place and 109 were detained for additional security screenings. By any measure, I would describe that as efficient, orderly, enormously successful," he said.
Miller said "you're going to see protests" anytime you challenge failed orthodoxy: "In fact, if nobody is disagreeing with what you're doing, then you're probably not doing anything that really matters in the scheme of things."
He was referring to the executive order the president signed Friday that has blocked all travel to the U.S. from seven predominantly Muslim countries -- Iraq, Iran, Somalia, Sudan, Syria, Yemen and Libya -- for at least 90 days. It resulted in more than 100 people being detained at U.S. airports over the weekend.
Miller dodged a question about whether additional countries would be added to the list. He said the administration will spend the next month developing new screening guidelines.
"We're going to take the next 30 days to develop a new set of screening protocols to try and ensure that people entering our country, particularly on a permanent basis, truly love and support the United States of America," he said. "There will be a 60-day period where countries will be asked to comply with the new directives."
Miller said that in a world with 7 billion people where hundreds of billions want to make the U.S. their home, "It only makes sense that we engage in some kind of selections process that prioritizes the entry of people who as the order stated don't hold bigotry, hatred or violence against any sexual orientation, against any race or against any particular class of people."
In an attempt to clarify the situation for U.S. green card holders, Miller said that people who have them are exempt from the executive order under the national interest waiver.
Asked how the new policy will make the U.S. safe, Miller said it "makes sense" that you minimize migration from dangerous areas of the world when you screen hundreds of thousands of people.
Thanks for reading CBS NEWS.
Create your free account or log in
for more features.