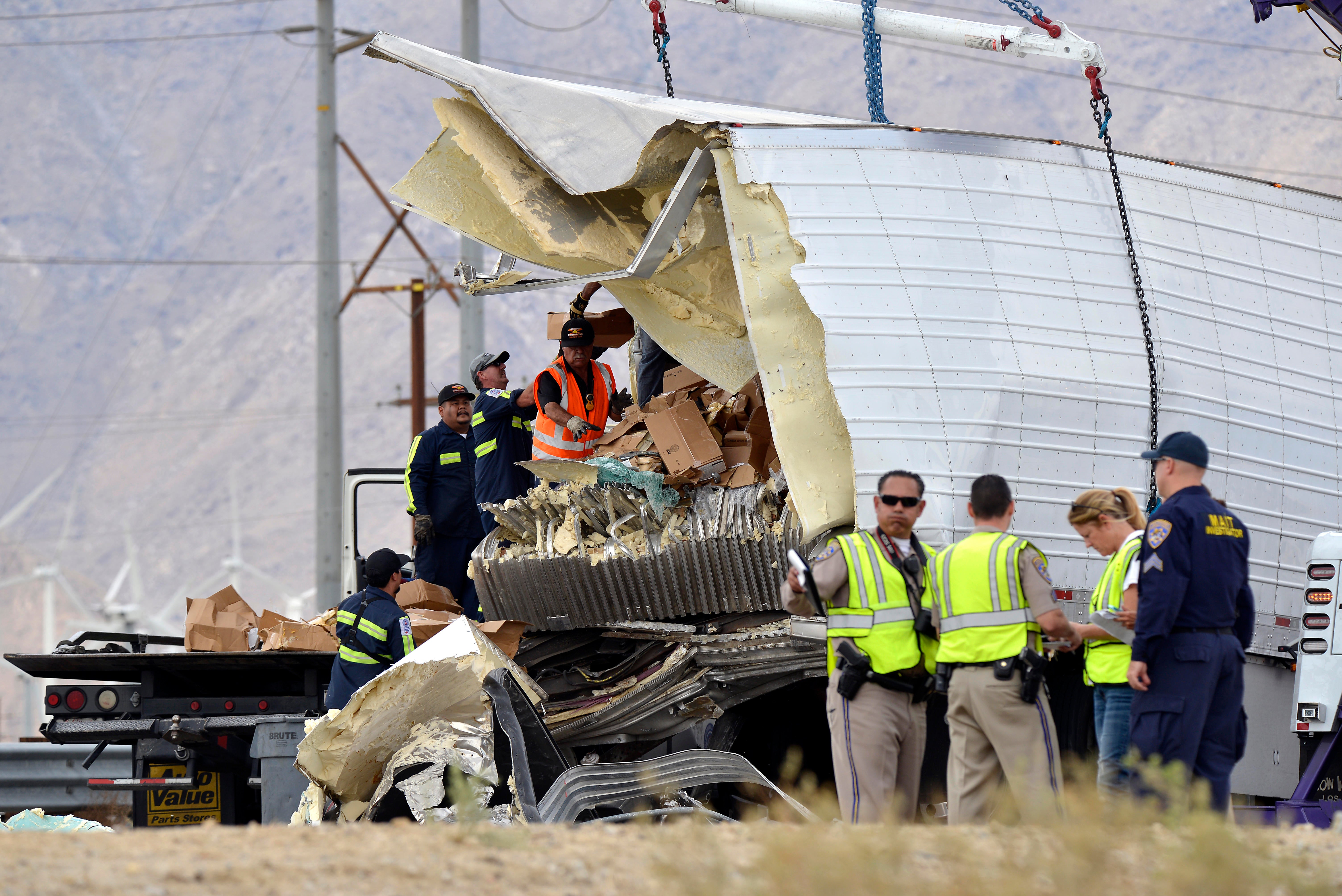 Truck driver involved deadly Palm Springs tour bus crash describes horrific ordeal
PALM SPRINGS, California — The truck driver involved in the crash with a tour bus in Palm Springs that killed at least 13 people described his ordeal to a cab driver on his way to the hospital on Sunday.
"I'm blessed to be alive and I pray for the families that didn't make it," the driver of the big rig named "Bruce" told David Hirschfield, who gave a video of their conversation to media outlets.
Hirschfield picked up the trucker after he was released on the same day as the accident from Eisenhower Medical Center in Rancho Mirage, CBS Los Angeles reports. Bruce did not provide his last name at the time.
"The impact just, you know, hit me from behind and I just blacked out for a minute and when I gained my consciousness, I undid my seatbelt and looked around. Thought I got ran over by something. That's when I got out of my truck," Bruce said.
In the video Bruce has bandages on one hand. He also suffered cuts to his right leg. Despite his wounds, he got out of his truck and helped pull out bus passengers.
"You got to think about others. I'm going to be alright. I want to get them safe. I don't know if the bus is going to blow up," Bruce said.
Hirschfield says he recorded the conversation before he dropped Bruce off at a Palm Springs Hotel.
"He's quite a wonderful gentlemen I was privileged to pick him up," Hirschfield said. "I didn't charge him. I said you've been through enough today."
CBS Palm Springs affiliate KESQ reports 10 men and three women were killed in the crash that also injured 31 others. The cause of the early morning accident is still under investigation.
Dr. Ricard Townsend at Desert Regional Medical Center told KESQ that the injuries in the crash were unique.
"When you usually see someone involved in a high speed motor vehicle crash, the things you see are big time broken bones," Townsend explained. "This is not the circumstances we were faced with. Most of the victims were unrestrained and thrown through the air and ended up sustaining facial trauma."
Plastic surgeons had been called in to perform surgery on some of the crash victims.
Thanks for reading CBS NEWS.
Create your free account or log in
for more features.