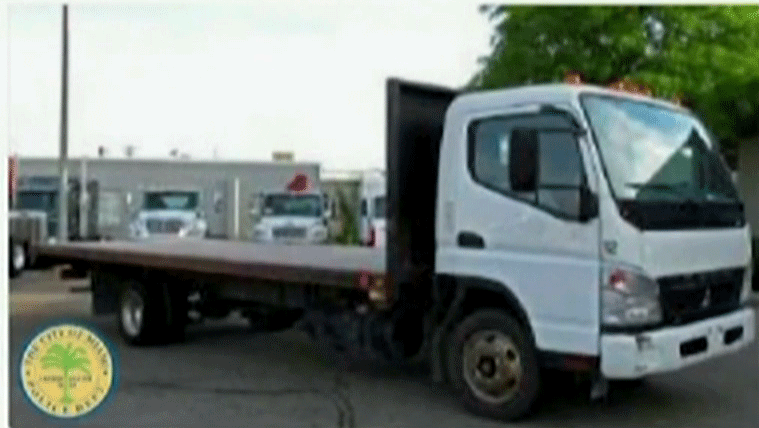 Truck driver dead after Florida gas station machete attack
MIAMI – A Florida truck driver is dead after an altercation involving a machete at a gas station, reports CBS Miami.
Surveillance video reportedly shows a confrontation between at least three men at a Valero gas station early Thursday morning.
Afterward the victim, identified as 38-year-old Yonny Lafont Mendez, is seen walking into the street, before being struck by two vehicles.
"We're trying to investigate if the victim that is currently deceased was struck by the machete, if they got involved in a fight, or if he just ran into traffic and got hit by a car," said City of Miami Police Department Ofc. Yelitza Cedano.
City of Miami Police said the incident began shortly after 5 a.m. when the victim, driving a tractor trailer, entered the gas station.
"Apparently a struggle ensued [with] someone that was inside of the gas station," said Cedano.
Cedano said that the aggressor went to his vehicle to grab a machete and may have struck Mendez.
The victim "is believed to have left the Valero gas station, possibly injured from a machete wound, at which time he was crossing back and forth on the street."
While lying in the road, officials said the victim was then struck by two passing vehicles and did not survive. One of those vehicles did not stop. Officials are reportedly unsure if Mendez died from his wounds in the attack or after.
Thursday night, City of Miami Police tweeted out a picture saying they need the public's help locating a Mitsubishi Fuso flatbed truck that may have possible passenger-side mirror and window damage and possibly had a plush doll tied to the front of the vehicle.
Police are looking for the flatbed truck as well as the suspect with the machete, who fled the scene.
Tipsters should contact Crime Stoppers at (305) 471-TIPS.
Thanks for reading CBS NEWS.
Create your free account or log in
for more features.