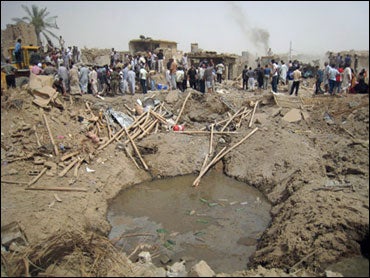 Truck Bomb Kills At Least 55 In Iraq
Last updated 1:35 p.m.ET.
A truck bomb exploded near a Shiite mosque in northern Iraq following prayers, killing at least 55 people and wounding nearly 200, police said, making it the deadliest blast in nearly two months.
The explosion came hours after Prime Minister Nouri al-Maliki called the withdrawal of U.S. troops from cities by the end of this month a "great victory" and promised it would go ahead as scheduled. Officials have warned that insurgents are likely to stage more attacks in the wake of the withdrawal to try to undermine confidence in the government's ability to protect its people.
Worshippers were leaving the mosque in Taza, 10 miles south of Kirkuk, following noon prayers when the truck exploded, according to police Brig. Gen. Sarhat Qader.
He said the mosque and at least eight nearby houses were demolished. Rescue teams searched for hours to find people buried under the rubble.
Kirkuk's police chief, Maj. Gen. Jamal Tahir, gave the casualty toll but said the exact nature of the attack was not yet determined.
"Investigations are still going on. We have not decided yet if it was a suicide bomber or a parked truck," he said.
Women begged police to let them near the site so they could search for loved ones while ambulances rushed victims to the overwhelmed hospital in Kirkuk. Three babies cried as they were placed on a single hospital bed to be treated.
Yellman Zain-Abideen, who was wounded by shrapnel in his hand and face, cried for his missing son.
"He was only 10 feet away from me where we were leaving the mosque. I don't know what happened to him," the 43-year-old said, blaming local authorities for not providing sufficient security. "There should have been guards around the mosque, we are living in an area surrounded by enemies."
Tensions have risen in the oil-rich area of Kirkuk as Kurds seek to incorporate it into their semiautonomous region despite opposition from Arabs, Turkomen and other rival ethnic groups. That has raised concerns about an outbreak of ethnic violence in northern Iraq even as attacks elsewhere decline.
Taza is mostly Turkomen.
U.S. and Iraqi officials have warned they expect insurgents to stage attacks to try to provoke a new outbreak of sectarian violence.
Saturday's explosion was the deadliest since April 24 when back-to-back suicide women bombers killed 71 people outside a Shiite shrine in Baghdad.
A U.S.-Iraqi security pact requires the Americans to pull back combat troops from cities by the end of this month as a first step toward a full withdrawal by 2012. The deal includes a provision for the Iraqi government to ask for U.S. help if violence surges.
Al-Maliki insisted earlier Saturday that the withdrawal will take place on schedule. He acknowledged that more attacks were likely but said Iraqi security forces were prepared.
Any extension would show a lack of confidence and would be a "historic setback," he said during a speech to members of the Turkomen ethnic minority.
"We will not retreat no matter what happens and, God willing, nothing will happen because of the capabilities that our security forces have," he said.
The Interior Ministry, meanwhile, warned it has received intelligence that some militants will try to stage attacks after the June 30 deadline.
Ministry spokesman Maj. Gen. Abdul-Karim Khalaf, however, said the U.S. withdrawal will give the Iraqis more power to deal with the violence because they won't be limited by the need to coordinate with the Americans.
"That will provide a more flexible opportunity for Iraqis to reach their targets quickly," he said.
The U.S. military already has begun handing over inner-city bases to the Iraqis.
On Saturday, American commanders turned over control of a key base on the edge of Baghdad's main Shiite district of Sadr City. The sprawling slum was a militia stronghold that saw fierce clashes until a cease-fire following a U.S.-backed government crackdown.
The Iraqis also reopened Zaytoun Street, which had been part of the walled-off Green Zone that houses the U.S. Embassy and the Iraqi government headquarters. The Iraqis have begun removing some of the protective blast falls around the Green Zone - part of a campaign to restore a sense of normalcy as violence has waned.
Thanks for reading CBS NEWS.
Create your free account or log in
for more features.