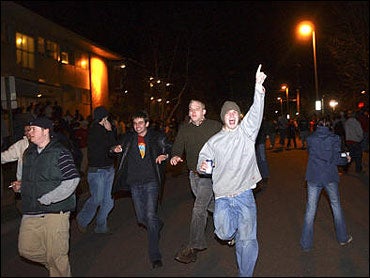 Trouble In East Lansing After NCAA Loss
Authorities say at least six people were arrested during disturbances following Michigan State's 85-76 loss to Texas in the NCAA Tournament on Sunday.
By 10:20 p.m., police dressed in riot gear and gas masks had largely dispersed the crowd in the city's downtown area and reopened traffic in and out of Michigan State University's campus.
Traffic on Grand River Ave. - the main street dividing the campus and the city's downtown area - also was moving after grinding to a halt earlier in the evening.
A crowd estimated at about 1,500 then made its way to the university's administration building, where three cars were overturned, several small fires were set in bushes and Dumpsters, and vending machines were damaged, said Lt. Kevin Dales of the East Lansing Police Department.
The fires were quickly extinguished - as was another Dumpster fire downtown - and police again dispersed the crowd with tear gas, Dales said.
Only small groups of people remained spread out across campus as of 10:45 p.m., Dales said.
"We've been moving units to keep control of the crowd, not letting them stage in one area, rather than make the arrests," he said. "(The units) have been doing a great job."
Of those arrested, four of the six were identified as university students and the group included five men and one woman. Officers also set off tear gas to break up a crowd earlier in the night and a bus stop was damaged by revelers, Dales said.
University officials said they are disappointed by the outbursts and will discipline the students who were arrested.
"This is just outrageous," Michigan State President Peter McPherson told The State News Sunday night in a phone interview from Texas. "I was just truly disheartened."
Mike Soon, 20, said the post-game events were not that bad, as he watched them unfold Sunday night.
"If this is a riot, then 1999 was a school war," the sophomore from Farmington Hills said, referring to the riots that occurred after Michigan State's elimination from the 1999 NCAA Tournament.
Soon said he saw some people try to turn over a car but others in the crowd stopped them from doing it.
But his friend Brad Dizik, a freshman from Farmington Hills, said it was the police presence on campus that prompted students to react the way they did.
"They entice us to go even more crazy," he said, referring to the large number of officers dressed in riot gear and on horseback. "I'm just standing here watching people."
By about 9 p.m., about 2,000 people had gathered in the Cedar Village apartment complex near campus. They were chanting "Go green! Go white!" but the crowd was acting peacefully and was under control, Dales said.
After the Spartans' 1999 NCAA Tournament loss to Duke, police made 132 arrests that included 71 Michigan State students. Rioting caused more than $250,000 in damage to the city and campus.
The university created a policy after that riot allowing officials to punish students for crimes committed off campus.
By Amy F. Bailey
Thanks for reading CBS NEWS.
Create your free account or log in
for more features.