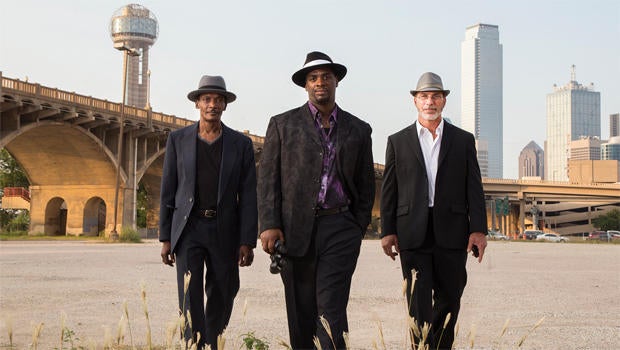 Tribeca reviews: Quixotic quests for justice in America
Two new documentaries which had their premieres at this year's Tribeca Film Festival (running though April 30) offer inside looks at men engaged in two very different kinds of missions with an equal amount of passion: "True Conviction" features three former inmates fighting to free the wrongly-convicted from prison, while "No Man's Land" brings viewers inside the armed takeover of a federal wildlife refuge in Oregon.
Directed by Jamie Meltzer, "True Conviction" follows a trio of Texans who have made it their mission to win the freedom of people unjustly convicted and imprisoned. The three men spent years in jail for crimes they did not commit, and bring a religious zeal to their quest to rescue others from a similar fate.
Christopher Scott spent 13 years in prison for homicide before being exonerated by the true killer's confession; Johnnie Lindsey served 28 years before authorities tested the victim's rape kit, proving he was not guilty; and Steven Phillips was jailed for 24 years for a series of sex crimes, before his DNA later proved his innocence.
The three comprise a quasi detective agency that receives pleas for help in solving cold cases; tracks down witnesses and leads; and offers some measure of solace to desperate inmates -- including those on Death Row -- who are clinging to hope. But they also have to deal with their own incarceration issues: Phillips, when he is picked up on a drug charge; and Scott, who must care for his grandchild after his own son is arrested. Their personal struggles make their determination to help others even more heroic.
The fly-on-the-wall film shows the difficulties of keeping hope alive when your view of the world is masked by prison bars, even long after being freed. Yet these detectives diligently read the letters of those seeking help, argue the merits of each case, meet with prosecutors, and in one instance try to talk a man they are convinced is guilty of a long-ago armed robbery into fessing up.
The Rev. Martin Luther King Jr. said "The arc of the moral universe is long, but it bends towards justice." But as this film demonstrates with affecting directness, that arc sometimes always seems just out of reach.
Following its world premiere at Tribeca, "True Conviction," is expected to screen at other festivals before airing on PBS' "Independent Lens."
To watch a preview for "True Conviction" click on the video player below.

The armed occupation of the Malheur National Wildlife Refuge in Oregon in 2016 was an outgrowth of a long-simmering fight between Nevada rancher Cliven Bundy and the federal government over grazing rights. In 2014 David Byars showed up in Utah to film the contentious standoff involving Bundy and a coterie of anti-government "patriots" who gravitated to his cause against the Bureau of Land Management.
In 2016, Bundy's son, Ammon Bundy, led a group of armed militants onto federal land and seized control of a wildlife refuge in Harney County. Speaking to the media, Ammon espoused a litany of anti-government demands that were unfocused and disconnected from the purpose of public land set aside to protect wildlife. But the media attention attracted members of various militia and sovereign citizen groups, of various levels of anti-government extremism, growing the occupation's size but making their demands even more disparate.
Perhaps fearing another Waco situation, federal agents backed off, leaving the militants to the media, which created the spectacle of men playing Army while women dutifully manned the kitchens to feed the growing occupation.
Byars and his camera were also present for most of the Malheur standoff, up until the tragic end, when a convoy of militants, heading north on an isolated road, was stopped by federal agents. One militant, LaVoy Finicum, was shot and killed. And the resulting trials threw the whole notion of justice for a loop (depending, of course, on which side of the standoff you stand).
Byars creditably does not try to editorialize about the mindset of the occupiers, instead letting them speak for themselves. They are articulate and thoughtful to varying degrees, providing insight into the rise of anti-government fervor and a sense of persecution, their willingness to rage about "tyranny" without being able to quite define it, and their urge to do something, anything, to combat a feeling of helplessness in society. And as the film's wide landscapes and evocative photography underscore, that helplessness can seem as far as the eye can see.
Co-produced by Morgan Spurlock ("Super Size Me"), "No Man's Land" will screen Friday, April 28, and Sunday, April 30, at the Tribeca Film Festival, and on April 30, at the Montclair Film Festival in Montclair , N.J. Theatrical release plans are still to be announced.
Thanks for reading CBS NEWS.
Create your free account or log in
for more features.