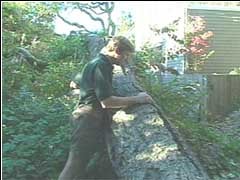 An alleged member of a radical environmental group connected to a series of arsons and other crimes has been arrested for putting spikes in trees to destroy logging equipment.
Frank B. Ambrose, 26, is accused of driving 10-inch spikes into trees last June in an area of the Morgan-Monroe State Forest slated for logging.
Authorities believe Ambrose is affiliated with the Earth Liberation Front, a loosely knit group that claimed responsibility for spiking the trees.
The ELF has claimed responsibility for 22 major crimes, including arson attacks and other acts of sabotage across the country. The FBI has attributed $37 million in damage since 1996 to the group.
In a statement released Thursday, Ambrose denied spiking the trees. After his arrest, he refused to answer questions, including whether he's affiliated with the ELF.
Ambrose told The Herald-Times of Bloomington he was targeted by authorities for publicly refusing to condemn destroying property to prevent harm to the environment.
"Is it illegal to say that? It may not be popular with some people, but it doesn't mean I was involved in it," he said.
A six-month investigation by state conservation officers and the FBI traced the spiking nails to Ambrose through store surveillance tapes. According to an affidavit, Ambrose's car was spotted outside the forest at the time of the incident, and police found hammering and metal-cutting tools and cotton gloves with a residue similar to that from the spikes in Ambrose's apartment.
Ambrose is the Midwest coordinator for the American Lands Alliance, a mainstream environmental group headed by former Indiana congressman Jim Jontz.
"American Lands doesn't support tree spiking," Jontz said from his Portland, Ore., office. "Of course, I hope that these allegations aren't true."
Ambrose was released on $2,000 bond and is scheduled to appear in court Feb. 2. Tree spiking is a felony in Indiana punishable with up to three years in prison and a $10,000 fine.
Leslie Pickering, a spokesman for the North American Earth Liberation Front, said he is not sure if Ambrose is a member of the ELF.
Conservation officer Marlin Dodge said it is hard to prove involvement in the group.
"There's no way you'll ever prove who an ELF is," he said. "However, we're prepared to show that he did a criminal act that ELF took responsibility for."
© MMI The Associated Press. All Rights Reserved. This material may not be published, broadcast, rewritten, or redistributed
Thanks for reading CBS NEWS.
Create your free account or log in
for more features.