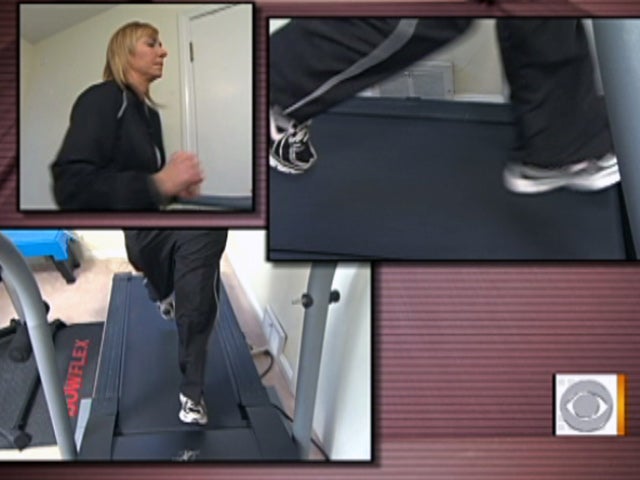 Treadmills: Danger at our feet
Treadmills are the single most popular piece of exercise equipment. More than 50 million Americans use them, up nearly 40 percent in the last ten years.
But "Early Show" consumer correspondent Susan Koeppen cautions that you can run into some pretty serious risks on treadmills.
According to federal statistics, they're the single most dangerous piece of exercise equipment.
Julie Osborne knows.
She never imagined that her daily workout could be hazardous to her health.
"I've never experienced any kind of pain like that before," she told CBS News.
Julie was running on her home treadmill when she hopped off to grab her water. The belt was still rolling when she tried to get back on.
"I lost my balance, put my hand down to try and stabilize myself, and my three fingers got stuck between the frame and the running track," she recalls.
The belt rolled over her hand and sheared off skin.
"When my hand came out, I could actually see exposed bone," she says.
Eight-year-old Annabelle Ford was on her family's treadmill when she was seriously injured...
Her mother, Cindi Ford, told CBS News, "Her hand was caught under the mat, and as it kept going around, it kept scraping off skin and burning her fingers."
Annabelle suffered severe burns and a broken middle finger.
CBS News found plenty of videos on YouTube of people falling on treadmills. They crash into walls. They hit their heads - hard.
The Consumer Product Safety Commission says treadmills sent an estimated 19,000 people to the emergency room in 2009, including almost 6,000 children. Among the injuries: broken bones, amputated fingers, and concussions. In 2009, former boxer Mike Tyson's four-year-old daughter died after being strangled by a cord on a treadmill in his home.
"A moving belt is like falling off a bicycle at 10 miles an hour," points out fitness and treadmill expert Ed Trainor. "A treadmill requires focus and responsibility."
"So we think it's so easy to be on a treadmill," Koeppen said, "but just talking to you, I've noticed I stepped off the belt a couple times."
"It's the distractions that occur while you're on the treadmill that cause most injuries," Trainor noted.
Osborne still suffers from pain in her right hand. Annabelle is healing, and her mom says they've learned a lesson.
"It's important to know," Cindi Ford stresses, "that these things can cause some serious damage."
The Sporting Goods Manufacturers' Association told CBS News treadmills are safe, but they "deserve 100 percent attention, focus, and concentration" when they're being used."
Thanks for reading CBS NEWS.
Create your free account or log in
for more features.