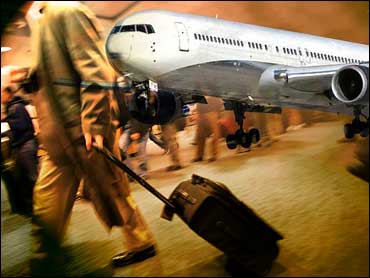 Travel Insurance: Don't Buy It Blindly
If you're booking a trip, you may be asked a simple, yet complicated question: Do you want to buy travel insurance?
As The Early Show consumer correspondent Susan Koeppen pointed out on Tuesday, it's a big business getting even bigger.
She answered some basic questions: When does it pay for you to buy it? What does it cover? How much do you need?
The U.S. Travel Insurance Association (UStiA), reports a big jump in the number and percentage of people buying insurance when they go on vacation, to 30 percent today, compared to less than 10 percent a few years ago.
A survey done for the The UStiA found Americans spent more than $1 billion on travel insurance last year.
The increase has been fueled in large part by natural disasters such as hurricanes and earthquakes, and by tragedies like 9/11.
The survey also found that more Americans are buying travel insurance online, with such sales nearly doubling from 2002 to 2004.
But even some travel insurance companies admit you don't always need it, and you should know what you're buying, because of a lot of people are buying it blindly right now.
According to Koeppen:
IT MAKES SENSE TO BUY TRAVEL INSURANCE:
If you have a trip that is non-refundable and you're worried that it may be cancelled due to family illness or the weather.

if you're worried about access to medical care and traveling outside the U.S. Your health insurance may not cover medical emergencies if you're out of the country.YOU DON'T NEED TRAVEL INSURANCE:
If you're using frequent flyer miles and are staying at a hotel that has a good cancellation policy and you can get your money back.

If you know you can cancel your trip without losing most of the money you invested.

Many credit cards automatically offer some travel insurance, so check with yours. Companies such as Amex and Visa offer some protection to their customers, and you don't have to pay for it.

WHY SO MANY PEOPLE ARE BUYING TRAVEL INSURANCE

Things like the tsunami, Hurricane Katrina, Hurricane Wilma, the London bombings, and 9/11 have contributed to the number of people buying travel insurance.

HOW MUCH IT COSTS

Travel insurance runs about four-to-eight percent of the total cost of your trip. Issuers also take into consideration your age and the type of coverage you want.

WHAT IT COVERS
80 percent of the policies sold in the U.S. bundle a bunch of things together, typically covering cancelled or delayed trips, lost or stolen bags, and medical emergencies.

A lot of carriers offer a 24-hour hotline so you can get help, even if you just have a question.

WHAT ISN'T COVERED
If you hear a storm is about to hit your destination and you try to buy insurance after they have announced the hurricane is coming, you're out of luck.

If you break into someone's house and go to jail and can't go on the trip, that doesn't work. If you break your leg, yes, but break the law? No.

Acts of war

Self-inflicted injuries

WHERE YOU CAN BUY IT
More and more people are turning to the Internet to buy the insurance.

Sites offering it include TravelGuard.com, InsureMyTrip.com, and OneTravel.com.

Thanks for reading CBS NEWS.
Create your free account or log in
for more features.