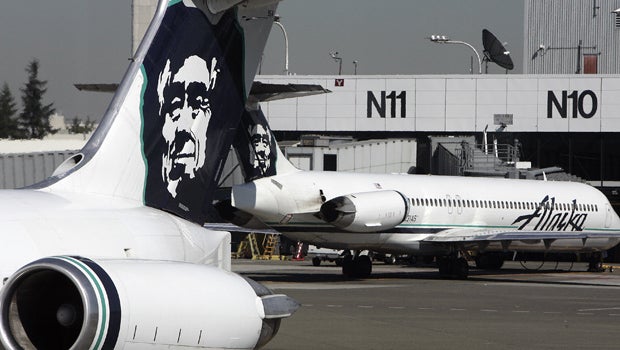 Transportation agency investigates near collision between planes in Alaska
ANCHORAGE, Alaska - An Alaska Airlines passenger jet came within a quarter-mile of a cargo plane over Anchorage's Fire Island south of the city's main airport, according to the National Transportation Safety Board.
Agency spokesman Clint Johnson said the Alaska Airlines flight inbound from Portland, Ore., was starting to land at Ted Stevens Anchorage International Airport just after 3 p.m. Tuesday when air traffic controllers gave instructions for a "go-around."
The order was given to avoid an Ace Air Cargo Beechcraft 1900 prop-jet taking off from the airport's north-south runway.
Johnson said the passenger jet veered right and the cargo plane turned in the same direction. The aircraft passed within a quarter-mile of each other at the same elevation.
The Alaska Airlines jet, Flight 135, which had 143 passengers and five crew, landed safely.
The agency is investigating the near collision.
The airline said in a statement that its fleet of Boeing 737s was equipped with collision avoidance systems to help crews identify and avoid other aircraft. In this instance, the traffic collision avoidance system alerted the crew of the proximity of the other aircraft, which prompted the pilots to increase their altitude, it said.
"Our pilots are highly trained and skilled at responding to situations like this and are to be commended for their handling of the situation," it said.
It also said it was working with the NTSB on the investigation.
Last week, the FAA revealed that two commercial jetliners came dangerously close to a collision near Houston's George Bush Intercontinental Airport. The aircraft ended up separated by less than a mile and 400 feet vertically.
According to the FAA, there were 4,400 instances of planes getting too close in 2012, an average of 12 a day. There were 41 so-called high-risk events.
Thanks for reading CBS NEWS.
Create your free account or log in
for more features.