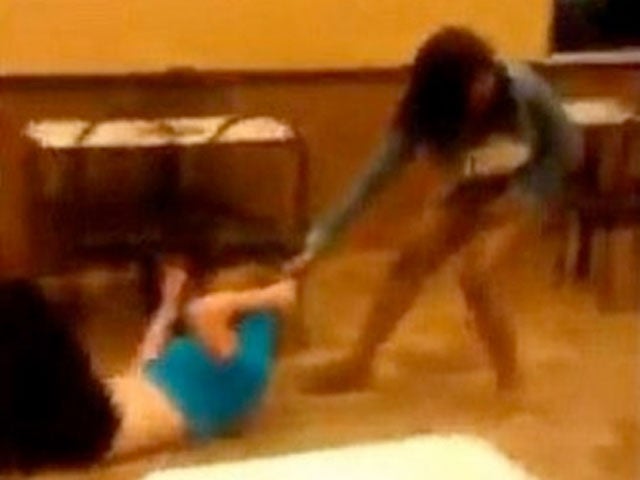 Transgender woman Chrissy Lee Polis calls Md. McDonald's attack hate crime
(CBS/WJZ) ROSEDALE, Md. - The viral video has shocked tens of thousands of people. It shows a transgender woman being beaten by two teenage girls at a Baltimore-area McDonald's, as employees laughed and videotaped the attack.
CBS station WJZ reports that the victim, 22-year-old Chrissy Lee Polis, calls it a hate crime and wants justice.
Polis, who is transgender, says the incident started as she was trying to use the restroom at the restaurant.

"I went to go use the bathroom. Come back out, the girl spit in my face, said, 'Are you trying to talk to my man?' I said, `No, I didn't even know that was your man at all.' The other girl came up, spit in my face, then they started ripping my hair, throwing me on the floor," Polis told The Baltimore Sun.
Police have arrested a 14-year-old girl and an 18-year-old girl they say attacked Polis. The 18-year-old has been identified as Teonna Monae Brown.
"They just seemed like they wanted to pick a fight that night, they really did. And come to find out that girl was only 14-years-old. I was shocked," she said. "They kicked me in my face; they really hurt me really bad and I'm just afraid to go outside now because of stuff like this."
Only one McDonald's employee can be seen trying to intervene in the assault. Several others can be heard laughing. McDonald's says the employee who videotaped the attack has since been fired.
The 14-year-old suspect has been charged as a juvenile. Police say they are still trying to determine whether to file hate crime charges.
Transgender advocacy groups are planning a rally in front of the Rosedale McDonald's on Monday at 7 p.m. to condemn the attack.
Thanks for reading CBS NEWS.
Create your free account or log in
for more features.