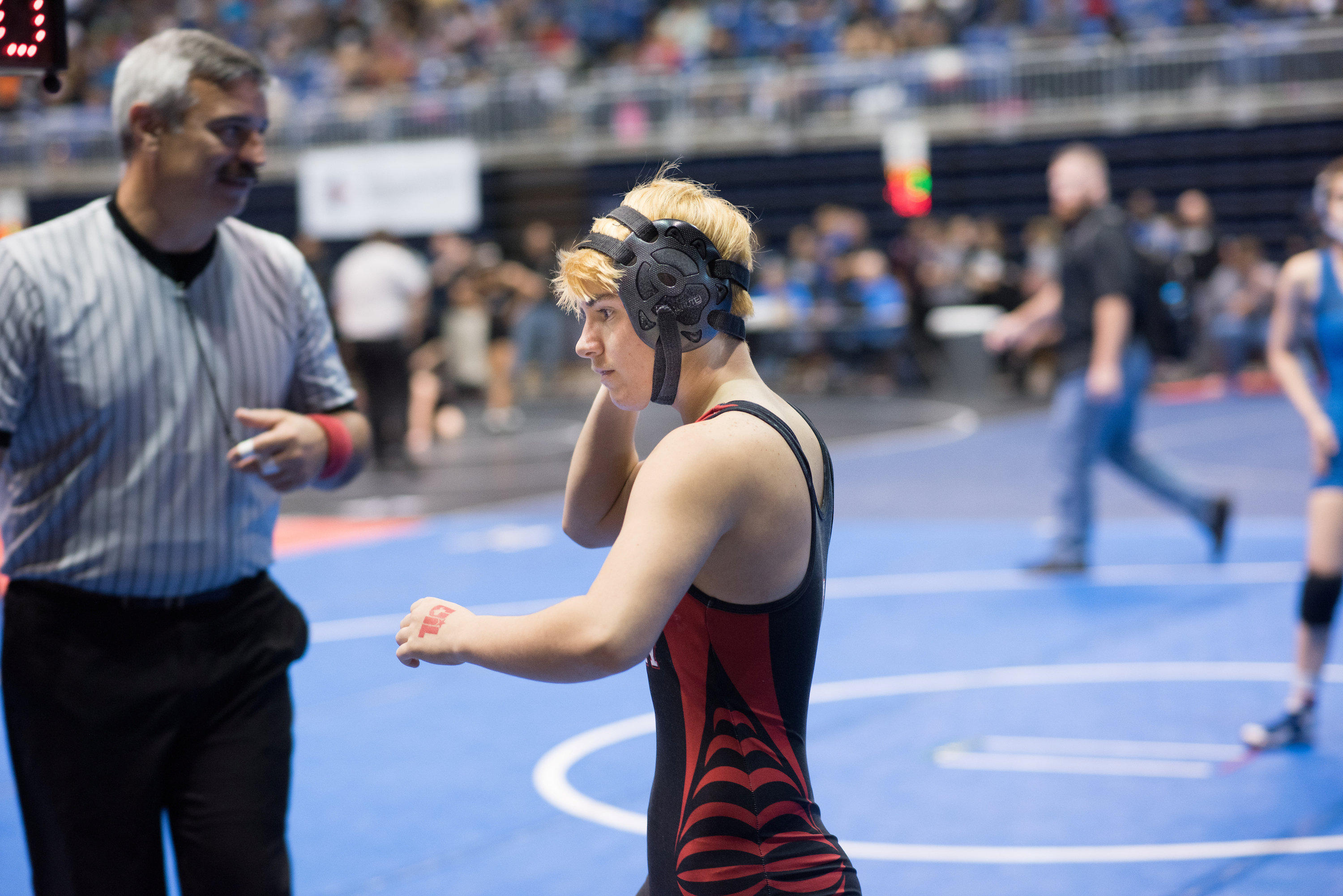 Transgender high school wrestler responds to controversy
DALLAS - A transgender boy who won a girls wrestling state title in Texas says he would compete against boys if allowed and is taking lower doses of testosterone to try to be fair to his opponents.
Mack Beggs says in an interview that aired Sunday on ESPN that he competes against girls only because the state's governing body for public high school sports requires him to wrestle under the gender listed on his birth certificate.
The 17-year-old Beggs says he's "holding back" on testosterone treatments, saying: "I don't want to cheat. That's not something I do. I don't cheat."
Beggs won the 110-pound girls title as a junior at Euless Trinity High School in the Dallas-Fort Worth area. He could face a legal challenge during his senior wrestling season.
The family of Beggs has said he would rather be wrestling boys, but state policy calls for students to wrestle against the gender listed on their birth certificates. So the junior from Euless Trinity beat Chelsea Sanchez 12-2 in the 110-pound weight class to improve to 56-0 and earn the championship.
Beggs, who reached the state tournament after two opponents forfeited, was dogged throughout the event by questions about whether his testosterone treatments made him too strong to wrestle fairly against girls.
The University Interscholastic League, which oversees athletics in Texas public schools, enacted the birth certificate policy Aug. 1. And while Beggs' family has said he wanted to compete against boys, UIL deputy director Jamey Harrison, who refused to address Beggs directly, said they had not received a request to change divisions from any athlete at this competition.
Beggs' participation comes at a crucial moment, with the public and politicians debating the growing belief that gender is fluid. Just this week, the Trump administration announced an end to federal protections that allowed transgender students to use facilities based on their gender identity, leaving states and school districts to determine their own policies.
And in Texas, lawmakers are considering a bill similar to HB2, the North Carolina law that prompted the NBA to move this year's All-Star Game out of that state. If passed, the Texas version, called SB6, would require transgender people to use the bathroom of their "biological sex."
Attorney Jim Baudhuin tried and failed to get injunctions before both the district and regional meets to prevent Beggs from competing while he transitions because he is taking testosterone. Baudhuin, who is the parent of a wrestler at another school who has never faced Beggs, told The Associated Press earlier this week he doesn't blame Beggs for the situation, but faults the UIL.
"The more I learn about this, the more I realize that she's just trying to live her life and her family is, too," Baudhuin said. "She's being forced into that position. Who knows, through discovery we may find out that's not the case. But every indication is, the way the winds are going now, the blame rests with the UIL and the superintendents."
Despite criticism of the policy, UIL executives don't envision a change.
"Ninety-five percent of the school superintendents in Texas voted for the rule as it was proposed, which was to use birth certificates," Harrison said. "So any rule can be reconsidered, but ... given the overwhelming support for that rule, I don't expect it to change anytime soon."

Thanks for reading CBS NEWS.
Create your free account or log in
for more features.