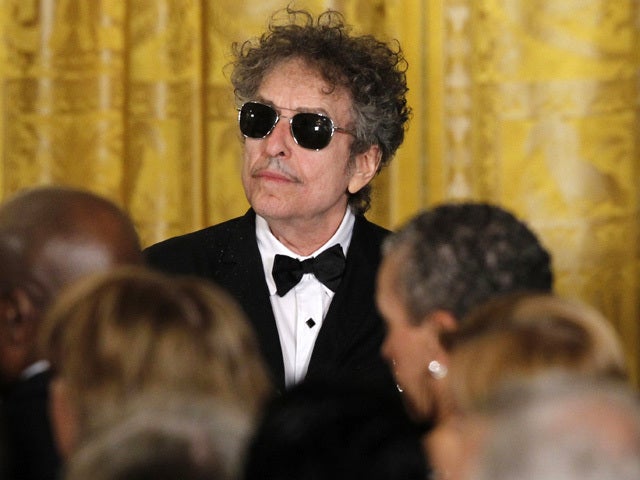 Writers divided on Bob Dylan's Nobel honor
STOCKHOLM -- News of Bob Dylan's Nobel honor has had mixed reactions.
U.S. President Barack Obama has offered his congratulations to Bob Dylan for being awarded the Nobel Prize in literature.
British singer-songwriter singer Billy Bragg approved of the awarding of the Nobel Prize in literature to Bob Dylan, quoting a line from the song "Mr. Tambourine Man" -- "Yes, to dance beneath the diamond sky with one hand waving free."
Mick Hucknall, lead singer of the band Simply Red, praised Dylan as "greatest living poet."
American writer Joyce Carol Oates applauded the Nobel Prize awarding to Bob Dylan, while taking the opportunity to attack U.S. Presidential candidate Donald Trump, whom she refused to name in full.
British fantasy writer Philip Pullman also welcomed the honoring of Dylan, saying he hoped that as a result the Nobel committee might in the future look at a wider range of writing.
British Indian novelist Salman Rushdie, often mentioned as a possible Nobel literature prize contender, has lauded the choice to honor singer-songwriter Bob Dylan with this year's award.
Not everyone sang Dylan's praises, however. Scottish novelist Irvine Welsh reacted angrily to the awarding of the Nobel Prize for literature to Bob Dylan, embarking on a series of exchanges on Twitter.
"I'm a Dylan fan, but this is an ill conceived nostalgia award wrenched from the rancid prostates of senile, gibbering hippies," the "Trainspotting" author wrote.
He continued: "If you're a 'music' fan, look it up in the dictionary. Then 'literature'. Then compare and contrast."
He also begged to know if writer Don De Lillo had been inducted into the Rock 'n' Roll hall of fame yet.
The Vatican newspaper is another critic, saying that while some of Bob Dylan's lyrics are beautiful, he's just a songwriter and that "real" writers who know what it takes to produce a book might not be happy with this year's choice for the Nobel Prize in Literature.
L'Osservatore Romano, which frequently chimes in on pop culture, wrote a brief article about Thursday's award.
It said the Nobel committee certainly recognized Dylan's "great talent." But it said many of the artists inspired by Dylan's beautiful songs subsequently wrote "truly boring" lyrics. And it said the Nobel decision certainly "must not have pleased real writers, such as potential winners Don De Lillo, Philip Roth or Haruki Murakami, who know the enormous work that goes into writing a novel."
The paper did praise Dylan for having steered clear of all the trappings of celebrity culture, saying he followed "an invitation to not conform, and think with his own mind."Author Gary Shteyngart also lampooned the decision, though not by specifically calling out Dylan but by criticizing the Nobel committee instead.
"I totally get the Nobel committee. Reading books is hard," he tweeted.
"Catastrophe" creator and comedian Rob Delaney definitely took issue with the precedent-setting decision, tweeting, "Bob Dylan wins the Nobel Prize for Literature? What's next, Derek Jeter wins a Tony for his rice pilaf?"
Author Jodi Picoult, on the other hand, saw the move as a new personal opportunity.
But the naysayers seemed to be in the minority, as most cheered the news, with much more complimentary messages about the honor, though.
British Indian novelist Salman Rushdie, often mentioned as a possible Nobel literature prize contender, lauded the choice to honor Dylan with this year's award.
"From Orpheus to Faiz, song & poetry have been closely linked. Dylan is the brilliant inheritor of the bardic tradition. Great choice," Rushdie tweeted.
And Chilean President Michelle Bachelet was quick to congratulate Dylan on the award. "What a joy that Bob Dylan got the Nobel for literature. Many fond memories from my adolescence are associated with his music," she tweeted.
Thanks for reading CBS NEWS.
Create your free account or log in
for more features.