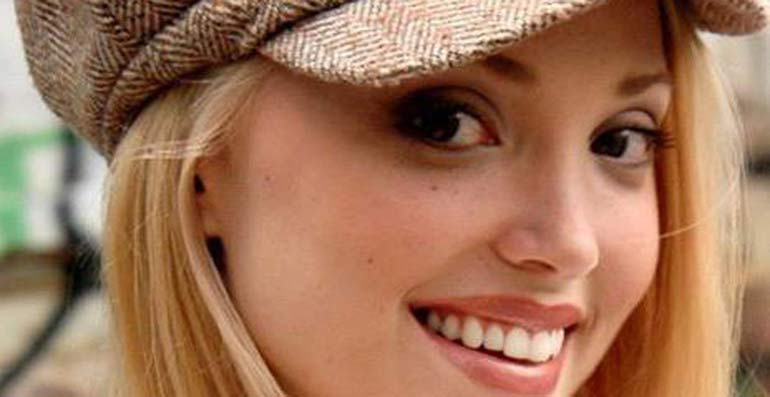 Produced by Susan Mallie and Leslie Neigher
The mountainous, wooded wilderness soaring above Oregon's Columbia River Gorge draws thousands of hikers every year to trek along its narrow trails. The beauty here can mask a dangerous truth -- that these paths can be perilous. A stumble here can lead to a deadly freefall.
It was along the Eagle Creek trail that Rhonda Casto, a 23-year-old mother of a nine-month-old girl, set out with her boyfriend, Stephen Nichols, back on March 16, 2009. It would be the last hike of her life.
"She was funny," friend Jessica Colburn said. "Anywhere we went, we would make new friends because Rhonda was just outgoing and wanted to talk to everybody."
Jessica Colburn first met Rhonda when they were in high school. She remembers her best friend as simply irreplaceable.
"There were times where we could just kinda look at each other and know what the other one was thinking and we'd just laugh," she said. "No one else knew why we were laughing, but we did."
Colburn introduced Rhonda to another friend, Brandi Arneson.
"She wasn't afraid to say things that she felt or wanted to say or do," Arneson recalled. "It was always easy to be around her 'cause you kind of became that way as well."
But Rhonda didn't have to say a word to make an impression. She was an aspiring model, whose beauty had caught the eye of companies like Nike.
"Tell me about this," Van Sant asked while holding up a photo of Rhonda.
"That was part of her modeling portfolio. I just love it because she just looks amazing in all of those pictures," said Colburn.
"A mom can be like, you know, 'Oh well, I'm biased, because she's my daughter.' But I just think that she's just absolutely beautiful," Julia Simmons said of her daughter, Rhonda. "There's nothing about her face that's just not pretty, everything is pretty."
"You guys good buddies?" Van Sant asked Simmons.
"Yes, we were very good buddies," she replied. "She'd call me, or she'd be over at my house."
In 2005, Simmons played a role in introducing her daughter to a man who would change the course of Rhonda's life.
"I first met Stephen Nichols through the Internet. I was looking for a place, a room to rent," said Simmons.
"I had a three bedroom condo and the other two rooms were just empty," said Nichols.
Simmons moved into Nichols' Portland, Oregon, condo.
"He can be very charming," she said. "...and you know, somebody that's really nice."
"She asked me if I would like to meet her daughter. And I said, 'No, thank you,'" Nichols told Van Sant. "And then she asked me again and I said, 'No, thank you. I -- I can find someone on my own.' And she goes, 'OK, well, you're missing out. She's quite beautiful.'"
Nichols would soon find out for himself, when there was an unexpected knock on his bedroom door.
"Then I turn around and I look at her and my tongue pretty much hit the floor," he told Van Sant. "Up until that point she's the most beautiful woman I have ever seen. And she's like, 'Hi. My name is Rhonda.' And I'm like, 'Hi, I'm --"' and she goes, 'Steve.' And I'm like, 'Yeah, that's -'"
"You were tongue tied," Van Sant remarked.
"I was tongue tied. I was literally floored," Nichols said. "I went over to Julia's room and I'm like, 'Your daughter is just incredibly beautiful.' And she goes, 'I told you.'"
It wouldn't be long before the recently-divorced 30-year-old day trader took 20-year-old Rhonda Casto on their first date.
"Everything about her was impressive. And I just immediately fell in love with her," said Nichols.
"You felt a connection right away," Van Sant commented.
"Absolutely, said Nichols.
Asked what he was sensing from Rhonda, Nichols told Van Sant, "I felt she was into me, too. I could tell that she valued intelligence and I've always thought that that's one of my strongest assets."
"Attraction right away?" Van Sant asked Simmons.
"Yeah. And I think she was attracted not so much to his looks, but to his ... what he had. His condo, his money, his -- you know, his status," she replied.
Their romance quickly blossomed, and before long, Rhonda joined her mother in the condo; not as a roommate, but as Nichols' girlfriend. His father, also named Stephen Nichols, remembers it as a happy time.
"They were a delight together. They were both upbeat and happy, you know, just a zest for life," he said.
In 2008, three years into their relationship, the couple became parents when their daughter was born.
"She was super protective and just -- like a new mom, you know? Everything's gotta be just so," said Simmons.
"Give me a sense what it meant for you and for Rhonda," Van Sant asked Nichols.
"Magical moment. Just looking at Rhonda, being transformed," he said. "'Cause now the most important thing was her daughter."
They had started a family, but hadn't quite made things official.
"I think there's a lotta times that she thought I was going to propose. And I told her, 'I am going to propose to you.' I made that very clear. But we didn't even have a ring picked out yet," said Nichols.
After having the baby, Rhonda told Nichols she wanted to return to modeling but needed to lose some weight.
"I think it's one of the best things you can do is just to go on a long hike. So that was our goal. I wanted to lose weight. She wanted to lose weight," said Nichols.
But Simmons says that doesn't really sound like her daughter.
"I never really knew that they went hiking," she explained. "They'd go to a movie or they'd go play Frisbee golf."
Asked if she enjoyed hiking, Nichols told Van Sant, "She loved it. ...She had hiked that trail numerous times before."
Then came the time for that hike in March 2009.
"She said he'd been kinda buggin' her to go hiking for like two or three weeks--like a month," Simmons said. "She says, 'He's either gonna give me a ring or he's gonna throw me off the cliff.'"
"I never heard her say that. But Rhonda also had a sense of humor, so I, I really--I don't know," said Nichols.
But Jessica Coburn swears it's true.
"When she said that, what-- how did you react?" Van Sant asked.
"I wasn't sure how to react. To be honest, initially I didn't know if she was serious or if she was actually afraid," she replied.
As Rhonda and Nichols made their way up Eagle Creek Trail, they had some challenges. It was about 40 degrees and the weather was spotty. There were showers from time to time and the trail was damp.
"Had it been raining at the beginning, I wouldn't have gone up," said Nichols.
All along the trail, there's water runoff and lots of moss, which is very slippery, making its way down to the trail where there's muddy footing. It's beautiful but treacherous.
"Once you start getting really high up, there is a very -- a narrow part of the trail that -- there's kind of, like, a rope or a chain on the inner cliff edge that you have to hold onto 'cause it's just barely wide enough for one person to walk all around the ledge," said Colburn.
And it was precisely in that very spot that Rhonda Casto went off Eagle Creek trail, falling over 150 feet to her death.
INVESTIGATING RHONDA'S DEATH
"March 16th, 2009. ... It was a cold day ... rain off and on. People think of all the days, why would you choose that day to hike?" Van Sant asked Nichols.
"Um, when we started off, it was actually a very nice day," he replied.
But by the time Stephen Nichols and Rhonda Casto headed back down the narrow path, the weather had turned. Suddenly, disaster struck.
Nichols says he hiked down to Rhonda's lifeless body and tried to resuscitate her. With no cell phone signal, he returned to the trail parking lot and called 911. He told the operator that Rhonda had been acting high, being silly and running on the slippery trail before she fell.
Rhonda's mom, who had moved out of the condo, had been babysitting the couple's 9- month-old daughter. As the hour grew late, she got increasingly concerned.
"So I tried to call her, and I got no answer," Julia Simmons said. "Six o'clock rolled around--nothing. ...Then 8 o'clock rolled around and nothing."
Then came a knock on the door. It was a chaplain sent by the local fire department.
"She just looked at me, and she said, 'Your daughter's gone,'" said Simmons.
Nichols called his father to break the news, but could barely get the words out.
"I could hardly understand what he was saying he was crying so hard," Stephen Nichols Sr. said. "He goes, 'Rhonda's dead.' That's all he could say. He was completely broken up. I just said, 'What happened?' He said, 'She -- she fell. We were hiking and she -- it was all icy and she just slipped off the mountain.'"
KATU NEWS REPORT: A man hiking with Rhonda Casto says that she fell off a cliff last night.
"You don't think about your friend's name being said and saying that she has died by falling off a cliff," Brandi Arneson said in tears. "Must've been so horrifying. And knowing that you're never getting back to your child."
Within days, Rhonda's loved ones held a memorial where her mother says Nichols was acting strangely.
"Rhonda's family claims that you were not grieving," Van Sant noted to Nichols. "You seemed unmoved by Rhonda's death."
"The exact opposite. I was crying nonstop. When I'm really, really sad, I just -- I close down. It's just the way I deal with pain," he replied.
Detectives from Hood River County, where Eagle Creek Trail is located, began investigating Rhonda's death. Her autopsy seemed to support Nichols' claim that she may have been high that day. Traces of marijuana were found in her system and prescription drugs, which may have affected her balance. Authorities declined to declare the death an accident, but Stephen Nichols was not charged with any crime.
"For about three months after Rhonda died I completely shut down," he said.
Nichols cooperated with police, answering all of their questions. Then, he and his now-motherless daughter moved across the state to live with his family. It took four years, but in 2013, Nichols was ready for a new chapter in his life.
"I sort of wanted a fresh start," he said. "And so that's when I decided to go to China."
Nichols and his daughter, now 5, moved to Wuxi, about 75 miles from Shanghai.
"So how does a kid from Oregon end up in China?" Van Sant asked.
"I had been there before," Nichols replied. "I liked China.
He got a job teaching English to Chinese businessmen.
"My daughter was absolutely thriving," Nichols said. "A little over two months and she was fluent in Mandarin ... She had dance lessons. She was taking Tae Kwon Do. She was learning to play the piano ... She loved it. I loved it. Everything was perfect."
To top it all off, Nichols met Landy Yin Yan and after about a year of dating, he proposed. Landy quickly became like a mother to his daughter.
"They adored each other," Stephen Nichols Sr. said. "She couldn't have a better thing in her life than Landy."
Meanwhile back in Oregon, Rhonda's mother, convinced her daughter had been pushed off the trail, kept pressuring investigators for answers.
"I kept calling and asking why anything -- nothing was happening," said Simmons.
But something was about to happen. In April 2014, a secret grand jury heard evidence and indicted Stephen Nichols for the murder of Rhonda Casto.
Ten months later, Nichols and his daughter decided to take a trip back to Oregon. The two first landed in San Francisco, where Stephen was stunned to be met by authorities and arrested.
"I saw something pop up on my phone. And I about jumped out of my seat," said Brandi Arneson.
Nichols was extradited back to Oregon and charged with the murder. He pleaded not guilty. His daughter was sent to live with Rhonda's family. As Stephen Nichols waited in jail, police gathered evidence for the murder trial on their theory that it was no accident.
Investigators returned to the scene of Rhonda Casto's fall for an unusual experiment. They brought with them two crash test dummies, the same size and weight as Rhonda, to prove their theory she was pushed.
"Steve, you have been accused of a despicable crime, that you pushed your girlfriend -- the mother of your daughter -- off of a cliff. Respond to that," said Van Sant.
"No, I did not. I love Rhonda. I will always love Rhonda. I fully expected to spend the rest of my life with her. I have never done anything to harm her," Nichols replied.
In August 2015, Stephen Nichols was in court for a bail hearing. It's like a mini trial, with witnesses called.
Nichols' attorney is Mike Arnold, who recently made headlines representing Ammon Bundy, the leader of the armed occupation of Oregon's Malheur National Wildlife Refuge.
"This occurred in 2009, and yet there's no arrest in this case until 2015. What changed?" Van Sant asked Arnold.
"I don't know," he replied. "...this was ... a tragic accident. A slip and fall on ... a dangerous trail."
Arnold questions the man who organized the dummy experiment, Deputy Daniel DeHaven.
Mike Arnold: What is your opinion about whether or not Miss Casto was pushed?

Deputy DeHaven: I believe that it's most likely or most probable that she was pushed.
Arnold, having obtained the video through discovery, hopes to use their own demonstration to turn the tables on the prosecution.
Deputy DeHaven admits in six different attempts, they could not get the dummy to land at the spot they believed was Rhonda's final resting place.
Michael Arnold: Who's that laughing that "she lost her guts"?

Deputy DeHaven: I have no idea.
Arnold has some questions about the scientific rigor of DeHaven's tests, including laughter in the background:
Michael Arnold: Was that person laughing part of the scientific experiment?

Deputy DeHaven: No.
Bail was set at $2 million. Unable to come up with the money, Nichols returns to jail. After all these years, friends Jessica Colburn and Brandi Arneson finally find the courage to visit, for the first time, the spot where Rhonda fell from that trail.
"...all the details that we'd so far heard, none of those makes sense with just simply sliding and falling down," said Arneson.
"And if it was not an accident, then what was she thinking when she went down -- that the person that she thought loved her could have done this to her?" said Colburn.
"I'm positive that he killed her," Simmons said.
"If Stephen Nichols murdered your daughter, why did he do it?" Van Sant asked.
A DANGEROUS TRAIL
Stephen Nichols' defense attorney, Mike Arnold, knows about the dangers of the Columbia River Gorge firsthand.
"So we're at an outcropping here at Eagle Creek," he said. "We know people fall every day in their homes. Imagine adding exhaustion and weather to that situation. ...Anytime you get away from a trailhead you got to keep in mind you're at the mercy of the outdoors."
Arnold and his team of investigators try to reconstruct what happened to Rhonda, but it's not easy more than six years after her death.
"Physical evidence disappears, particularly in a rainy state like Oregon. Your physical evidence could disappear within hours or days," Arnold explained.
Stephen Nichols says this is how the tragedy unfolded: they're heading down the trail. Rhonda was in a great mood and jokingly she'd put a towel around her shoulders and was calling herself Supergirl. She broke into a run and, according to Nichols, she slipped on the wet path and fell more than 150 feet to her death.
"To me the evidence, the physical evidence and the science shows us it's an accident," said Arnold.
And Arnold says accidents like Rhonda's are more frequent than people realize.
When Rhonda died in 2009, she was the fourth fatality on the Gorge trails in just a six-month period. Dozens of search and rescues are done every year. "48 Hours" caught up with one hiker who has a terrifying tale to tell.
"I shouldn't have survived that," said April Meads, a 20-year-old college student and athlete.
Meads headed out on a Gorge hike in May 2015, that soon became a struggle to survive.
"I don't know if I stepped on a loose rock or if the path just crumbled beneath my foot, but just the next thing I knew, I was, I just fell and I was sliding down the side of the cliff," she told Van Sant.
She was skidding toward a 100-foot drop off.
"I somehow grabbed onto a root," she said. "If I sneeze, if I cough, if any little thing goes wrong, that I was gonna die."
Luckily, several hikers happened by. They quickly made an improvised lifeline, made literally from the clothes off their backs.
"T-shirts, sweatshirts, jackets, things like that," Meads explained. "And it was probably 45 feet long."
One brave hiker repelled down.
"And I kept saying, 'I don't even know who you are, but you are the most amazing man I've ever met. Thank you. I love you. You are risking your life to save mine,'" Meads recalled.
With the hiker's help, Meads made it back up to safety, with a new respect for the trail.
"When I look at Steve Nichols, I see an innocent man falsely accused that's grieving over the loss of Rhonda," said Arnold.
Arnold says there was no murder and that he can prove Rhonda's death was an accident.
"There's one universal truth out there, and that's physics. That's something that can't be outlawyered, it can't be confused with rumor and innuendo," he continued.
"The science you believe is on your side in this case?" Van Sant asked Arnold.
"You know, Peter, the funny thing about science is you don't have to believe in it for it to be true," he replied.
Arnold is talking about the condition and location of Rhonda's body. Oregon Medical Examiner Christopher Young performed Rhonda's autopsy and testified at Nichols' bail hearing that all of Rhonda's serious injuries occurred below her waist.
"The pelvis was essentially shattered," Young told the court.
Meaning, Arnold contends, that Rhonda slipped feet first, because if she'd been pushed, she would have tumbled head over heels, sustaining injuries over her entire body.
"I can tell that -- based on the injuries that she has, she -- she landed predominantly on her legs and her pelvis," Young testified.
The defense then takes aim at that dummy test, which Arnold thinks is as dumb as its name:
Mike Arnold: Three grown men who have some athleticism through their job duties were not able to make that dummy reach what you think is the final resting place of Rhonda Casto.

Deputy DeHaven: Correct.
Arnold says no tests were done to see if Rhonda made any contact with the outcroppings on the way down the cliffside -- contact that could have affected where her body finally came to rest.
"I didn't have a team of investigators there. I have to trust law enforcement to do their jobs," Arnold told Van Sant.
But what if, as Rhonda's family and friends believe, it wasn't an innocent fall? Why would Stephen want Rhonda dead?
"She got treated badly, and he tried to cheat on her several times," Julia Simmons alleged.
Simmons says that Rhonda and Stephen's relationship had been stormy for years before that fateful hike.
"And as their relationship evolved, honestly, did she love Stephen more for what was inside him, or what was in his wallet?" Van Sant asked.
"I -- what was in his wallet, 'cause I know that she didn't like his personality after she had been with him a few years and saw how he -- he tortured her mentally," said Simmons.
Two years into their stormy relationship, the couple allegedly had a shouting match one night in a bar that a witness says quickly escalated into a shocking threat.
"The last time I saw Rhonda was at Boston's Grill," Jen Sconce, a friend of Rhonda's back in 2007, told "48 Hours." "Stephen was very friendly in the beginning. He was buying drinks for all of us. ...But as the night wore on and Stephen had more drinks, he became a little bit aggressive and rude."
Sconce says Stephen Nichols thought Rhonda was acting flirtatious toward others in the bar.
"He started to verbally abuse Rhonda by calling her stupid and a bunch of other names," she said.
Sconce says the fight got louder.
"She asked him to leave the bar, she said, 'Maybe I'll just leave you,'" Sconce said. "And as she said that, he turned around and said, 'If you leave me, I'll kill you.'"
"I don't even know who Jen Sconce is," Nichols laughed.
"Never happened at all?" Van Sant asked.
"No. I have never threatened Rhonda with physical harm. Ever. I don't think I've ever threatened anybody with physical harm," said Nichols.
"If Stephen Nichols murdered your daughter, why did he do it?" Van Sant asked Simmons.
"Because he had an inkling that Rhonda was gonna leave him, and he didn't wanna pay child support," she replied.
ACCIDENT OR MURDER?
A mysterious fall off a rain-soaked path. What really happened to Rhonda Casto?
"It's been really hard, just having no closure and not knowing what happened," friend Jessica Colburn said.
But Rhonda's mother says she knows what happened and why: Nichols' huge losses in the stock market.
"He had lost a bunch of money the year before. He lost, like, a quarter of a million dollars," said Julia Simmons.
Simmons became suspicious when she learned that Nichols had taken out a million-dollar life insurance policy on Rhonda just months before her death.
"And who's the beneficiary of that?" Van Sant asked.
"Stephen Nichols," Simmons replied.
Mike Arnold says, so what? That's what responsible parents do. Nichols and Rhonda each had a policy on the other for the same amount of money.
"If you're a young couple with a kid ... you should have life insurance," Arnold said. "Accidents happen, and you wanna leave your family better off if you pass unexpectedly."
Nichols claims he's never hurt anyone.
"I'm the most non-violent person you will ever meet," he said. "That being said, I'm not perfect. I have been emotionally abusive at times to people. But I've never physically hurt anyone."
Investigators believe that's not true. A picture, taken by Rhonda herself and sent to her brother, shows red marks left from an alleged physical encounter with Nichols.
"He pushed her down on the stairs and left bruises on her back," said Simmons.
But, she admits, the hostility went both ways.
"One time she got really mad at him. And I don't know if you guys wanna use this, but she bit him on the shoulder. And they were fighting really bad and..." Simmons said.
"Physically fighting," said Van Sant.
"Yeah," Simmons affirmed.
"I always believed, you know, he pushed her," said Gerry Tiffany.
Now retired, Tiffany was the lead detective following Rhonda Casto's death in 2009. He never doubted she was murdered:
Mike Arnold: And when did it become a homicide investigation, as opposed to an accidental fall?

Gerry Tiffany: Pretty much the next morning.
In that August 2015 bail hearing, Tiffany tells Arnold his suspicions were further confirmed by stories he heard from Rhonda's family.
"That Rhonda had conveyed to them that if she didn't come back it was because Mr. Nichols pushed her," Tiffany testified.
"Do you think that's a true statement?" Van Sant asked Nichols.
"Knowing her family, I'm gonna say it's made up," he replied.
Arnold wants to know what hard evidence led to Nichols' arrest. But there's a problem -- something that could throw the entire case into doubt. Apparently, key evidence, including some death scene and autopsy photos, is missing.
Matt English, the current sheriff of Hood River County, is about to drop a bombshell:
Sheriff English: There were multiple files that are gone. ...It could potentially be a criminal act.

Mike Arnold: And did you have a suspect in those criminal acts?

Sheriff English: Yes.

Mike Arnold: And who is that suspect?

Sheriff English: Gerry Tiffany.
Gerry Tiffany, the lead investigator:
Mike Arnold: And what's the potential crime for which you believe he's a suspect?

Sheriff English: It could have been official misconduct or tampering with evidence, potentially.
Tiffany has denied, under oath, that he ever intentionally destroyed anything:
Mike Arnold: Do you know what happened to the hard drive that those files were on?

Gerry Tiffany: No, it was there when I left.
Tiffany has not been charged with any crime.
In January 2016, in Hood River, defense attorney Mike Arnold plans to put the prosecution's case on trial at a hearing to have all charges against Stephen Nichols dismissed.
Arnold has tracked down a witness that investigators and prosecutors overlooked: John Whaley, the last person besides Stephen Nichols to see Rhonda Casto alive:
Mike Arnold: So do you recall hiking up Eagle Creek Trail back on March 16th, 2009?

John Whaley: Very much so, yes.

John Whaley: It had been very, very wet.
He passed the couple on the trail possibly minutes before Rhonda's fatal fall:
Mike Arnold: And what did she look like?

John Whaley: She was quite an attractive gal estimated to be in her younger 20s.

Mike Arnold: And was there a man following behind her?

John Whaley: Right behind her.

Mike Arnold: They were not arguing?

John Whaley: No.

Mike Arnold: Ms. Casto appeared happy?

John Whaley: Yes.
Whaley tried to share his story with a deputy at the scene but was brushed off.
"He wasn't helpful and he did basically say something like, you know, 'Why don't you move on before another accident happens,'" he told the court.
Mike Arnold has another surprise. He does something "48 Hours" correspondent Peter Van Sant has never seen. In open court, he subpoenas the prosecutor sitting right across from him.
Why? Because there's someone else in the courtroom who Arnold believes is the real reason prosecutor Carrie Rasmussen charged Nichols with murder.
"It turns out the reason that indictment came up is because of pressure from a book author!" Arnold told the court of best-selling true-crime writer Steve Jackson.
"He couldn't write a book until the case was solved," said Tiffany.
WILL THE CASE GET TO TRIAL?
Author Steve Jackson will go just about anywhere for a good story, including the Hood River County Courthouse, where he's researching a book, along with his investigator, on Rhonda Casto's death.
Suddenly, a startling new chapter in this case begins as the motion to dismiss hearing continues.
Defense attorney Mike Arnold believes Jackson is the reason why Stephen Nichols is charged with murder, and he drives home the point with Gerry Tiffany:
Gerry Tiffany: He'd give me information about Mr. Nichols. ...He wanted to write a book.

Mike Arnold: And he wanted your help?

Gerry Tiffany: Yes.

Mike Arnold: And he wanted a conviction of Mr. Nichols?

Gerry Tiffany: Yes.
Arnold spells out "the Jackson connection" by calling Deputy District Attorney Carrie Rasmussen to the stand, stunning the courtroom.
Remember, five long years had passed after Rhonda's death before Stephen Nichols was charged with her murder. And Arnold thinks he knows why Rasmussen, after all that time, decided to act:
Mike Arnold: There's an email that was read earlier into the record from Steve Jackson to you, dated February 17th, 2014. You remember receiving that?

Carrie Rasmussen: I do.
Arnold read a portion of Jackson's email aloud in court:
"I'm sending this to you today as a courtesy to let you know that I am resuming my intentions to research and write about this. ...I hope that someday, justice will be served."
Mike Arnold: What was the last line of your email back to him the next day?

Carrie Rasmussen [reading]: "With all this being said ... perhaps it is time to see what a panel of citizens will decide."

Mike Arnold: "Perhaps it's time to see what a panel of citizens will decide?"

Carrie Rasmussen: Right. It was. I think it was...

Mike Arnold: It was because of the pressure put on you by Steve Jackson.

Carrie Rasmussen: Objection! That's argumentative and leading.

Judge John Olsen: I will sustain.
Jackson says his email to the prosecutor is something any journalist might do.
"Have you done anything wrong?" Van Sant asked Jackson. "Absolutely not," he replied.
"That has nothing to do with me, but I think a grand jury looked at the evidence and said there's enough here to go to trial. That's why we're here," said Jackson.
Rasmussen told "48 Hours" she will not discuss this case until it goes to trial. At this hearing, she doesn't want to talk to Mike Arnold, either:
Carrie Rasmussen: Sustained means sustained.

Mike Arnold: You weren't asked a question, ma'am. Please remain silent...

Judge John Olsen: Hold on ... we all know what sustained means in this courtroom. ...Ask the next question, please.
Arnold isn't buying the timing of the grand jury:
Mike Arnold: So just a coincidence.

Carrie Rasmussen: Objection.

Judge John Olsen: Miss Rasmussen, you can't object. You're a witness. You have an attorney who's representing the state on this matter. That objection is overruled.

Mike Arnold: So it was a cause and effect? He sent you the email which caused you to react by setting it for grand jury?

Attorney: Objection.

Mike Arnold: Yes or No?

Carrie Rasmussen: No.
The defense will have much more to deal with than just Steve Jackson. Besides life insurance money, the prosecution will argue yet another potential motive for murder -- a love triangle -- claiming that Stephen Nichols was in love with Rhonda's younger sister, Melanie.
"He wanted to be with my other daughter and he wanted Rhonda out of the picture," Julia Simmons told Van Sant.
According to court filed documents, Melanie Casto will allege she began having sex with Nichols when she was just 15. Melanie declined to speak with "48 Hours," and Nichols says allegations of statutory rape, or any relationship, are false.
One key to the prosecution's case will be the credibility of the woman making so many of the accusations--Rhonda's mother, Julia Simmons:
Mike Arnold: What do you do for a living, ma'am?

Julia Simmons: I'm not doing anything right now.

Mike Arnold: Are you unemployed?

Julia Simmons: Yes. I'm on disability.
From attacking Nichols' character -- "Stephen Nichols is a sociopath and a murderer" -- to accusing him of killing for cash, to allegations involving Rhonda's younger sister, ironically, it is Simmons -- the woman who had wanted Stephen Nichols to meet her daughter all those years ago -- who has led the charge against Nichols for years.
But now, on the stand, Mike Arnold puts her credibility under the microscope:
Julia Simmons: Are you just trying to badger me? Is that what you're trying to do?

Mike Arnold: So you kinda hard up on money in 2009?

Julia Simmons: Yeah, I think so.
He accuses Simmons of painting Nichols as a murderer, so she could one day collect Rhonda's life insurance policy:
Mike Arnold: And did you say, "I wanna lay claim to be the beneficiary of my daughter's life insurance claim?"

Julia Simmons [looking at document]: Well, I see it here, so I must've done it.
Arnold claims Simmons would do just about anything for money, including a despicable crime: cashing her granddaughter's monthly death benefit check from the government despite never having custody of her. Although named in open court, "48 Hours" has chosen not to name Simmons' granddaughter.
Mike Arnold: How much money were you getting a month from ___'s Social Security benefits?

Julia Simmons: $500.

Mike Arnold: Did you steal ___'s Social Security benefits?

Julia Simmons: Yeah.
But ultimately, does Simmons' confession of taking her granddaughter's checks really tarnish all of her testimony in the case of her beloved Rhonda?
"She was, like, it for me. She was my rock, my sidekick, my everything," Simmons told Van Sant.
"I feel like there is enough evidence to convict him," she continued. "I'm confident that he would be found guilty."
"I spend probably 80 percent of my waking hours just reading. And then I go to the shower, cry a little bit over my daughter. Think about her. You take it one day at a time," said Nichols.
Just last week, Judge John Olsen denied the defense's motion to dismiss. Stephen Nichols will stand trial for the murder of Rhonda Casto.
---
Later this month the judge will consider reducing Nichols' $2 million bail.
No date has been set for Nichols' trial.
Thanks for reading CBS NEWS.
Create your free account or log in
for more features.