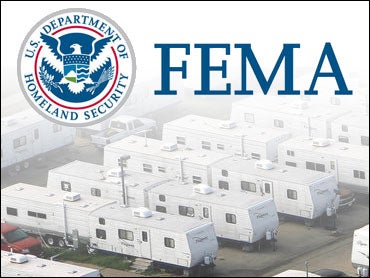 Tough Transition From FEMA Trailer To Home
State and federal officials are talking with advocates for hurricane victims about how best to ease the transition from federally issued trailers to more permanent housing.
The discussions come as a June 1 closing date approaches for the federal trailer parks that house many Louisiana victims.
Housing advocates worry that the closures will force residents into apartments or houses they won't be able to afford long-term. Rents, particularly in the New Orleans area, soared after Hurricane Katrina, and have remained high.
"As we move closer to the day when FEMA closes its trailer sites, the remaining residents are increasingly at risk of being left in substandard housing or, even worse, homeless," said Calvin Mackie, a member of the LRA board, in a statement.
The federal subsidy for residents moving from trailers to apartments and for other hurricane victims who've been getting rental assistance, is set to start declining next month - moving toward a total phaseout by March 2009 by the U.S. Department of Housing and Urban Development.
Raymond Jetson, chief executive of the nonprofit Louisiana Family Recovery Corps, said he's glad the talks are under way but he worries that too many issues must be resolved to avert a housing crisis or steep increases in homelessness if the June 1 deadline stands.
For example, his nonprofit, picked by the state to coordinate human services for hurricane victims in Federal Emergency Management Agency trailer parks, is still trying to identify what resources are available, and what gaps exist. It's also trying to identify residents' needs, the cost of meeting those needs and who should be responsible for paying the bill. He hopes to have a dollar estimate next week.
Jetson said people will need help establishing households, paying off outstanding utility bills and coming up with deposits not covered by subsidies, before even worrying about their portion of rent.
"While there are some good things that have happened, there is still a risk for a lot of people who remain in trailers," he said.
It's been nearly 2½ years since Katrina hit, leaving 80 percent of New Orleans underwater and damaging or destroying much of the city's housing stock. Since the storm, and Hurricane Rita, which hit southwestern Louisiana about a month later, FEMA has provided trailers and rental assistance to hundreds of thousands of victims, but the agency says the trailers were only meant as a temporary solution and the goal now is to get people into more permanent quarters as soon as possible. (HUD has taken over the rental assistance program for hurricane victims, a spokeswoman said Friday.)
Ronnie Simpson, a FEMA spokesman, said his agency understands the concerns activists have raised about available housing and wants to keep working with government and nonprofit groups to help affected families.
But he noted families have a role to play, too, in picking a place that's big enough, and affordable enough, for them. FEMA offers lists of rental possibilities, he said, but "they pick the property they want to live in."
The idea behind the phase-out "has been and always will be to move families from small, cramped trailers to more permanent housing," Simpson said.
Jetson likened FEMA setting deadlines for closures, however, to having someone put a gun to your head to do something. "It's the circumstances under which you make the decision that have to be considered," he said, adding families may be forced to pick an option that they can't afford down the road.
As of Thursday, 1,702 trailers remained in group sites in Louisiana, including 446 in New Orleans. Both numbers are down sharply from late November when FEMA's phaseout plan for group sites and commercial leases was announced. Commercial leases for FEMA trailers and mobile homes within existing trailer parks, are to end by the end of 2008; there were 3,084 such homes left in Louisiana, according to FEMA.
By mid-month, one of the biggest FEMA trailer parks in New Orleans, at the campus of Southern University at New Orleans, is set to close, affecting roughly 140 households, agency figures show. A school spokesman did not expect any problems with the slated closure.
Adam Knapp is deputy director of the Louisiana Recovery Authority, which is working with federal and nonprofit agencies on improving the transition from trailers for those in need. He said he wanted information on what's happened with people who have already left group sites, as well as details on how those with "hardships" - senior citizens or those with disabilities who may have difficulty leaving their trailers - can be better helped.
"I think the idea is to create a better system for case management. Our biggest concern is (that) they're being given access to service in a sustainable way," he said.
U.S. Rep. Brad Miller from North Carolina has accused FEMA of hiding and manipulating science on the harmful effects of a chemical used in trailers after Katrina.
Formaldehyde is used in the particleboard of travel trailers, such as the tens of thousands used by FEMA to house homeless families in the wakes of Hurricanes Katrina and Rita, which slammed the Gulf Coast in 2005. More than 40,000 families still live in the trailers, according to North Carolina's News & Observer.
Thanks for reading CBS NEWS.
Create your free account or log in
for more features.