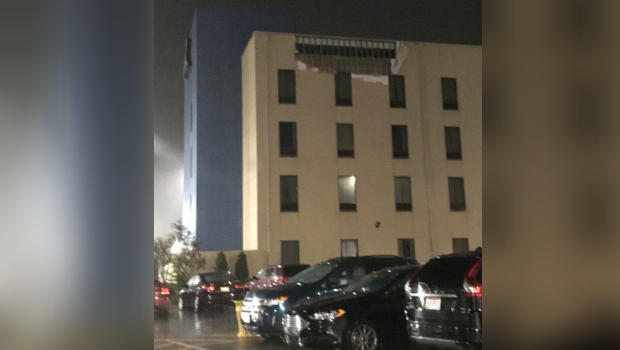 Tornado damages Oklahoma casino where Beach Boys were playing
NORMAN, Okla. -- State emergency management officials say an EF1 tornado touched down in a central Oklahoma county overnight, ripping off part of a casino roof where the Beach Boys were playing a concert attended by Gov. Mary Fallin. The tornado also downed power lines and trees.
An EF1 tornado as classified by meteorologists is capable of producing winds up to 110 mph.
Fallin said in an interview with CBS affiliate KWTV that she had to be evacuated from the Riverwind Casino in Norman, Oklahoma, twice during the concert. She said that she realized there was serious damage when she was walking through the auditorium of the casino.
"I looked up towards the balcony and there was this huge flood of rain coming through the roof," Fallin said.
The building was evacuated because of concern the roof would collapse, she said.
There were no reports of injuries, KWTV reported.
Fallin said she also saw damage at a nearby hotel.
Keli Cain, a spokeswoman for the Oklahoma Department of Emergency Management, says preliminary damage reports indicate the twister touched down in Cleveland County. Emergency managers and National Weather Service officials continued to survey damage Sunday afternoon in other counties, where as many as four tornadoes were initially reported Saturday night.
Cain said there have been reports of downed power lines, a damaged semi-truck and downed trees.
In a tweet Saturday night, Fallin thanked the Beach Boys for performing.
Operators at the casino said Sunday they had no time to alert guests before the possible twister hit the property because it happened at the same time that the National Weather Service issued a tornado warning for the area.
The casino has no electricity and parts of the property are closed off while repairs are made. Reservations were canceled through at least Tuesday, casino spokeswoman Kym Koch said.
"Like all Oklahomans, we know that weather events such as this can hit without warning and unfortunately, that is what happened at Riverwind last night," Koch said in a statement.
Since most of the storms hit rural or remote areas, widespread damage was minimal, Pike said.
"Anytime we walk away like that, you can say we dodged a bullet," he said.
He said the weather is expected to change again heading into the coming weekend, when the state could see its coldest temperatures yet this year and parts of southwestern and western Oklahoma might possibly get their first freeze.
Thanks for reading CBS NEWS.
Create your free account or log in
for more features.