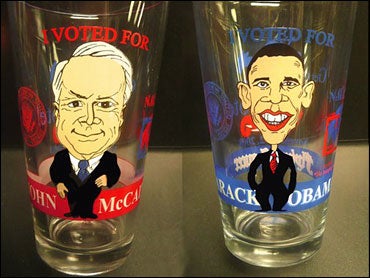 Top Pop Culture Moments Of 2008
In any normal year, it would be impossible to discern a coherent theme from a year of American pop culture, try as we journalists might. This year was different.
The presidential campaign seeped into our culture everywhere it could: into our music, our television, our street art, our Internet habits. And it was a symbiotic relationship, for pop culture seeped back into our politics, too. Remember the bizarre moment Paris Hilton and Britney Spears became part of the campaign, courtesy of a John McCain ad likening Barack Obama to a vapid Hollywood celebrity?
Or try this: Tina Fey and Sarah Palin, walking by each other at a fake news conference on "Saturday Night Live," indistinguishable from each other in matching red blazers and Palin hairdos. Even Fey's toddler daughter had trouble telling them apart that night.
Now Palin's back in Alaska, Fey's back on "30 Rock" and, oh yes, Obama's on his way to the White House. But they weren't the only big names in the 2008 pop culture firmament. A chronological journey back:
JANUARY:
How can we begin without BRITNEY SPEARS - still, amazingly, the most-searched term on Yahoo. A few days into 2008, she melts down spectacularly, ending up in a hospital after locking herself in a room with her young son. We don't need Dr. Phil to tell us this girl needs help, though he does. Celeb magazines freely diagnose her as bipolar. (But more on Britney later.)
In politics, HILLARY RODHAM CLINTON has her first real pop-culture moment of the year when she chokes up talking to voters in a New Hampshire diner, a scene to be replayed endlessly on YouTube.
And true tragedy strikes when actor HEATH LEDGER dies of an accidental prescription drug overdose in a New York apartment, cutting short a brilliant career.
FEBRUARY:
The Obama slogan "Yes We Can" ricochets across the Web in rapper and songwriter WILL.I.AM's viral video hit, starring a host of celebrities. It's not the only good news for Obama: His campaign raises a staggering $55 million this month, a success attributed to small donations gathered on the Internet.
And "SATURDAY NIGHT LIVE" spoofs the media's fondness for Obama - later, Clinton will refer to the skit in a real debate.
HOLLYWOOD WRITERS, meanwhile, end their 100-day strike. Days later, the OSCARS air to dismal ratings.
MARCH:
Politics continues to enthrall, and this time it's New York Gov. ELIOT SPITZER who's on everyone's mind. The most striking visual: the ashen-faced misery of his wife, Silda, standing next to him at the podium as he resigns over a prostitution scandal. The blogosphere and the airwaves buzz with the question: Why did she stand by him? Would you?
Obama may be the Internet candidate, but here's an Internet sensation he'd prefer disappear: video of his former pastor JEREMIAH WRIGHT, making incendiary comments that will give Obama a major political headache.
APRIL:
MILEY CYRUS is a genuine superstar at age 15, a role model to countless girls. So what's the problem? A few pesky photos shot by Annie Leibovitz for Vanity Fair. They show the Disney princess, aka Hannah Montana of course, in a come-hither pose, with a bare back and shoulders. A rare bump in the road for this teen phenom.
In one of his many pop-culture moments, OBAMA displays true hip-hop cred, channeling Jay-Z with a "Dirt Off Your Shoulders" reference at a North Carolina rally. Mashups spread across the Web.
MAY:
After four years and endless buildup, the "SEX AND THE CITY" gals return in a feature-length film. Will Carrie find happiness with Mr. Big? Yes, but even happier are the producers, after a $55.7 million opening weekend - unprecedented for a chick flick. And this IS a chick flick. Men flock to root canal appointments.
HARRISON FORD returns as Indiana Jones - at age 65! We doubt Hollywood would be so kind to a 65-year-old actress. And speaking of older women, they're said to be behind the "American Idol" victory of 25-year-old DAVID COOK, who beats the baby-faced 17-year-old, DAVID ARCHULETA, breaking the hearts of countless tween girls.
Los Angeles street artist SHEPARD FAIREY creates his wildly popular poster of Obama, a red-white-and-blue hued image of the candidate gazing ahead, underlined by the word "HOPE."
JUNE:
TIM RUSSERT dies at 58 of a sudden heart attack, after more than 16 years in one of the most influential jobs in TV news - moderator of NBC's "Meet The Press." The death causes some baby boomers to start to wonder about their own health.
A computer-animated science fiction romance? Leave it to Pixar. After "The Incredibles," "Ratatouille" and "Cars," another triumph for the studio comes in the form of "WALL-E," a futuristic film about love between two robots.
JULY:
Bonjour to the new JOLIE-PITT twins, who emerge in France, where parents ANGELINA JOLIE and BRAD PITT are hunkered down on their enormous estate. And BATMANIA reigns, thanks to LEDGER'S stunning (and posthumous) portrayal of the Joker in "The Dark Knight."
BRITNEY and PARIS make their unwitting entrance into the campaign, fodder for McCain's commercial mocking Obama as "the biggest celebrity in the world." Hilton, though, gets the last laugh: The doe-eyed hotel heiress, lounging in a leopard-print swimsuit, offers up a much cleverer video riposte.
AUGUST:
Call this the anti-celebrity month: Wary after that Britney-Paris spot, the DEMOCRATIC PARTY does its very best to de-emphasize the celeb factor at its convention in Denver. Meanwhile, McCain's anti-celebrity campaign unveils its own, well, celebrity: the telegenic PALIN, who bursts onto the scene with a speech that galvanizes the GOP convention.
MADONNA turns 50! And the chiseled superstar is hardly alone. Also hitting the half-century mark this year: MICHAEL JACKSON, PRINCE, ELLEN DEGENERES, MICHELLE PFEIFFER, VIGGO MORTENSEN. Let's imagine an amazing party at the royal palace in Monaco, where PRINCE ALBERT also hits the big 5-0, perhaps covered for CNN by CHRISTIANE AMANPOUR (yup, 50 too.)
SEPTEMBER:
"I can see Russia from my house!" FEY debuts her impersonation of PALIN on "Saturday Night Live." Kudos to the "SNL" writers, but you can't say Palin doesn't give them plenty of material - including verbatim chunks of her rambling exchanges with KATIE COURIC. The CBS anchor, long plagued by low ratings and high expectations, makes a welcome comeback.
Also making a comeback: the '60s, with all that guilt-free smoking, thanks to "MAD MEN," the evocative drama on cable's AMC. "Mad Men" wins an Emmy this month, thrilling its small but hugely loyal audience.
OCTOBER:
Shall we just call it "HSM3"? And if you don't know what that means, you probably won't be seeing the movie. "High School Musical 3: Senior Year," the big-screen sequel to the two Disney TV movies, sings and dances its fresh-faced way to the top of the box office, thanks to the durable appeal of Zac Efron, Vanessa Hudgens, Ashley Tisdale and the other "HSM" alums.
"SNL" scores its highest ratings in 14 years when it snags the ultimate prize: Palin herself. The VP candidate proves a game cast member, obliging happily when Amy Poehler shouts out: "All the mavericks in the house, put your hands up!" "
And JOE THE PLUMBER makes his debut, as a constant reference in the third presidential debate. Later, Joe, aka Samuel Joseph Wurzelbacher, 34, campaigns for McCain and Palin.
NOVEMBER:
Yeah yeah, Obama is elected, but we'll reserve the pop culture prize this month for OPRAH WINFREY. Weeping on the shoulder of a stranger at Obama's victory rally, and gushing uncontrollably on her postelection show, the talk-show queen can surely claim a little credit for the triumph of her "favorite guy." Maybe MOST celebrity endorsements don't mean much, but this is Oprah. Two economists even claim she brought Obama a million votes in the primaries.
DECEMBER:
Any true pop culture story must end as we started: with BRITNEY - for, after a year in which she seemed to reach the depths, this famously durable young woman is in the midst of an astonishing comeback, with "Circus," her latest CD, reaching No.1 on the album charts, according to her label, Jive. At 27, she seems to be not only "the world's pop princess," as her manager says. She's the world's pop culture princess, too.

Thanks for reading CBS NEWS.
Create your free account or log in
for more features.