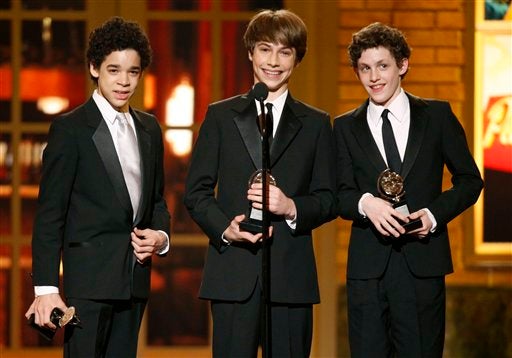 Tonys Should Aid Success Of 'Billy' And 'Carnage'
Tony wins should strengthen even more the box-office appeal of "Billy Elliot" and "God of Carnage," already two of Broadway's biggest hits.
"It's the cherry on top of the sundae," said producer Ken Davenport about the 10 Tonys for "Billy Elliot," including best musical, and the three for "Carnage," including best play.
"I don't think either one of them needed it," Davenport said Monday. "But obviously, it's great to be able to tout it. For a show like 'Billy,' it's not just winning best musical. It's the amount, the volume of awards that mean a lot."
Ten Tonys for "Billy" is "a huge amount and when people see that quantity, they say, 'Wow. Anything that wins 10 has got to be good,'" added Davenport, producer of the off-Broadway hit "Altar Boyz," and the Broadway revivals of "Blithe Spirit" and "Speed-the-Plow."
Between them, the two shows took nearly half of the 27 competitive Tony Awards given out Sunday night at Radio City Music Hall.
Both "Billy Elliot" and "God of Carnage" have been doing excellent business, particularly the four-character, single-set "Carnage," which has often grossed more each week than big musicals. Its cast of James Gandolfini, Tony winner Marcia Gay Harden, Jeff Daniels and Hope Davis recently re-signed for an additional 10 weeks in the play, which will extend the actors' run into November (after a late summer hiatus).
"Next to Normal," the strongest Tony competitor for "Billy Elliot," managed to take three awards, including two _ score and orchestrations _ for composer Tom Kitt.
It can now claim in its ads that it has the best new score on Broadway. The double win was especially gratifying for Kitt, whose first Broadway show, "High Fidelity," closed after 13 performances in 2006.
"(Broadway) is my passion, my love," the composer said. "I have been very lucky to be able to do a number of different things. Looking back on the season, I was conducting (the musical) '13' during the first part of the season. I get to work with people on a variety of levels."
"In terms of composing, Brian (Yorkey, lyricist and book writer for 'Next to Normal') and I are hard at work deciding what our next project will be," Kitt said.
The day after the Tonys usually means closing announcements for some shows that go home empty-handed. Already there is one casualty this year.
Producers for Neil LaBute's "reasons to be pretty" said the show will close Sunday after a two-month run. Despite favorable reviews, the play about the unraveling of a relationship has been struggling since opening in April.
Several others, including "Joe Turner's Come and Gone" and "Exit the King" _ which stars actor-play winner Geoffrey Rush _ will end their runs June 14, but they originally were announced as limited engagements.
Davenport says best-actor Tonys "may not matter much at the box office, but they matter for the people who win, especially Hollywood people, such as Geoffrey Rush, who may want to come back. They are also attractive to other actors and artists who may have thought about doing Broadway."
CBS should be pleased about the three-hour telecast, too. The show, with Neil Patrick Harris as host, was seen by 7.45 million people. Nielsen Media Research said that was a 19 percent increase over last year's awards show, which had 6.27 million viewers.
Nielsen said it was the biggest audience for the Tonys in three years, the second biggest since 2003 when Hugh Jackman was host.
And Harris, a star of the CBS sitcom "How I Met Your Mother," received excellent reviews, too.
Said Davenport, "Neil was great. He was confident, he was respectful, he was funny. Hosting is a very interesting job. He seemed to say, 'Let's have some fun.'"
Thanks for reading CBS NEWS.
Create your free account or log in
for more features.