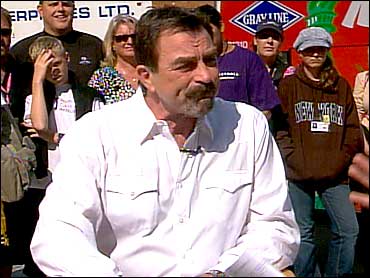 Tom Selleck Returns As Jesse Stone
Tom Selleck is back on TV as small-town Police Chief Jesse Stone who is frustrated by his boring job and misses his ex-wife in his fourth TV movie for CBS, "Sea Change."
Stone reopens a 12-year-old murder investigation, trying to give this cold case and his life a new start. Selleck is staring with Emmy-winner Kathy Baker, who is making her debut in a Jesse Stone movie. William Devane plays a crazy psychiatrist.
Based on the best-selling novels by Robert B. Parker, the Jesse Stone franchise began two years ago with "Stone Cold," followed in 2006 by "Night Passage" and "Death in Paradise." Selleck serves as executive producer for the movies.
Although "Sea Change" is built on Stone's back story, Selleck said audiences shouldn't have too much trouble following. His old TV series "Magnum P.I." was also built on a cumulative narrative, Selleck said.
"I think audiences have to be able to see something and it plays unto itself," he told The Early Show co-anchor Harry Smith. "But that being said, anybody who saw the others gets kind of a bonus because there is a continuing story but they'll figure Jesse out pretty quick."
Stone spends most of his life listening to music by German composer Johannes Brahms and drinking a bottle of scotch. Playing a flawed character is more fun, Selleck said.
"This guy is basically a good guy with a lot of problems," he said. "That's just a recipe for an actor wanting to do a good part. He's hopelessly hung up on his ex-wife and always struggles with a drinking problem. Because he always struggles with it, we don't have to lecture people about it. I think everybody knows it's not a real good idea to have drinks alone while you're brooding at night."
The result is that the movie doesn't feel like a stereotypical made-for-TV movie. Selleck said he approached CBS President Les Moonves with the Jesse Stone books and they took a risk. Luckily, they were rewarded.
"He said, 'I don't want something that looks like a TV movie,' " Selleck said Moonves told him. "I think people are used to that. They're executive produced by the same people all the time … I want to do something, if you'll give me the control, that looks like a motion picture. So when somebody's channel swimming, they stop and go, 'I didn't see this in the theater.' And I guess it worked."
Selleck is in talks with NBC to take on a character role in the series "Las Vegas," but he said that part is contingent upon doing a fifth Jesse Stone movie.
"If I get to do it, you have to give me the time to do Jesse," he said. "So I may be working on two networks, which would be kind of nice for my mortgage."
"Sea Change" airs at 9 p.m. ET on Tuesday, May 22.
Thanks for reading CBS NEWS.
Create your free account or log in
for more features.