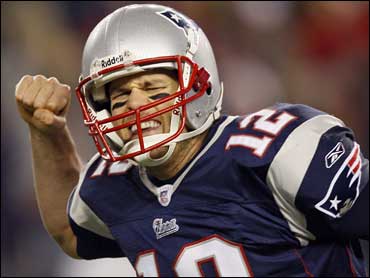 Tom Brady Wins AP Comeback Player Award
Tom Terrific is back.
Tom Brady has gone from record-setting MVP to injured superstar to The Associated Press 2009 NFL Comeback Player of the Year.
Brady's strong return from a left knee injury that sidelined him for all but the first quarter of the 2008 opener earned the Patriots quarterback the award Wednesday. One of football's biggest stars, Brady has gone from NFL Most Valuable Player in 2007, when he set several passing records, to sidelined to earning his second league award.
He received 19 votes from a nationwide panel of 50 sports writers and broadcasters who cover the NFL, beating Tampa Bay running back Carnell "Cadillac" Williams, who got 14.
A three-time Super Bowl winner and a finalist for AP Player of the Decade, Brady led New England to a 10-6 record and the AFC East title this season. He threw for 4,398 yards and 28 touchdowns.
Most significantly, he got the Patriots back into the playoffs, and he showed more than a few glimpses of the player who guided the Patriots to the first 16-0 regular season in NFL history, throwing a record 50 TDs that year.
"I think missing all of last season was a very challenging experience because I love to play the game," Brady said during the season. "I love to play the sport, and to not have the opportunity to be out there with my teammates in a season where we had some great opportunities to repeat what we had done in the 2007 season ... things happen.
"It's a very physical sport, football is. I had an unfortunate injury, but I think it's really helped me grow in a lot of ways as a person, as a player, as a teammate. It really reinforces how much I enjoy playing the game and how much I love the game. And to have the chance to go out this year and play, it's great."
At times, Brady was great. In a 59-0 rout of Tennessee, matching the biggest victory margin since the 1970 merger, he threw for six touchdowns and 380 yards in the snow. Against Jacksonville in another lopsided victory, he went 23 for 26 for 267 yards and four TDs. His passer ratings were 152.8 against the Titans and 149.0 against the Jaguars, and he had six games with a 100-plus rating.
Other times, he struggled, particularly in losses to the Jets and Saints, and Brady battled an assortment of injuries — albeit nothing as devastating as the torn-up knee.
Coach Bill Belichick praised what Brady means to his team.
"Well deserved," Belichick said of the honor. "He's had a tremendous year. I think we all know that. Tom just brings so much to this team and our organization on and off the field: his preparation, his leadership, his performance, his unselfishness. All the things that he gives us are just top shelf, whether he did or didn't play last year."
Williams tore the patellar tendon in his right knee in September 2007 and tore the patellar tendon in his left knee in the 2008 season finale, six games into his return. This season, he rushed for 821 yards and four TDs, adding 29 receptions and three scores.
Brady is the second Patriot to win the award; linebacker Tedy Bruschi shared it with Carolina receiver Steve Smith in 2005. He is the fifth quarterback honored since the award began in 1998, including Chad Pennington, who won in 2006 and 2008.
Also receiving votes were Titans quarterback Vince Young, Vikings quarterback Brett Favre, Bengals running back Cedric Benson and his teammate, quarterback Carson Palmer, and Saints defensive end Anthony Hargrove.
Thanks for reading CBS NEWS.
Create your free account or log in
for more features.