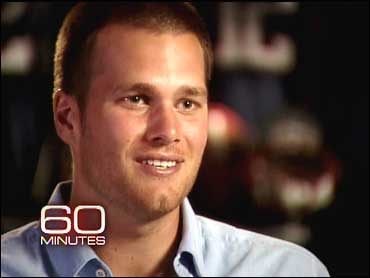 This segment was originally broadcast on Nov. 6, 2005. It was updated on Dec. 20, 2007.
Tom Brady, the quarterback of the New England Patriots, has been one the NFL biggest stories this year. On a pace to set the record for most touchdown passes, and leading the Patriots into the playoffs, he seems a lock for the NFL's MVP award. At the tender age of 30, he's already won three Super Bowls, an accomplishment that ranks him with some of the best quarterbacks ever to play the game.
Yet when 60 Minutes first broadcast this story in 2005, he seemed underrated and overlooked. He doesn't have the arm of Peyton Manning. He doesn't have tattoos, doesn't take steroids and has never held out for more money. All he knows how to do is win.
Former football greats say he exemplifies what the American athlete should be, yet he barely made it to the NFL at all. For much of his high school and college careers, he was a second stringer battling for the starting job. As correspondent Steve Kroft reports, Brady wasn't picked until the sixth round of the NFL draft, the 199th player chosen.
---

It is lucky Brady was drafted at all. A scouting report written before the draft sized up Brady this way: "Poor build, very skinny and narrow, lacks mobility and the ability to avoid the rush, lacks a really strong arm."

"Yeah, it kind of all says the same thing, doesn't it?" says Brady. "So, basically, they're saying that I don't look like an NFL quarterback. Do I still look like an NFL quarterback? I think I've grown into that a little bit more. But at the same time, I haven't changed that much."

"So, what do you think it was that all those scouts missed?" asks Kroft.

"I think they underestimated my competitiveness," says Brady.

When the game is on the line, he is the most feared quarterback in the NFL.

He's 12-2 in playoff games, never lost in overtime, and is 26-5 in games decided by a touchdown or less. Teammate Matt Light say it's because Brady hates to lose.

Teammates Matt Light and Willie McGinest say that's because he hates to lose. "I mean it could be anything. You could be playing a game of pool," says Light, laughing, "and if he misses a shot, you got to kind of watch out for flying sticks. I mean, he gets a little crazy out there."

One of your teammates said, "If you walk into a room, and you see backgammon chips scattered all over the floor and the table overturned, they know that you've been there, and probably lost," Kroft tells Brady.

"Yeah. Probably. I'm a pretty good winner. I'm a terrible loser. And I rub it in pretty good when I win. But as soon as I lose, those backgammon sets, I broke more backgammon sets," Brady says. "I've dropped elbows on 'em. I don't know. It's like I wish I had a punching bag nearby sometimes."

The temper is Irish. He was raised in a Catholic family of exceptionally gifted athletes in San Mateo, Calif., and grew up watching Joe Montana, the quarterback to whom he most often is compared.

The similarities were not evident in high school, and he attracted scant attention from college football recruiters. So his father put together a highlight reel and sent it off to 60 coaches.

One of those schools was Michigan, which offered him a scholarship.

"You think that helped?" asks Kroft.

"Oh, my God, that was the reason," says Brady. "I know Michigan certainly wouldn't have seen it. I mean I was just a dime a dozen, I think. I was a good athlete on a local level."

At Michigan, he began as the seventh-string quarterback, eventually earning a share of the starting job during his junior and senior years. With the Patriots, he was a rarely used backup for Drew Bledsoe, New England's durable franchise quarterback, until a 2001 rollout when fate, in the uniform of Jets linebacker Mo Lewis, intervened.

"I was probably 10 yards from that, and that was the loudest collision I've ever heard," Brady recalls.

Bledsoe didn't know where he was, so the reins of the Patriot offense were turned over to the untested understudy and Brady has never relinquished them.

The Patriots won 14 of the next 17 games, including the Super Bowl in which Brady engineered a last-minute drive that led to the winning field goal. He was 24, the youngest quarterback to ever win an NFL championship.

"I mean you go from the backup quarterback, to winning the Super Bowl in five months. I mean you can't write that. There's no script for that. I mean, it just doesn't happen," says Brady.

"Do you ever feel the urge sometime to say I told you so?" asks Kroft.

"It would be too easy to do. I mean, why be a jerk? I mean, I don't need to say it," says Brady. "Let other people say it. It sounds so much."

And they have said it. Since then, he has won two more Super Bowls and become a Sunday matinee idol. He was invited by the president to the 2004 State of the Union Address, had an audience with the pope, and even hosted "Saturday Night Live."

It was a rare diversion for Brady, who spends the off-season in Boston and goes to work 10 months a year. He has added 25 pounds of muscle to his frame since joining the NFL and strengthened his arm.

"The farthest you probably ever throw in a game is 50 to 55 yards," says Brady. "I mean, I could throw it probably 70, if I really get into one."

In 2005 his leading receiver was Deion Branch. They knew each other so well, they developed a nonverbal system of communication.

"You have to go up there with two plays in your head?" asks Kroft.

"Maybe more than that," says Branch.

Brady told Kroft the play they were going to run without telling Deion, who then runs the pattern to perfection.

How did Branch know what Brady wanted? "Because I know," says Branch.

Branch now plays for the Seattle Seahawks and has been replaced by Randy Moss, who certainly has tested Brady's throwing distance. But when it comes to reading defenses and seeing the field, Brady is the best in the NFL.

When it comes to reading defenses and seeing the field, Brady is the best quarterback in the NFL.

He spends hours in the tape room looking at opposing teams so he can visualize what is going to happen, and where people are going to be before the ball is ever snapped.

"A lot of it is spending time in here on the film and understanding, trying to get as many pictures in your head before the game as you can," says Brady. "So when you do walk on the field, you can just verify what's going on. And it's not you can't just go back there and wing it. You try that, you are going to wake up Monday morning with headaches. And you're going to get hit and your going to throw interceptions. And that's no way to play the game."

Brady says everything is orchestrated.

Brady is the first to say he owes much of his success to his teammates, and New England coach Bill Belichick doesn't like to see any one player get too much credit. But Patriots owner Robert Kraft made his feelings clear.

"You're here doing a piece on my favorite guy," Kraft tells Kroft.

"Is he your favorite guy?" asks Kroft.

"Well, how could he not be?" says Kraft.

"You still think he is underrated?" asks Kroft.

"I do. It actually ticks me off," replies Kraft.

For a 2005 game against the Chargers, Brady's father Tom Sr., mother Gaylen and sisters Maureen and Julie had flown in from California. Sister Nancy lives in Boston and keeps a close eye on her little brother.

Since he became a starter, Brady had won more than 20 games in the final quarter, and the last-minute heroics can drive his father crazy. "He never wins a game 42-10 and so we can just sit back and relax. Everything goes down to the last drive. It's great for cardiologists. It's not great for parents," says Tom Brady Sr.

One person who knows Brady well is Charlie Weis, his old offensive coordinator for the Patriots, now the head coach at Notre Dame. "He is a fiery guy," says Weis. "He is a get-in-your-face yeller and holler, but he also has such a calm demeanor at the line of scrimmage, where there is that air about when he is at the line of scrimmage where you know something good is going to happen."

"What is he like as a person?" asks Kroft.

"He's the best. Everyone wants to be affiliated with this kid. He's the best," says Weis.

"I mean, he is a bit of a glamour boy. He like the spotlight," says Kroft.

"Well I think Joe Namath had nothing on him," says Weis.

In Boston, Brady has become a bigger star than Carl Yastrzemski, Larry Bird, or Bill Russell.

"I mean, you go out with Tom, you just kind of feel sorry for him, in a way, kind of, because he's just getting bugged all the time. You know, we float through there. They just see a big, overweight white guy," says Matt Light, laughing. "Pretty normal out here."

"Can you go out to restaurants?" Kroft asks Brady.

"If I have the energy to deal with, you know, put a happy face on," says Brady. "Sometimes I don't feel like that."

"You seem a bit the reluctant star," says Kroft.

"Well, the problem is you can't have one without the other. You can't have football fame and not the other stuff. So in a lot of ways I've created this myself," says Brady.

"This is what you always wanted," says Kroft.

"You're right. It has. I didn't think it came with all the other baggage, though," says Brady.

Brady has been called the most eligible bachelor in America. "It's very flattering. But, at the same time, I don't think I sleep any better at night being that. No way," says Brady.

His all-American image took a hit last year, when actress Bridget Moynihan, his longtime girlfriend, announced that she was pregnant with Brady's son shortly after the couple broke up. Brady is supporting the child but is now dating supermodel Giselle Bundchen.

In addition to his success on the field and his sex appeal off it, there is a $60 million, 10-year contract to play for the Patriots. It's less money than Peyton Manning and even some journeymen quarterbacks are making, but Brady wanted to leave some money on the table for the Patriots to hire free agents to help them win another Super Bowl.

"I used to get $600 dorm checks," says Brady, "and go eat at Subway, and use pizza cards to go get my way through college. And eat baked potatoes and make pancakes every night. So I don't think that has ever been a big thing for me. I mean I'm making more money now than I ever thought I could make playing football."

He has turned down multimillion-dollar endorsement deals because he didn't think they were right for him, and many of the ones he does, he shares with his teammates.

But with all Brady's fame and career accomplishments, Kroft was surprised to hear this from him: "Why do I have three Super Bowl rings and still think there's something greater out there for me? I mean, maybe a lot of people would say, 'Hey man, this is what is.' I reached my goal, my dream, my life. Me, I think, 'God, it's got to be more than this.' I mean this isn't, this can't be what it's all cracked up to be."

What's the answer?

"I wish I knew. I wish I knew," says Brady. "I love playing football and I love being quarterback for this team. But at the same time, I think there are a lot of other parts about me that I'm trying to find."

With three Super Bowl rings, he already has Hall of Fame credentials, even if he never played another game. But he's only 30 and just entering his prime.

"Do you think he is going to go down as one of the greatest players ever?" Kroft asks Charlie Weis.

"I hope he goes down as the best player ever. Not one of the greatest," says Weis. "I hope he goes down as the greatest. The sky's the limit."

"Which of the rings do you like the best? What's your favorite ring?" Kroft asks Brady.

"My favorite ring? I've always said, you know, I always said the next one. The next one is the best," Brady says.
Thanks for reading CBS NEWS.
Create your free account or log in
for more features.