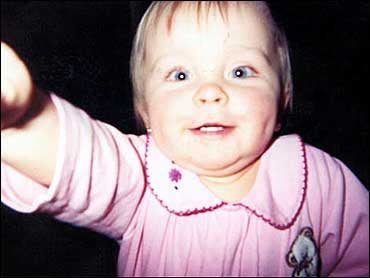 Toddler Missing, Grandma Arrested
Dive teams searched the murky waters of an Idaho river and officers scoured a nearby park Monday for a toddler who was allegedly kidnapped by her mentally ill grandmother.
Kelley Jean Lodmell, 38, described by authorities as a paranoid schizophrenic, was detained Monday in Idaho in the disappearance of her granddaughter Acacia Patience Bishop. Lodmell allegedly told authorities she lost control of the girl while dangling her feet in the Snake River in Idaho Falls.
A search was under way in the river for the 19-month-old girl.
Idaho Falls Police Sgt. Steve Hunt said the only evidence of the girl found so far was a pair of baby shoes and a doll left on the river bank.
"We can't say positively that the baby went into the water, though that's what the grandma said originally," Hunt said.
The child's abduction Sunday evening set off a national Amber Alert early Monday. The alert was canceled later in the day.
Salt Lake County sheriff's spokeswoman Peggy Faulkner said authorities there planned to get a kidnapping warrant and seek extradition of Lodmell, but those plans depended on what Idaho officials did.
Lodmell had stopped taking medication for her illness, according to Casey Lodmell, her daughter and Acacia's mother.
Acacia was being watched Sunday evening by her great-grandparents in Salt Lake County while her parents attended a wedding rehearsal dinner.
Lodmell had stopped by the home and the girl disappeared when the great-grandmother briefly turned her attention to something else, said Peggy Faulkner, a spokeswoman for the Salt Lake County Sheriff's Department.
The girl was last seen late Sunday when Lodmell checked into an Idaho Falls hotel along the Snake River, said Sheriff Aaron Kennard. The hotel clerk said he noticed nothing unusual about the pair, Kennard said.
Lodmell was cooperating with investigators, Faulkner said.
Authorities learned that the girl might be in the river after Lodmell ran to a nearby power plant and told an employee that the child was lost in the water.
"She ran in here soaking wet, and said that her baby had fallen in the water," said Ken Lawson, dispatch supervisor with Idaho Falls Power. "She said her baby was in the river, drowning."
The operator on duty immediately shut down the plant, Lawson said, so that the river water would not be sucked into the plant's turbines.
Acacia was wearing a pink sundress with white sunflowers, Casey Lodmell said Monday. She is 2½ feet tall, weighs 35 pounds and has reddish-blonde hair and blue eyes.
Last year, Kelley Lodmell took Acacia for a half-hour before relatives found them, Faulkner said. Police were not called at that time until after the two were found.
Kelley Lodmell had wanted the girl "for herself," Casey Lodmell said of the incident. Since then, Acacia has spent little time with her grandmother.
Kelley Lodmell pleaded guilty to a 1999 charge of aggravated assault of a police officer.
Monday was the fourth time Utah officials have used the Amber Alert system for a missing child. The first was on June 5, when Elizabeth Smart was abducted from her Salt Lake City bedroom. She was found on March 12 with her two alleged abductors.
By Bob Fick
Thanks for reading CBS NEWS.
Create your free account or log in
for more features.