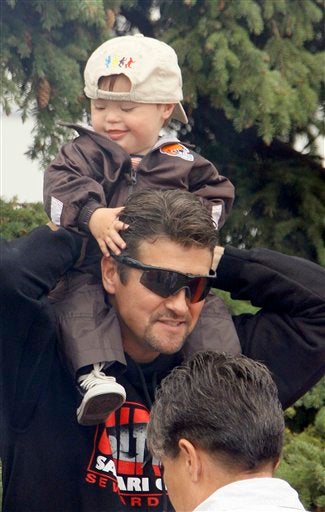 Todd Palin Resigns From Oil Job
The husband of former GOP vice presidential candidate Sarah Palin has quit his oil field job on the North Slope.
Todd Palin's resignation as a production operator for oil giant BP PLC comes almost two months after his wife stepped down as Alaska governor and shortly before the release of her highly anticipated memoir in a deal rumored to be worth millions.
"Todd loved his union job on the Slope and hopes to return," Meghan Stapleton, Sarah Palin's personal spokeswoman, said in an e-mail Friday. "For now, he is spending time with his family."
The resignation was effective Sept. 18, according to BP spokesman Steve Rinehart.
In addition to working on the North Slope, Todd Palin is a commercial fisherman and for years has participated in the world's longest snowmobile race, the Iron Dog. As the governor's spouse, he was unofficially referred to as the "First Dude" and also took part in official duties, such as hosting a tea for former first ladies of the state.
Todd Palin earned nearly $34,472 working part-time last year for BP in Prudhoe Bay and about $51,679 in the family's commercial fishing business, according to state financial disclosures. He also had $5,600 in snowmobile race winnings and an undisclosed discount on snowmobiles from racing sponsor Arctic Cat.
Sarah Palin left office July 26 _ about 17 months before the end of her first term _ partly because of the toll of multiple ethics complaints. Almost all the complaints were dismissed, but Palin said she had amassed more than $500,000 in legal fees. Her resignation fueled wide speculation of a 2012 presidential bid.
Except for a recent speech at a Hong Kong investment conference, Palin has laid low as she worked with her book's ghostwriter. "Going Rogue" catapulted to No. 1 on Amazon.com and Barnes & Noble.com after HarperCollins announced Monday it had moved up the release date of 1.5 million copies from spring to Nov. 17.
Soon after Palin took office in late 2006, her husband began a leave of absence from his blue-collar job with BP. The company _ Alaska's No. 2 oil producer and major stakeholder in the trans-Alaska oil pipeline _ is in constant contact with the state over regulation, taxation and environmental oversight.
Todd Palin said he was taking the 2007 leave because of the new first family's busy schedule. He said he saw no conflict with his job because he was not in management. He returned to work later the same year.
In February, Todd Palin and nine state employees were found by state lawmakers to be in contempt for ignoring legislative subpoenas in an investigation of Sarah Palin's dismissal of her public safety commissioner.
The investigation sought to determine if Palin dismissed Commissioner Walt Monegan after he refused to fire a trooper who went through a contentious divorce from Palin's sister.
Palin initially agreed to cooperate with the investigation. She changed her mind after she became Republican presidential candidate John McCain's running mate, saying the process had become too political.
The legislative probe concluded that Palin had abused her office by allowing her husband and aides to pressure Monegan, but said the firing was legal since the commissioner was an at-will employee.
Palin initiated a separate investigation by the Alaska Personnel Board. That investigation found there was no probable cause to believe Palin or any other state official violated the Alaska Executive Ethics Act.
Thanks for reading CBS NEWS.
Create your free account or log in
for more features.