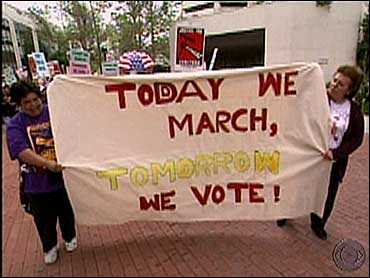 'Today We March, Tomorrow We Vote'
It's no surprise to anyone at this week's convention of La Raza, the largest Latino civil rights organization, that a new poll finds Latinos unified and energized by the immigration debate, reports CBS News correspondent Sandra Hughes.
It's no wonder big guns from both parties — such as former President Bill Clinton and California Gov. Arnold Schwarzenegger — came to the convention to pay respect.
"We are an important swing vote, and I think both parties think they can be competitive for our vote," says Lisa Navarrete, a spokeswoman for National Council of La Raza.
Both parties got a wakeup call this spring, after the Republican-controlled House of Representatives passed a restrictive immigration bill. Latinos around the country rose up and reacted, holding marches where participants carried banners with slogans such as "Today we march ... tomorrow we vote."
The truth is that no one knows yet if that fervor will translate into a wave of new Latino voters. But once again we're hearing talk of awakening a sleeping giant.
The giant stirred in California, for example, after a measure passed denying illegal immigrants social services.
Ttoday's Pew Hispanic Center poll says two-thirds of Latinos think this year's marches are the beginning of a nationwide movement.
"The sleeping giant is really awake, and I believe everybody knows that they have to listen," says Otilia Arvizu of Chicanos Por La Causa.
And activists are using the immigration debate to attract new voters.
"Tu vota es tu vos. Make your vote count. ... It starts with you," narrates one television ad from the National Council of La Raza.
But for which party? Support for Democrats has slipped. Still, year after year, about twice as many Latinos call themselves Democrats.
But in 2004, President Bush blew those numbers wide open, winning 40 percent of the Latino vote.
And now?
"Our recent surveys suggest that that has slipped back. Latino support for Republicans is back now where it was before the bush campaign of 2004," says Roberto Suro of the Pew Hispanic Center.
No wonder Karl Rove, the White House's deputy chief of staff, came to La Raza to disassociate the president from the anti-immigrant wing of the G.O.P.
"The debate has clouded the views of some in America and led them to fail to understand that Hispanics and all immigrants are real Americans," he said during a speech at the conference.
But, says La Raza's Navarrete, it's probably going to take more than one effort to smooth things over between the Latino community and the Republican Party.
The White House hopes it's not too late to soothe a sleeping giant that could have giant influence on Election Day.
Sandra Hughes
Thanks for reading CBS NEWS.
Create your free account or log in
for more features.