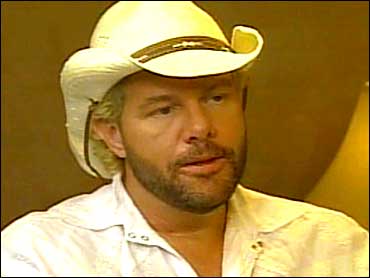 The big winner Wednesday night at the CMA Awards could be Toby Keith. He tops everybody with seven nominations, but he's also taken a lot of heat this year for a patriotic single called "Courtesy of The Red White & Blue."
When The Early Show co-anchor Hannah Storm spoke with him on Tuesday, he told her the song is merely a song of support for U.S. troops.
He wrote the song in 20 minutes after the attacks of Sept. 11. Since then, it has received a lot of attention and generated some controversy.
He says, "It wasn't written for everybody. And when you write something from your heart - I had a dad that was a veteran, taught me how precious our freedom is - I was so angry when we were attacked here on American soil that it leaked out of me. You know, some people wept when they heard it. Some people got goose bumps. Some people were emotionally moved. Some cheered, turned their fists in the air."
The critics, too, were very vocal. Among them was Natalie Maines of the Dixie Chicks, sparking a feud that took on a life of its own.
Keith says, "I really disappointed myself in that, but you live and learn, and hopefully next time somebody decides to critique my music, another artist, maybe I'll take the high road next time."
Merle Haggard, one of his idols, even suggested he should do a concert with the Dixie Chicks. Keith says, "Merle called me one day. He said, 'Let's all three get together and I will be the ambassador, and we will all get together.'"
Keith adds, "He said, 'We will go to New York and make a big deal and I want to be the one that says everybody can speak their mind and we can all still get along.' I said, 'Well, anything you ever want to do, Haggard, I'm in on it, and you got my peace offering, but good luck, brother.'"
Another song that got attention for a different reason is "Beer For My Horses" with Willie Nelson. Keith talked Nelson into doing it.
Keith recalls the conversation with Nelson: "He said, 'Send me the song.' We talked about it a bit. He said, 'What is the name of the song?' And I said, 'Whiskey For My Men, Beer For My Horses.' He said, 'Oh God, I don't have to hear that.'"
Nominated for seven CMA Awards, Keith says for him that means he does not need to compromise as much.
He says, "I am not pitched songs by my label, saying 'We expect these kind of songs.' I just turn in my songs and that is what we record and it is great to have to live that now. What is going to be scary someday if it quits working, because I am the factory and that is all I have to go by."
His latest album is called "Shock'n Y'all," a tongue-in-cheek reference to "shock and awe." Keith says, "Every time you turn the stinking TV on, 'shock and awe,' 'shock and awe' so throwing a little country humor into it made sense."
Keith, who lives in Oklahoma, away from the Nashville scene, says he enjoys just being true to his feelings. He says, "I am away from the day-to-day grind out here in the music scene. When I am inspired to write it is where I am, so I am not influenced by anything."
He clarifies, "It is not about ruffling feathers, just about being honest and singing about things you know about and not trying to candy-coat everything."
If Keith takes home a handful of awards Wednesday night, it should help him sell a few more CDs. "Shock'n Y'all" hit stores Nov. 4. He already has an 18th No. 1 hit off that album. It's called "I Love This Bar," which he is going to perform at the CMA awards.
Thanks for reading CBS NEWS.
Create your free account or log in
for more features.