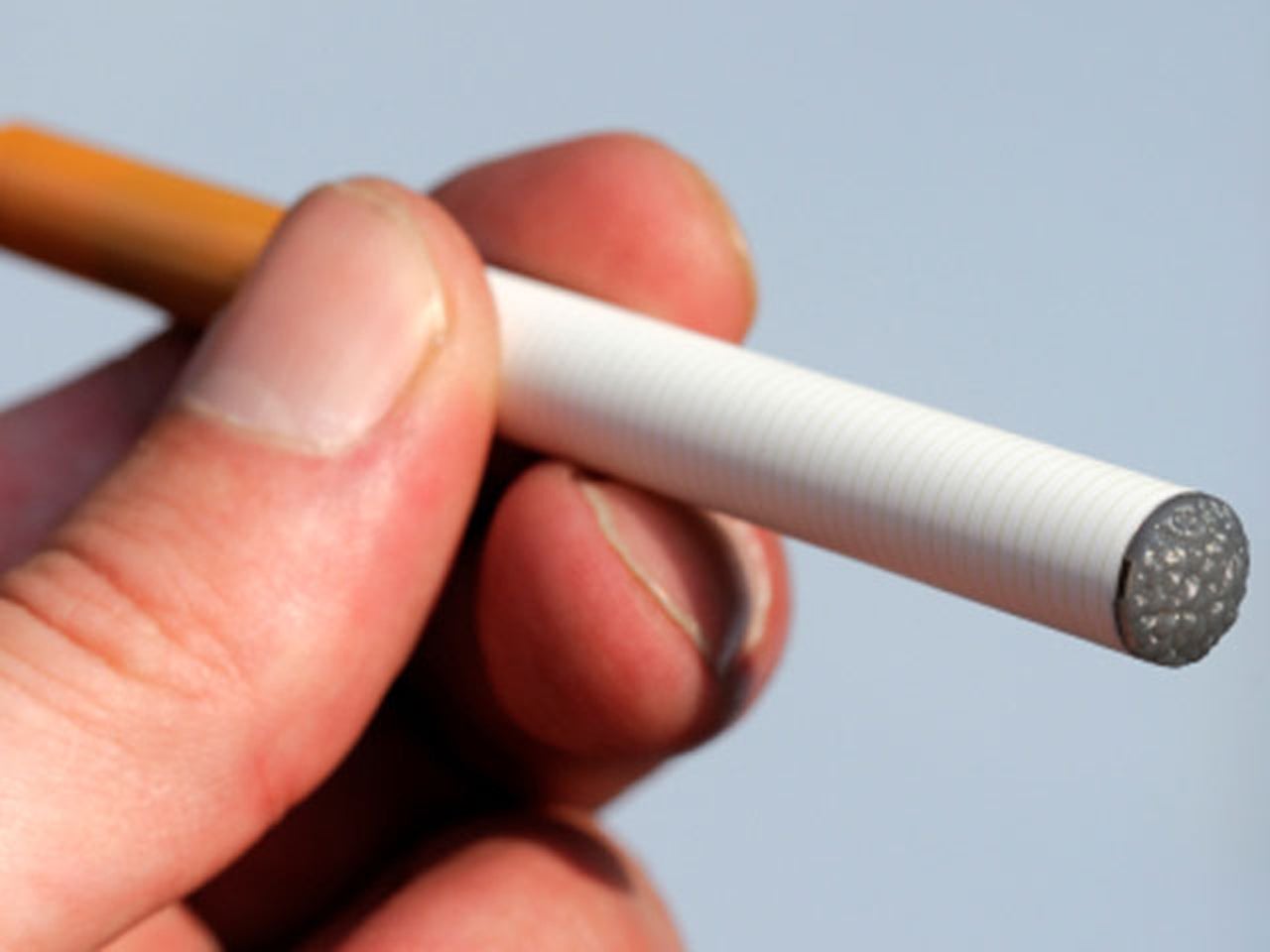 Tobacco companies bet on electronic cigarettes
Updated 9:21 a.m. Eastern Time
Tobacco companies are now embracing electronic cigarettes to help offset the loss of traditional cigarette smokers - even as the U.S. Food and Drug Administration prepares to put forth regulations that could put the skids on the nascent e-cigarette industry.
The nation's largest tobacco company, Marlboro-maker Altria Group Inc., announced plans for the release of its electronic cigarette, the "MarkTen," at an investor meeting today. The company's Nu Mark branch will be introduced first in Indiana in August; consumers will have the option of disposable or rechargeable models, and classic or menthol flavors; the experience, executives said, "closely resembles the draw of a cigarette."
Last week, the second-biggest U.S. tobacco company, Reynolds American, announced that it would bring its "VUSE" electronic cigarette to Colorado in July ahead of a planned national rollout. Reynolds American CEO Dan Delen, whose company sells Camel and Pall Mall cigarettes, says he is committed to "transforming tobacco" as part of an effort to make the product less harmful.
And the third-largest U.S. tobacco company, Lorillard Inc., last year acquired "Blu" e-cigarettes, which make up about one-third of the electronic cigarettes sold at U.S. convenience stores, according to a Wells Fargo Securities estimate cited by the Wall Street Journal.
The industry's embrace of e-cigarettes, which are also known as vapor cigarettes, comes as Americans move away from traditional cigarettes. In 1965, according to the Centers for Disease Control, 42 percent of men and women over 18 years old were smokers; in 2010, only 19 percent smoked. (There are roughly 44 million adult smokers in the U.S. today, and another 12 million that use other forms of tobacco.) While the industry has been able to look to overseas markets for growth in recent years - particularly in the Asia Pacific region - health concerns have prompted increasing efforts to curtail smoking across the globe, including in Russia and China.
"This industry is in decline, whether people want to admit it or not," said Jack Russo, an analyst with Edward Jones and a tobacco industry expert. Electronic cigarettes, he said, offer tobacco companies a rare opportunity to introduce new products - something they have largely been prevented from doing in recent years by the government - and "maybe look like the good guys for a change."
It isn't just the traditional tobacco industry that is betting on e-cigarettes. Silicon Valley entrepreneur Sean Parker is part of a group investing $75 million in NJOY Inc., which makes one of the leading electronic cigarettes. Parker said he hopes "the clever application of technology might someday obsolete the combustion cigarette and all the harm it causes." NJOY has deployed singer Courtney Love and other celebrities in an effort to help make its product seem cool.
Electronic cigarettes turn nicotine liquid into an inhalable vapor -- eliminating combustion -- which is why the act of "smoking" an e-cigarette is sometimes called "vaping." There is now a raging debate about the health risks posed by the battery-powered devices, which are made to look like real cigarettes (or perhaps a pen).
The FDA warns that e-cigarettes could lead young people to use conventional cigarettes and says it is not yet known if they are safe on their own, with some expressing concerns about a chemical called Propylene Glycol that is found in many e-cigarettes. Three U.S. states have already banned the use of e-cigarettes in enclosed public spaces. Former U.S. Surgeon General Richard Carmona, who has joined the board of NJOY, has said that more study is needed but that e-cigarettes represent a potential tool to move people off traditional cigarettes, which are widely considered to be more harmful.
While there are now more than 200 models available, the e-cigarette industry remains tiny compared to the overall tobacco industry - e-cigarettes totaled about 0.5 percent of the overall domestic tobacco market last year. But it is far from negligible. Last November, the company Euromonitor estimated that $2 billion had been spent on e-cigarettes globally in 2011, stating that the industry has seen "booming growth" in just a few years. According to the CDC, about one in five adult U.S. smokers at least tried an e-cigarette in 2011.
The industry's growth could be stymied domestically by the FDA, which says it plans to regulate electronic cigarettes - though it has offered no hints as to what that regulation might look like. Under the Tobacco Control Act, the FDA cannot currently regulate e-cigarettes, unless the manufacturers make therapeutic claims. (That's why you don't now see e-cigarettes marketed as a way to stop smoking traditional cigarettes.) But the FDA has the legal right to add categories to the tobacco products it regulates after going through certain procedural steps, including a public comment process. It plans to begin that comment process later this year and eventually issue regulations on electronic cigarettes and other unregulated tobacco products.
Regulation is not the only threat to the industry: Electronic cigarettes could eventually face the same sort of high-levels of taxation that now curtail sales of traditional cigarettes. There are also questions about whether the typical user will consume e-cigarettes at anything approaching the rate of traditional cigarettes, and whether current non-smokers will be willing to take up the product.
"It's far too early to be calling this the next horizon. There's still a lot of question marks," said Russo. He went on to describe the move by traditional tobacco companies to embrace e-cigarettes at this time "almost a desperation-type behavior," adding that "all the potential good news could be squashed down the road by taxation, regulation, you name it."
For e-cigarette makers, however, it's full speed ahead.
"Our mission is to 'obsolete' cigarettes," Craig Weiss, chief executive of NJOY, told the Financial Times earlier this year. "We think of ourselves as the digital to their analogue."
Thanks for reading CBS NEWS.
Create your free account or log in
for more features.