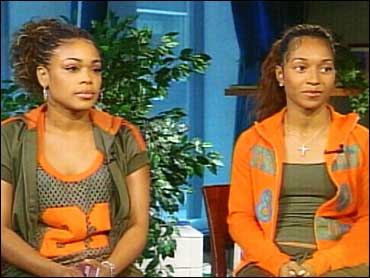 Coming off their first live performance this weekend since the tragic death of group member Lisa "Left Eye" Lopes, Tionne "T-Boz" Watkins and Rozanda "Chilli" Thomas, the remaining members of TLC, kick off Dialogues: Education and Treatment for a Well Planned Future on June 3 in New York City.
It continues a mission they started with "Left Eye" a decade ago when they wore condoms on their stage outfits to encourage women to protect themselves against HIV.
T-Boz and Chilli visited The Early Show on Tuesday to talk about it.
The Dialogues program delivers basic information about HIV and provides tools that patients need to work with their doctors to set up a strategy for living with HIV.
TLC wants people to get the facts about HIV so they can get involved in their own care. (Sadly, many people with HIV don't know their status, and, even when they are diagnosed, they don't know that they can get life-saving medicines regardless of their income.)
Unlike other programs, Dialogues takes into account the changing face and needs of HIV patients. Through printed materials that can be ordered free of charge (800-576-6600) and accessed online (www.HIV-Dialogues.com), Dialogues delivers easy-to-understand, culturally sensitive information on a range of key HIV topics. It also features quick reference materials like definitions of key medical terms and tips for managing side effects.
It also helps patients to choose a healthcare provider that they feel comfortable talking to and then to work with them to manage the HIV. Personal planner tools to log questions to ask your doctor, track instructions for taking medicines and develop a long-term treatment plans are also part of the program.
The group's latest album - 3D - is a tribute to Lopes, who had collaborated with them on it before her fatal car accident. Since November 2002, the album has received critical acclaim, and the group recently released the second single off the album, "Damaged."
As a tribute to Lopes, Watkins and Thomas announced a one-time $25,000 AIDS educational scholarship as part of MTV's Fight For Your Rights: Protect Yourself campaign. The Lisa Lopes AIDS Scholarship, awarded to one young person showing dedication and leadership in the fight against HIV/AIDS, was coordinated by LIFEbeat - The Music Industry Fights AIDS, a national non-profit youth HIV prevention organization.
In "Thoughts, a book of poems and essays, Watkins wrote, "Things happen for a reason/The reason may be a test." This outlook - that after something bad, something good can happen - represents the way in which Watkins and Thomas approached the loss of their friend and third band member, Lopes, who died in a car accident on April 25, 2002, while vacationing in Honduras. She was 30.
Born in Des Moines, Iowa, Watkins lives in Atlanta, Ga., with her husband and daughter. Thomas, a native of Atlanta, also lives there with her son.

Thanks for reading CBS NEWS.
Create your free account or log in
for more features.