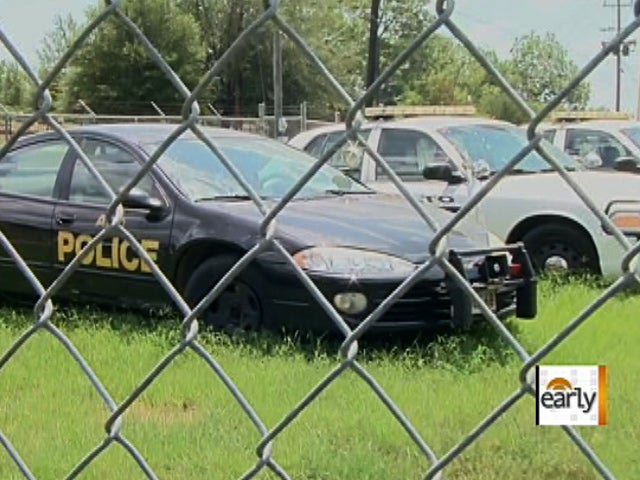 Tiny Texas city lays off entire police force
As cities and towns across the country trim their budgets, some of them can't even afford some basics anymore - basics such as law enforcement.
The small east Texas city of Alto, population 1,200, is one such place, reports CBS News correspondent Don Teague.
And now, crime is on the rise.
No one knows that better than Charles Barron.
He has plenty of time now to care for his cattle.
That's because Barron is Alto's police chief, and no longer has a police department to run.
The patrol cars are locked in an impound lot. The police station is locked, except when Barron stops in to check the mail.
And all five police officers, including Barron, are unemployed, after the city council cut the police budget to zero.
"They put a bulls-eye target on law enforcement -- police department -- and police department only," he tells CBS News.
The council furloughed the police department for at least six months to make up for a $185,000 budget deficit.
Barron says, "There have been accusations that the police department is not generating enough revenue. Well, police departments are not revenue generators."
Now, county sheriff's deputies must handle calls in Alto.
But that means response times that were less than 3 minutes from police are now up to 15 minutes from deputies spread thin over a 1,000 square mile county.
"When you're sitting there needing help, it's a lifetime," says Cherokee County Sheriff James Campbell, who's among those who think chopping the police department was a bad idea.
"In the last 24 hours," Campbell says, "we've answered 18 calls in the county; seven of them were in Alto."
In fact, Teague notes, Alto has been experiencing a crime spree, including an attempted bank robbery last month and a rash of burglaries.
Greg Duplichain's construction company was hit Thursday night. It's located -- across the street from the now vacant police department.
"If people know you don't have a police force," Duplichain says, "I believe that some people will take advantage of it."
Alto resident Michelle Blackmen says, "I work at a business here in town and, at any time, someone can come in and rob it."
CBS News tried to interview members of the city council on-camera. They declined, though one said, "When you can't make payroll, you have to make cuts."
Barron says he just hopes to get back to his real job, protecting the people of Alto. "That's my life," he says. ... I miss it."
Alto residents are sending around a petition to try to get their police force back.
And Alto isn't the only municipality to cut law enforcement from its budget. Places from Nazareth, Pa. to Half Moon Bay, Calif. have made similar cost-cutting moves.
Thanks for reading CBS NEWS.
Create your free account or log in
for more features.