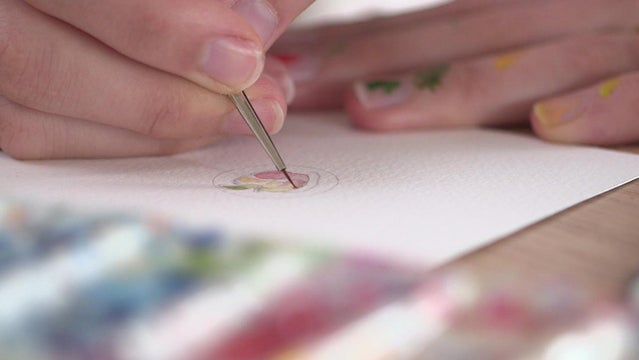 Quarter-sized paintings spark international attention
Art lovers gathered in a Brooklyn gallery Wednesday night to take in tiny portraits by South African painter Lorraine Loots.
The exhibit, which may be best observed with a magnifying glass, is called "Ants in NYC" and features 740 miniature paintings, reports CBS News correspondent Anthony Mason.
"You work with these things so much you stop seeing them," Loots said. "Now just looking at it, it's a very overwhelming feeling."
Each piece, painted by Loot's very steady hands, is about the size of a quarter -- or two South African Rands.
"I wish I could have been a brain surgeon, actually," Loots said, laughing. "But I wasted my years of study doing art."
Despite studying art in college, Loots' career took a different path. The decision to paint a piece each day in 2013 was a personal challenge to remain creative.
"It started with the decision not to be an artist anymore, ironically," she said. "I decided that I wanted to do a normal nine-to-five to pay the bills and then I would spend an hour a day just finishing one artwork."
She said she started painting small because it's what she could finish in an hour.
"The amount of detail that I put into a square inch stays the same no matter how big the painting is. So if I painted an inch, it would just be an hour of work," Loots said.
The one-hour limit didn't last long. Loots began posting her art in actual size on Instagram and requests from followers to make purchases came pouring in. She was soon painting full-time and her daily routine went into a second year.
But she doesn't let her over 190,000 Instagram followers add any pressure.
"I see it as fun... You can't be too serious about something like that," Loots said. "It is my job, but if I see it as my job it becomes something different to what it started as."
When she started, her paintings were selling for about $40. Today they're going for nearly $1,000. She said she chose to paint one picture every day because she's a "very sentimental person."
"I've always wanted to keep a journal and I've just always loved the idea of marking every day and remembering where you were and what you did and just really grasping hold of it and putting it down," Loots said.
Her wedding day is marked with a picture of the place she and her husband hoped to marry -- one of many in a massive, tiny collection.
"I'm little embarrassed about the earlier stuff," Loots said. "I don't know, I think that's one of the nice things about a show like this, is that you can actually see progression and you can see that it's not just a pointless exercise. You grow as an artist and your style changes and you learn things and I think that's wonderful about it. But yes, I feel very proud."
Loots sold all of the 730 paintings she created in 2013 and 2014. The pieces at the Brooklyn gallery are all prints, a retrospective of a two-year career. Also included are 10 New York City originals to commemorate her first show outside of South Africa.
Now, she said, she calls herself a painter.
"I feel like, you know, some people the work is all about concept and for me it's lot about the skill and the time and the patience that it takes to actually put paint to paper, so that's a painter in my mind," Loots said.
Thanks for reading CBS NEWS.
Create your free account or log in
for more features.