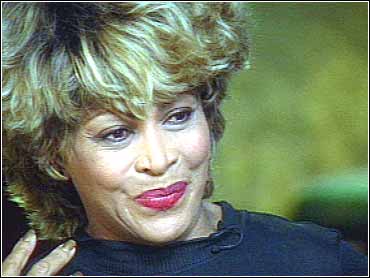 Tina Turner Bids Farewell
Now 66 years old, Tina Turner is more than just a rock 'n' roll legend. Beyond her remarkable talent, her vitality and power on stage, offstage she is a woman of courage and substance. Just this month, she was honored by the Kennedy Center for her life and career.
Of course we know all about Tina – 60 Minutes profiled her twice, the first time nine years ago. Mike Wallace was so taken by her then that he couldn't resist joining her again in 2000. That was during what she said was her farewell tour.
Correspondent Mike Wallace takes a look back at both of those interviews. We begin the first encounter in the summer of 1996 when Tina was 56 years old.
---

Click here to read the two-part "Classic" report:

November 1996 Report

Turner has lived in Europe for more than a decade. In Europe, she became a bigger star than she ever was in the United States. "Yeah, no one in America knows that," she says. "Success in America - what I find with my homeland, nothing lasts very long. Europe is different. You're right there with them until you come back."

How American is she?

"Still very much American. I don't speak the foreign tongues over here yet. I'm paying American taxes. I have property in America. All of my business is run from America," she says.

Still, in her heart, she says she doesn't think she will go back home.

Her love affair with Europe was only the latest chapter of a remarkable life.

Born Annie Mae Bullock in Nutbush, Tenn., she picked cotton as a child and planned on becoming a nurse when, at 18, St. Louis musician Ike Turner discovered her unique voice. He hired her, married her and renamed her Tina Turner. They became the Ike and Tina Turner revue.

For the next 16 years, Turner created a reputation as one of the most dynamic performers of her time, while Ike Turner created his own reputation as one of the most abusive husbands in show business.

She finally left him in 1976, struggled on the lounge circuit for years, until 1984, when her comeback album, Private Dancer, sold 10 million copies and garnered four Grammy awards. And then her very candid autobiography detailed the years of physical abuse that she suffered from Ike, abuse graphically documented in the 1993 film What's Love Got to Do with It, starring Laurence Fishburne and Angela Bassett.

The violent history with Ike left hidden physical scars long after their divorce. Did cosmetic surgery play a part in her remarkably youthful appearance?

"It's a difference in cosmetic surgery and corrective surgery, right? Let's talk about cosmetic for beauty. I have had, basically, my face bashed in, and I never did anything about it," she says. "I just went through my life because I was all right. And then I started to have problems traveling with my sinuses, and I found that how my nose had healed many times," Turner explains.

Turner says Ike busted her nose "many times."

"But it was never really, really broken, but, I guess, damaged to a point that it started to heal and the healing process started to interfere with the sinuses. So when they went in to correct it, I ended up with…another nose," she says.

Her home in the south of France has breathtaking views of the French Riviera, a spectacular pool and all the creature comforts she needs. When asked if she deserved all this luxury, Turner responds, "I deserve more."

Hidden away on the second floor is a Buddhist shrine. This born Baptist credits Buddhism with giving her the strength that she needed to get through the rough times. And she continues to chant daily.

As for the man in her life, her only serious relationship since Ike Turner has been with Erwin Bach, a German-born record company executive 16 years her junior. At the time of the 1996 interview, they had lived together for 10 years.

"I'm not in love with the rock act," Bach said. "I'm in love with the human being."

He thinks Turner is in charge. "I think she is the boss, yeah. I'm second to the boss, but she's the boss," he says.

And being the boss comes with all the toys she wants. She has a customized Lamborghini jeep and, when on tour, a chartered private jet.

But Turner is able to imagine an end to her performing career. "I could say it now, but I don't think it's time," she says. "Most people think that I could not retire right now. I could. I'm pleased with my life, with the journey. I'm perfectly fine now if I never went on stage again."

Turner is 60 years old now and approaching the end of another world tour she has officially announced will be her last. "I did feel that there was maybe one more, or something where you just get it off. This time, I know it's a closure. I can feel it," says Turner.

The beginning of her last time around was her appearance on the VH1 program "Diva's '99." She was set to perform her trademark version of "Proud Mary" with another rock 'n' roll legend, Elton John, a long-time friend with whom she was planning an elaborate tour. That plan, according to Turner, died at the show's rehearsal.

"I made a mistake when I needed to show him how to play 'Proud Mary.' The mistake is you don't show Elton John how to play his piano," she recalls.

John's reaction, according to Turner, was anything but subtle.

"'You don't tell me how to play my piano,'" Turner says Elton John told her. "Oh, Lord. It just exploded. It was like the past slapping me back in the face, truly, before all of those people, when all I simply was trying to do was get an arrangement right," she remembers.

"So then he stormed off. He just went into a rage, which he apologized for later. He said he was wrong," she says.

She canceled the tour and the multimillion-dollar payday that would have come with it.

"He's not like Jagger or like some of the other people that's professional enough to give a bit when two people are working together to make it work. He's just very sensitive. Very, very sensitive. We wouldn't have been happy, I think," she says.

Instead, she recorded a new album, performed at the Super Bowl and then set off on her farewell tour. It may be her last but she treats it as though it is her first.

"It's a play. It's an act. For the moment, it's a small movie, so to speak," she says, describing her latest tour.

"That's why I like all of the stuff and the action and the playoff between me and the girls," she says. "It's life on that stage for that two hours. And sometimes the music is loud, and sometimes it's not. I need that on stage. I need burst of life. That's entertainment for me."

When the tour winds up, Turner says, she looks forward to settling down quietly with Bach in Europe. She will have the satisfaction of contemplating just how far she has come from Nutbush, Tenn., and the old days when American audiences were just not all that interested in the ex-wife of Ike Turner.

Turner believes it is "more comfortable" for people of color to live in Europe than in the United States but she says she doesn't spend much time on the issue.

"I've never bothered about my color. I never had that thing about being black," she explains. "If the whole world was like that, maybe there would be more harmony and love. Maybe. I don't have a problem with being black in a white country or being with my people. I'm OK where I am. I don't even think about it."

She says that only now has she become comfortable enough with her career to walk away without a single regret.

"It's like serene. Everything's just kind of, like, everything is over," she says. "I can get emotional when I talk about it. It's almost like the war is over. It's all finished. You've arrived. You got there."

Thanks for reading CBS NEWS.
Create your free account or log in
for more features.